History
Apply Online | Request More Information | Major Brochure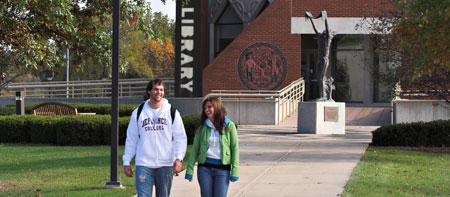 History majors dream into the past and investigate events the way others manipulate objects. They believe in changing the world through political action. And while others may know that terrorism, religious strife, and civil unrest exist, history majors are driven to understand the causes.
The study of history is not just a chronicling of the human past, but an analysis of past events in an effort to explain the social, cultural, and political effects that shape the present. Thus, understanding history helps one understand the world today.
At Defiance College, history professors value logical thought and detailed knowledge of past and current events. They are equally at home with the commentators of the past and present. Our history professors enjoy working with students who take pleasure in analyzing events, understanding historical cause/effect sequences, and identifying subtle relationships between the past and present.
The history program at Defiance College seeks to move students beyond the traditional timeline approach to the past and introduce them to a "minds on" approach where studying history is no longer simply learning and memorizing the facts, but rather analyzing, synthesizing, and evaluating the facts to broaden one's knowledge of both the past and present.
History majors dig into the ever-present, ever-shifting past to uncover the future.
---
Majoring in History
As an intellectual discipline, the history program at Defiance College provides students with skills applicable to many careers: the ability to read critically, organize ideas clearly, synthesize extensive materials, and write with clarity.
Defiance College students gain skills that transcend the academy. They do not just theorize about history; they make history. Moreover, they think and act within their discipline, utilizing classroom knowledge and practical skills to make an impact within their communities and beyond. Such experiences provide them with the skills to be better employees, better leaders, and responsible citizens.
A history degree offers excellent preparation for careers in law, library science, journalism, business, and social and government service. The major at Defiance College can be directed toward a career in any of these fields, or it can concentrate on a culture, an area, or era which especially appeals to the student. Areas of particular strength of the teaching staff include 20th-century Europe and American history, as well as the traditional, more general areas of United States and European history. In addition, this major has been newly redesigned to reflect these teaching strengths, as well as to incorporate the skills necessary for careers outside the field of history. Integrated Social Studies is a major for those students who wish to become certified teachers.
History/Integrated Social Studies are majors for those who:
Live, eat, sleep, and breathe History

Investigate events the way others manipulate objects

Believe in changing the world through political action

need to understand the causes of terrorism, religious strife, and civil unrest

Feel they could do a better job formulating foreign policy than. . .

Think they could write a better campaign speech than. . .

Desire sensible legislation to solve society's problems
---
Unique Opportunities
International History Honors Society
Defiance College's Iota Pi Chapter of Phi Alpha Theta is the international history honors society "whose mission is to promote the study of history." We participate in yearly conferences which allow students to present their original research to a panel of their peers and distinguished historians.
McMaster School
Students will not be just theorizing about history, they will have the opportunity to make history and advance humanity through Defiance College's innovative McMaster School, which enables students to become active world citizens by researching and planning projects that address a global issue, then teaming with faculty to carry out the project in an effort to alleviate human suffering in the world.
---
After College — What's Next?
Building on these skills, many people who study history are employed in the education field, public relations, editing, and research. Moreover, they work for a broad spectrum of organizations, from museums to corporations, which call upon the skills of an historian to help document and organize information about the past or to educate the public.
Graduate School
Graduates of this program have gone on to graduate schools across the country for further study in history, archaeology, law, library science, and business. This is one of the many majors at Defiance College which enjoys stellar placement of its graduates in graduate and professional schools.
---
Our Mission Statement
Our departmental goal is to move students beyond the "traditional" timeline approach to the past and introduce them to a "minds-on" approach to historical study, where studying history is no longer simply learning facts, but arriving at one's own view of the past.
We encourage students to ask questions. Why do events happen? What implications do historical events have for understanding the human condition? Students address bigger questions by learning to use a wide variety of historical documents — newspapers, journals, primary sources, and electronic databases — and by writing their own interpretations of these documents students are partaking in history, not just learning about it.
---
The Faculty
Donald H. Buerk, Ph.D., Associate Professor of History
419-783-2454 | dbuerk@defiance.edu
Jeremy Taylor, Ph.D., Associate Professor of History
419-783-2305 | jtaylor@defiance.edu