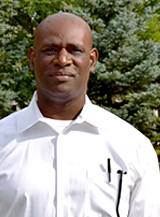 Sheldon Goodrum, Ph.D.
Assistant Professor of Criminal Justice
Office: Dana Hall, Room 12
Phone: 419-783-2449
Email: sgoodrum@defiance.edu
Prior to coming to Defiance College, Goodrum worked as an Ohio State Trooper for 25 years. In addition to maintaining law enforcement duties, he served as a field training officer, CPR / AED instructor, emergency response plans coordinator, and domestic violence liaison. As an adjunct instructor at Tiffin University and ITT Technical Institute, he has taught a wide range of undergraduate criminal justice classes. In the Ohio Army National Guard, he served in a number of leadership positions and was responsible for the development, presentation, and evaluation of a myriad of training courses and practical exercises.
Education
Ph.D., Public Safety with a concentration in Criminal Justice, Capella University
M.S., Criminal Justice, Tiffin University
B.A., Psychology, University of Toledo
Professional Involvement
Member of Defiance County Community Corrections Planning Board
Member of the Corrections Center of Northwest Ohio Advisory Board
Member of Detectives of Defiance
Member of Defiance College Criminal Justice Society
Faculty Advisor to Defiance College Football team
Criminal Justice Subject Matter Expert at ITT-Technical Institute
---
Certificates
FEMA Emergency Management Courses
"Workplace Violence Awareness," 2015
"Active Shooter: What You Can Do," 2015
"Leadership and Influence," 2007
"Emergency Planning," 2007
"Emergency Response to Terrorism," 2006
"Principles of Emergency Management," 2006
"Role of the Emergency Operations Center in Community Preparedness, Response, and Recovery," 2006
Police Instructors Course , 2007
North Coast Polytechnic Institute, North Ridgeville, OH
Hosted by Independence, Ohio Police Department
Incident Response to Terrorist Bombing, 2005
New Mexico Tech, Socorro, NM
Hosted by the Ohio State Highway Patrol
---
Presentations
"Staying Positive during Times of Uncertainty," Pathstone Corporation, Bowling Green, OH, June 15, 2015
Courses Taught
Introduction to Criminal Justice
Introduction to Juvenile Delinquency
Criminal Law
Police-Community Relations
Institutional Corrections
Corrections
Delinquency Prevention and Control
Field Experience (lower level)
Field Experience (upper level)
Criminology
Criminal Procedures
Counterintelligence / Counter Terrorism
Intelligence Analysis
Emergency Organizations and Management
Covert Action & Intelligence
Essentials of Security
Policing
Crime Analysis
Issues in Law Enforcement