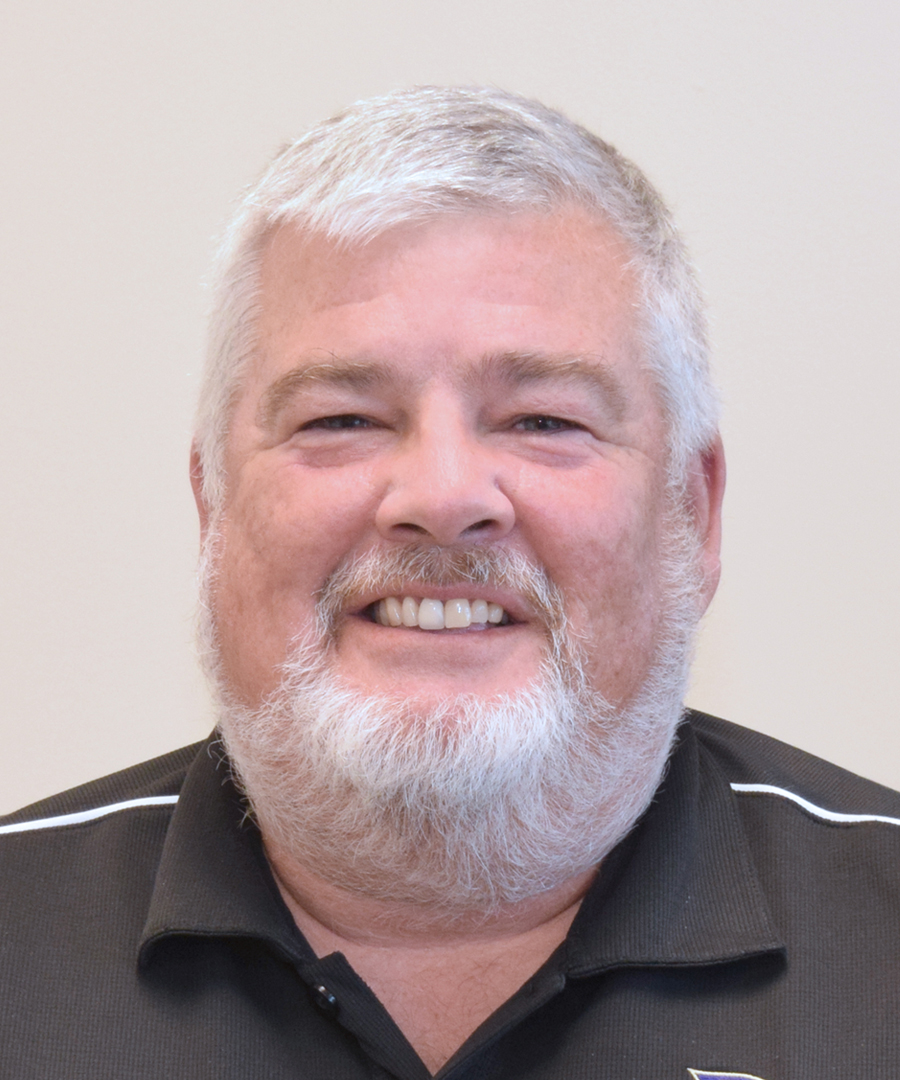 Tim Rickabaugh, Ph.D.
Professor of Exercise Science
Office: Dana Hall, Office 1
Phone: 419-783-2584
Email: trickabaugh@defiance.edu
Dr. Tim Rickabaugh began his DC teaching career as an Assistant Professor in the Division of Education and Sport Studies in the fall of 1997. His teaching at Defiance includes an emphasis on exercise physiology, strength and conditioning principles, measurement and evaluation in sport, and sport sociology. Current research interests have focused on cultural representations of sport with a focus on issues related to race and gender. Past research has focused on diabetes and exercise as well as endurance-based training responses.
Dr. Rickabaugh grew up near Derby, Ohio (rural Pickaway County) and graduated from Westfall HS in 1979. He then attended Ohio Wesleyan University graduating in 1983 with a B.A. in Physical Education. As "OWU Battling Bishop", he participated in football and track and was a member of Phi Gamma Delta fraternity. He earned an M.A. in Exercise Science from Miami University (1987) and a Ph.D. in Science Teaching (Exercise Physiology Concentration) from Syracuse University in 1998.
He lives in Defiance with his wife (Rosanne), son (Andrew), daughter (Abby), and spirited dog (Sophie). His non-academic interests include parenting, coaching soccer, exercising, and cheering for the Bengals, Colts, Pacers, Reds, Buckeyes, and (of course) Yellow Jackets and Bulldogs (DHS).
Education
Ph.D., Syracuse University, 1998
M.A., Miami University, 1987
B.A., Ohio Wesleyan University, 1983
Professional Involvement
Editorial Board for the American Journal of Health Education
Member of the National Strength and Conditioning Association
Certified Strength and Conditioning Specialist (NSCA)
Certified Personal Trainer (NSCA)
Certified Exercise Specialist (ACSM)
Professional Experience
- Professor of Exercise Science, Defiance College, 2012 to present
- Interim VP of Academic Affairs, Defiance College, 2010-2012; 2015-2017
- Associate Academic Dean, Defiance College (2008-2010)
- Associate Professor, Defiance College, 2004-2010
- Assistant Professor, Defiance College, 1997-2004
- Assistant Professor (Temporary), Central Michigan University, 1995-1997
- Research GA, Syracuse University, 1992-1995
- Exercise Physiologist, St. Vincent Hospital (Indianapolis), 1987-1992
- Teaching GA, Miami University, 1985-1987
- Youth Director, YMCA of Kewanee (IL), 1983-1985
Other Work Experience
Head Coach: Girls Soccer Coach, Defiance HS, 2014 to 2016
Head Coach: Women's Soccer Coach, Defiance College, 1998-2002
SGT, US Army Reserves (Field Artillery Survey), 1985-1993
Awards
NSCA Program Recognition for DC Exercise Science Program (2017)
McMaster Fellow: Panama, 2017-2018
Distinguished Faculty Award (Defiance College), 2009-2010
McMaster Associate Fellow: Cambodia, 2005/2006
Tenured Faculty, DC, 2005
Defiance Community Service Award, 2004
Coach of the Year: Heartland Collegiate Athletic Conference, 2001/2002
Excellence in Education Teaching Award: CMU Pan-Hellenic Council, 1996
Academic Travel
- Honors Program Iberian Peninsula Learning Community & Trip: Spain and Portugal (2015)
- Sport Management, Business, and Exercise Science trip to Indianapolis as part of the Imagine Initiative (2013)
- "Lombardi" trip to Cleveland as part of the Imagine Initiative (2012)
- Honors Program Western Europe Learning Community & Trip: England, France, Belgium, The Netherlands, Germany & Switzerland (2010)
- Alternative Spring Break Civil Rights Tour: Memphis, TN, Birmingham, AL, Montgomery, AL, Atlanta, GA, and Nashville, TN (2009)
- Marymount HS, Highgate, Jamaica; University of West Indies: Mona, Kingston, Jamaica (2008)
- School-based HIV/AIDS Program: Phnom Penh, Cambodia (2005-06)
- CSI Mission: Highgate, Jamaica (2004)
- Pine Ridge Indian Reservation: Pine Ridge, South Dakota (2003)
Recent Publications, Presentations, and Creative Works
- Rickabaugh, T. (2017) "Attitudes of NCAA DIII Student-Athletes on the Usage of Gender-Specific Athletic Mascots" The Journal of SPORT, Submitted June, 2017.
- Rickabaugh, T., & Rickabaugh, E. (2015) "Culturally Insensitive Athletic Mascots: Do Undergraduate Exercise Science Students Care?" The Journal of SPORT, Vol. 4, No. 2, pp. 1-11.
- Rickabaugh, T. (2009), "Exploring the Commitment to Youth Sport," Strategies,Vol. 23, No. 2, pp. 12-15.
- Ashbacher, M., Fitton, N., & Rickabaugh, T. (2007), "HIV / AIDS Awareness Programs in Cambodia," The McMaster School for Advancing Humanity Journal, Vol. 2, pp. 72-80.
- Rickabaugh, T. & Saltarelli, W., (1999), "Knowledge and Attitudes Related to Diabetes and Exercise Guidelines Among Selected Diabetic Children, Their Parents, and Physical Education Teachers," Research Quarterly for Exercise and Sport, Vol. 70, No. 4, pp. 389-394.