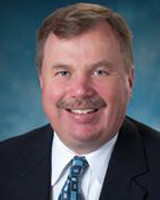 Steven J. Sondergaard, JD
Professor of Criminal Justice
Office: Schauffler Hall, Office 204
Phone: 419-783-2443
Email: ssondergaard@defiance.edu

Professor Sondergaard served as a police officer for nearly 10 years. His law enforcement experience was gained in a rural sheriff's office, a small city and a metropolitan agency. While employed by the Charlotte, N.C. Police Department, he served as a Field Training Officer (FTO) and was a member of a felony investigation task force.
Upon graduation from law school, he was employed by a large law firm. He later joined the staff of the Office of the Hancock County Prosecutor, serving as an Assistant County Prosecutor in the Criminal Division.
Professor Sondergaard joined Defiance College in 1993 and teaches classes that are law, law enforcement, and forensic science related. He has served as Defiance College Faculty Chair, and as the Faculty Representative to the Heartland Collegiate Athletic Conference (HCAC) and the National Collegiate Athletic Association (NCAA).
He continues to be actively engaged in the practice of law by maintaining a select exercise focusing on criminal trials, domestic relations, and mediation. He maintains membership in numerous criminal justice and legal associations.
Professor Sondergaard is married to his wife Marsha. He has two children, Carrie a college student and Emma who attends high school. His outside interests include hunting, fly fishing, and spending time in his kayak.
Education
United State Federal District Court, Northern District Western Division, 1991
Admitted to Practice of Law State of Ohio, 1991
Pfeiffer College, BA Criminal Justice, 1987
Terra Community College, AAS, 1978
Professional Involvement
- Mercy College of Ohio Board of Trustees, Member
- Ohio State Bar Association Council of Delegate District 3, Delegate
- Defiance County Board of Elections, Chairman
- Ohio Council of Criminal Justice Education, Immediate Past President
- Defiance Area Fish and Game Association, Inc., Secretary
Awards
Distinguished Faculty, Defiance College, 2005
Distinguished Alumni, Terra Community College, 2002
Recent Publications and Presentations
Commencement Speaker, Terra Community College, June 13, 2003
Instructor, Corrections Center of Northwest Ohio, Ohio Basic Academy - Civil Liability
Instructor, Northwest State Community College, Basic Law Enforcement Academy - Various Special Subjects
Courses Taught
- Criminal Law
- Criminal Evidence & Procedure
- Criminal Investigation
- Criminal Justice Ethics
- Juvenile-Probate System
- Police Civil Liability
- Criminal Justice Seminar