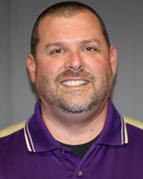 Kevin M. Tong, MSEd, AT, ATC
Head Athletic Trainer
Assistant Professor of Athletic Training
Office: Weaner Community 142
Phone: 419-783-2340
Email: ktong@defiance.edu
Tong began working at Defiance College as Head Athletic Trainer in the fall of 1997 and is the fifth person to hold that title at DC. He is also an Assistant Professor of Athletic Training, and was granted tenure by Defiance College in 2003. Tong teaches primarily in the undergraduate Athletic Training and Exercise Science programs. During his time at Defiance College, the Athletic Training program grew from an "emphasis" program to an undergraduate major and the staff of the Athletic Training department expanded substantially.
He has covered almost every intercollegiate sports team at DC at one point or another, including managing the football program for 16 straight seasons. Presently, Tong is the primary ATC for men's basketball and the track and field programs. He has been active in local high school football during his time in Northwest Ohio, having provided or assisted in coverage for Tinora High School, Ayersville High School, and Edgerton High School, on occasion.
A native of Athens, OH, Tong graduated from Ohio University in 1995 with a B.S. in athletic training with an emphasis in exercise physiology. While at Ohio University, he served as an athletic training student for various sports including football, wrestling, women's basketball, and baseball. During this time, Tong studied under the direction of Charles "Skip" Vosler, a Defiance College alumni and DC's first head athletic trainer.
After completing his degree at OU, he was employed by Wagner College (NY) as an assistant athletic trainer from 1995-1997 while earning his master's degree in education. At Wagner, Tong was the primary athletic trainer for the Seahawk's football and baseball programs. He was on the athletic training staff of the Tampa Bay Mutiny of Major League Soccer for a majority of the 1997 season. Tong had the opportunity to work daily with international stars like Carlos Valderrama and US talent like Steve Ralston and Frankie Hejduk.
In 2005, Tong was recognized by Defiance College with the Outstanding Faculty Service Award for his work with long-time supporter and alumnus Geraldine Boomer. In addition to his duties at DC, Tong was a consultant for the NFL in their ATC Spotter program from 2012 through 2014, covering NFL games in Detroit.
Tong and his wife, Kelly, reside in Defiance with their three sons, Cameron, Owen, and Ian and daughter, Paige.
Education
M.S., Education, Wagner College, 1997
B.S., Athletic Training, Ohio University, 1995
Professional Involvement
- Certified Athletic Trainer – Board of Certification (National)
- Licensed Athletic Trainer – State of Ohio
- Coordinator of the Defiance College Sports Medicine Seminars
Awards
Defiance College Outstanding Faculty Service Award, 2005
Academic Travel
Costa Rica Imagine Initiative, Leader, 2014
Jamaica Imagine Initiative, Leader, 2011
Courses Taught
- Introduction to Athletic Training
- Pathology of Athletic Injuries
- Therapeutic Modalities
- Evaluation of Athletic Injuries
- Introduction to Nutrition
- Fitness for Life (General Ed.)
- Organization and Administration
- Athletic Training Practicum
- Pharmacology
- Muscle Structure and Function
- Exercise Physiology and Sports Medicine (Graduate Level)
- Recreation for Special Populations
- Acute Care of Athletic Injuries