Professional Staffing
ASD Affinity Program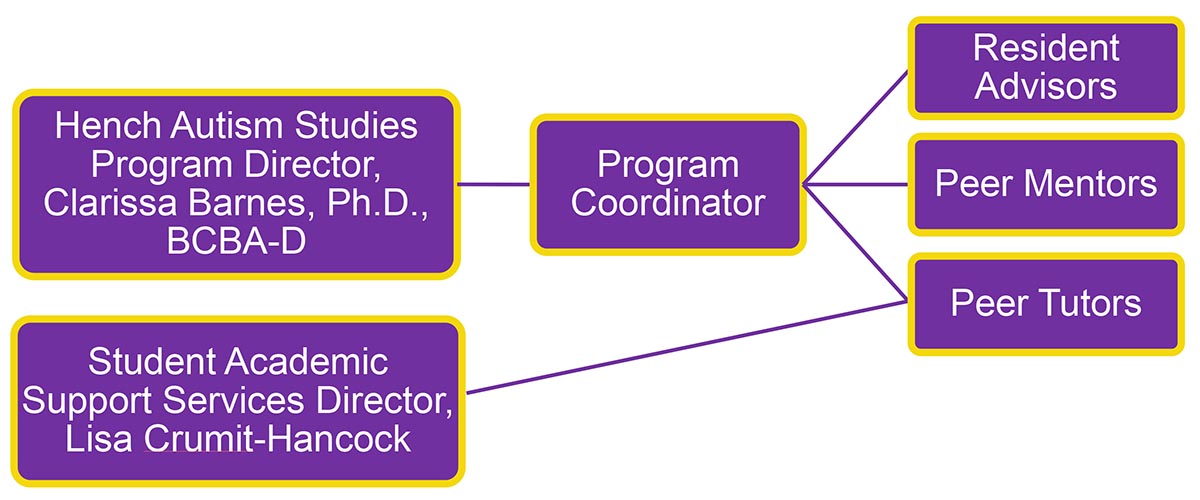 HENCH AUTISM STUDIES PROGRAM DIRECTOR
Dr. Clarissa Barnes is the Director of the Hench Autism Studies Program and an Associate Professor of Special Education at Defiance College (DC). She earned both her Ph.D. (2013) in Rehabilitation with an emphasis in Behavior Analysis and Therapy and her M.S. (2010) in Behavior Analysis from Southern Illinois University-Carbondale (SIU). Clarissa received her B.S. (2007) in psychology from Western Michigan University. She is also a Board Certified Behavior Analyst-Doctoral.
Clarissa has more than seven years of experience working with individuals with ASD. Her experiences range from early intervention to adult services. Her research interests include exploring instructional methods to establish basic and complex verbal repertoires in individuals with and without disabilities and investigating staff training methods that are both effective and accessible to the non-behavior analytic community. She has presented and co-presented 25 professional presentations, posters, and workshops as well as authored and co-authored four journal articles published in peer reviewed journals and one book chapter.
Clarissa is also strongly interested in advocating for the science of behavior analysis. Teaching other professionals and non-professionals about the science of behavior analysis is an activity that she finds both rewarding and important.
---
STUDENT ACADEMIC SUPPORT SERVICES
Lisa Crumit-Hancock is the Assistant Dean of Student Success and Director of Student Academic Support Services. She earned her B.S. in English and History from Defiance College (1991) and her M.A. in American Culture Studies from Bowling Green State University (1994). Prior to taking an administrative position, she taught in higher education for seventeen years. As director of SASS, one of her responsibilities is managing the Learning Commons, which includes the recruiting, training, and supervising of peer tutors and writing consultants.
---
RESIDENT ADVISORS
Resident advisors are undergraduate students who provide support in the residential setting.
---
PEER MENTORS
Peer mentors are available to students in the ASD Affinity Program to serve as support during academic and leisure activities. The role of the peer mentor is diverse and is defined based on the needs of the mentee. In general, peer mentors facilitate the structured social opportunities, be available during common free times, facilitate new social connections, and assist with social concerns and questions. All peer mentors are interviewed and selected based on their ability to serve as appropriate models for students in the ASD Affinity Program.
---
PEER TUTORS
Peer tutors serve to provide academic support to students in the ASD Affinity Program. Peer tutors use their knowledge and academic skills to provide academic assistance. The role of the peer mentor may include, but is not limited to, clarifying assignment instructions and guidelines, editing papers, assisting students in understanding and learning content specific material, and promoting the development of study skills. All peer tutors are be supervised by the Director of Student Academic Support Services.