Outside Scholarships
Office of Financial Aid
Defiance College is pleased to give you additional opportunities in your educational career through outside scholarships. The scholarships listed below are current and are updated regularly as we learn about new and exciting opportunities for our students. Applying for outside scholarships is encouraged!
Unless otherwise noted, for more information and applications, please come to the Financial Aid Office located on the second floor of the Serrick Campus Center, Room 204.
B. Davis Scholarship (posted on 12/6/2013)
The creators of the "Student Award Search Aid" website are renewing the 2014 B. Davis Scholarship.
Please visit our website at http://www.studentawardsearch.com/scholarships.htm to read about us and to provide your students with an opportunity to apply for our scholarship.
DEADLINE: Applications must be received by May 26, 2014.
Amount of Scholarship: $1,000
If you have any questions, please feel free to contact us at awards@studentawardsearch.com
Ohio CPA Foundation (posted on 10/31/2012)
The Ohio CPA Foundation has committed $15,000 to support Ohio's future CPA's through a college scholarships program. Six $2,000 scholarships will be awarded.
Interested students must meet the eligibility requirements which include:
Accounting major enrolled at a NCA and or AACSB accredited Ohio college 3.0 GPA or better

Completion of at least 30 semester hours of college credit

Completion of intermediate financial accounting or comparable course with a grade of 3.0 or better

Student affiliate member of The Ohio Society of CPAs (membership for college students is free)
Applicants must submit a completed application, an essay describing who or what influenced them to major in accounting and what their future career plans entail, a current resume and official academic transcripts. Application materials must be submitted on or before Friday, November 30, 2012 to be eligible for consideration.
The six scholarship recipients will be invited to participate in Scholarship Day- hosted in April by The Ohio Society of CPAs- where they will compete for an additional $3,000 scholarship award.
For more information and to access the scholarship application and guidelines, visit www.ohiocpafoundation.org . Questions about the scholarship program can be directed to Karen West at kwest@ohio-cpa.com.

DEADLINE: November 30, 2012
Abbott and Fenner Scholarship Program (posted on 10/31/2012)
Abbott & Fenner Business Consultants are pleased to be able to continue with our scholarship program for the 6th year.
We will be awarding up to $1,000 to the winner(s) each year.
Application Process
Students will submit an essay on the topic that appears on the scholarship page of our web site: http://www.abbottandfenner.com/scholarships.htm
Full details are available on our site.
DEADLINE: June 14, 2013
Dr. Pepper Scholarship Opportunity (posted on 10/10/2012)
Score your share of over $1,000,000 in tuition. Create a sixty-second video telling us how you will make an impact for your chance to win tuition from Dr Pepper.
http://www.drpeppertuition.com/

DEADLINE: Unknown

OHIO Florence Allen Endowment Fund (posted on 2/11/2014)
Request Application via email at allenendowment@gmail.com
Qualifications:
Traditional Students:
Women who will graduate or have graduated from an Ohio high school or have received their GED prior to July 1, 2014.

Must be a US citizen

Must be enrolled full-time at an accredited degree-granting institution recognized by a State Board of Regents.
Non-traditional Students:
Women who are residents of Ohio at least 30 years old as of April 1, 2014.

Must be a US citizen

Undergraduates who meet the above criteria and are enrolled at an accredited degree-granting institution recognized by a State Board of Regents. Applicant need not be full-time.
DEADLINE: Applications must be received by April 1, 2014
The Ohio Foundation of Independent Colleges (OFIC) (posted on 2/14/2013)
The Ohio Foundation of Independent Colleges (OFIC) is please to announce the application for the Earl F. Morris Endowed Scholarship is now available online through April 30, 2013. This scholarship is available to students who are preparing for a legal career. This award is for undergraduate study only at any OFIC college in the 2013-2014 academic year. Students must meet the following criteria listed below:
U.S. Citizen

Qualify for financial aid

Enrolled fulltime in a college that is a member of OFIC

Pre-law student (applicant's intent, not necessarily major)

Minimum 3.5 cumulative GPA

Senior class rank for the 2012-2013 academic year

Demonstrate strong leadership skill

Involved in campus and/or community activities

For a full description of the program and access to the online application use the following link and Username/Password: (these are case sensitive)
www.ofic.org/smr/morris
User Name: Morris
Password: mORriS08
Deadline: April 30, 2013

The Sky is the Limit Scholarship Contest (posted on 2/14/2013)
Zonta Club of Defiance announces its 7th annual: The Sky is the Limit Scholarship Contest!
- $1,000 Scholarship
- Must be an adult woman 22 years or older pursuing her 1st college degree.
DEADLINE: Applications and essays are due via email by midnight on March 1, 2013.
Kohl's Cares Scholarship Program (posted on 2/14/2013)
Nominate a young volunteer, age 6-18, who has made a difference in your community.
Top winners each receive $10,000 for higher education.
DEADLINE: Nominations are accepted February 1-March 15, 2013
Thermo Scientific Pierce Scholarship Program (posted on 2/27/2013)
Thermo Fisher Scientific Inc., the world leader in serving science, is pleased to announce the continuation of the Thermo Scientific Pierce Scholarship Program to help provide educational opportunities for future generations of scientists.
http://www.thermoscientific.com/piercescholarship
The Thermo Scientific Pierce Scholarship Program for the Fall 2013 semester includes two (2) $10,000 scholarships and four (4) $5,000 scholarships, to be awarded to undergraduate and graduate students with a declared major of biology, chemistry, biochemistry, or a related life-science field. To qualify for the scholarship, students must have a GPA of 3.0 (on a 4.0 scale) and be enrolled in an accredited college for university for the Fall 2013 semester. In addition to these qualifications, students must also be legal United States residents, meaning that students possessing appropriate Visa status in order to study in the United States are also eligible.
Students may apply for the scholarship through the Thermo Scientific Pierce Scholarship Website. Applications will be accepted until 11:59:59 p.m. CT on July 31, 2013. Each application will be reviewed and evaluated by a scholarship committee and announced to the chosen recipients by August 16, 2013. We strongly encourage all students that meet the scholarship award criteria to apply for this great scholarship! All questions regarding the scholarship may be directed to piercescholarship@thermofisher.com
DEADLINE: July 31, 2013
Sustainable LawnCare Leaders Scholarship (posted on 3/1/2013)
$500 scholarship to be applied to fall 2013 semester tuition
Applicants must be undergraduate students, US citizens or legal residents, enrolled full-time, and be committed to pursuing a career in horticulture, landscape architecture, or a related environmental field
The ideal applicant will display a passion for sustainable practices in his/her industry through experience, field of study, and/or the written response
DEADLINE: Application period is February 13-July 1, 2013
Details & application instructions can be found at http://www.lawncare.net/scholarship/
The Ability Center of Greater Toledo Scholarship (posted on 1/31/2014)
Scholarship Opportunity for students with Disabilities. Student must live in Defiance, Fulton, Henry, Lucas, Ottawa, Williams, or Wood counties in Ohio, and have a GPA of at least 3.0. Must provide proof of acceptance to the College. Open to new freshmen or current college students.
The Scholarship packet can be found at:
http://www.abilitycenter.org/disability-culture-and-resources/scholarship-application
DEADLINE: March 31, 2014



Charter One Bank TruFit Good Citizen Scholarship (posted on 7/17/2014)
A total of ten $5,000 scholarships will be awarded to U.S. residents who are 16-years of age or older and are attending or accepted to a federally accredited four-year college, university or graduate program and who have been active in community service.
Applicants are asked to write an essay of no more than 500 words demonstrating their good citizenship through community volunteerism and leadership. They must also provide two references that are directly connected to their community involvement. For full details, go to www.charterone.com/scholarship.
TruFit Good Citizen Scholarship

AES Engineers Scholarship (posted 1/15/14)
The consulting firm of AES Engineers is committed to continuing its support of higher education by providing scholarships to deserving students.

To be eligible the student needs to answer one of the essay questions that they will find on our site athttp://www.aesengineers.com/scholarships.htm We are offering a $500 scholarship that will be awarded on the basis of character, as determined by evaluating the essays that are submitted.
DEADLINE: October 6, 2014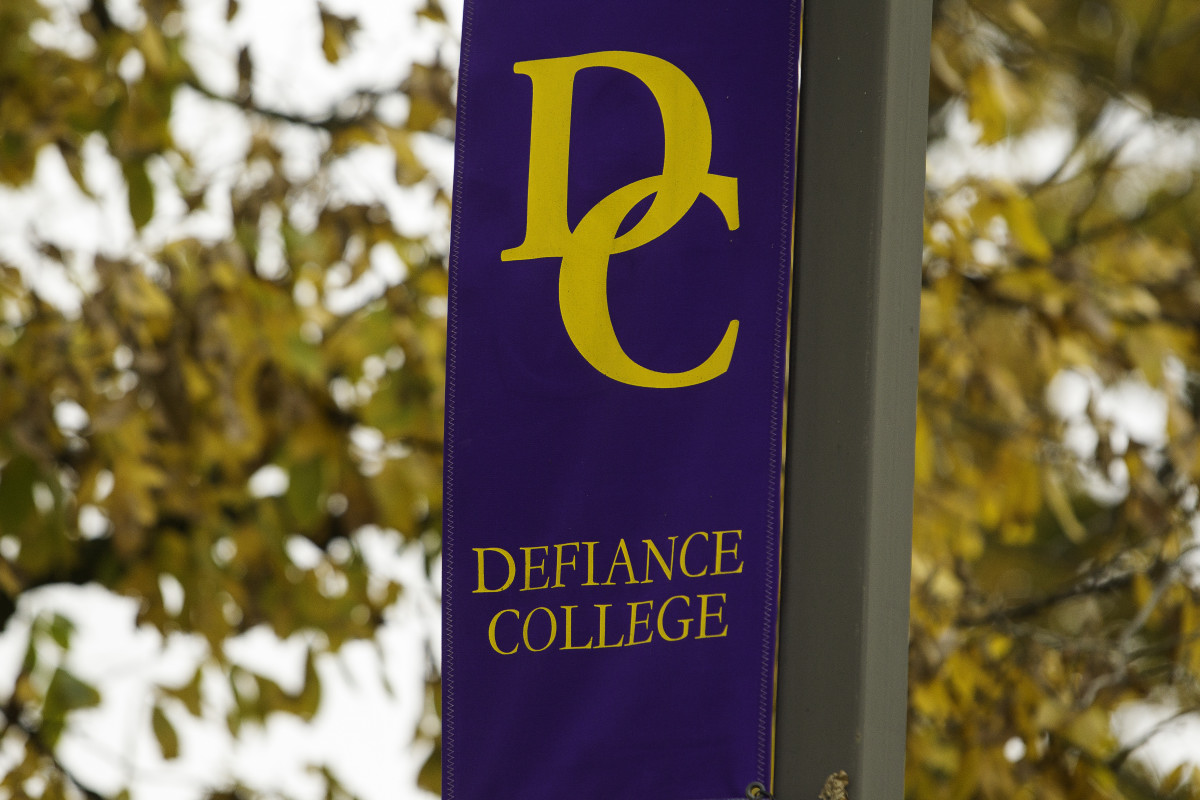 Federal Student Aid
SCHOOL CODE: 003041
PRIORITY DEADLINE: APRIL 1

Defiance College admits students regardless of race, color, creed, sex,
national or ethnic origin, sexual orientation, or disability.