Application Procedure
Master of Business Administration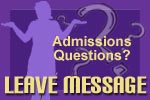 Full admission candidates for the Master of Business Administration must meet the following criteria:
Completion of the entire admission application form. Apply Online
Hold a baccalaureate degree from an accredited institution in any field of study.
Have a minimum undergraduate grade point average (GPA) of 2.5 on a 4.0 scale.
Provide two letters of recommendation as follows (Preferably one letter from the immediate supervisor):

Must attest to the applicant's academic competence
Must attest to the applicant's ability to work with people and demonstrate appropriate interpersonal and social skills
Submit a Goal Statement outlining the purpose for pursuing the Master of Business Administration degree. The statement should be at least two typed, double spaced pages, and represent the applicant's best writing skills.
Submit scores within the last five years on the Graduate Management Admission Test (GMAT ) or have an undergraduate GPA above 2.75 on a 4.0 scale during junior and senior years. Students who score less than the 50th percentile on the GMAT may be admitted under the criteria for conditional admission.
Submit a $25 application fee. (This fee is waived if you apply online or are a Defiance College graduate.)