McMaster School for Advancing Humanity to hold annual symposium April 5 - 6
March 29, 2017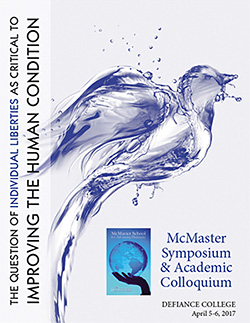 DEFIANCE, Ohio - Defiance College's McMaster School for Advancing Humanity will hold its thirteenth annual McMaster Symposium and Academic Colloquium April 5 – 6 on the DC campus. The theme will be "The Question of Individual Liberties as Critical to Improving the Human Condition." All presentations are free and open to the public.
Keynote speaker Dr. Terry Anderson will speak on Wednesday, April 5, at 7 p.m. in Schomburg Auditorium.
In this lecture, Dr. Anderson will present a new paradigm for self-determination - the new indigenous economics. This way of thinking builds on Native Americans' rich pre-European history of institutions that fostered sustainable societies.
Dr. Terry Anderson is the William A. Dunn Distinguished Senior Fellow and former President and Executive Director of PERC, as well as the John and Jean De Nault Senior Fellow at the Hoover Institution, Stanford University.
He has published widely in the popular press and professional journals, including the Wall Street Journal, the Christian Science Monitor, Journal of Law and Economics, and Economic Inquiry. Recently, Dr. Anderson co-edited "Self-Determination: The Other Path for Native Americans."
Thursday morning begins with opening remarks by DC President Dr. Richanne C. Mankey at 8:30, which will lead into break-out sessions at 9 a.m.
Lunch table discussions will focus on a variety of issues surrounding humanity in today's headlines.
At 1:30 p.m., the film Shout Gladi Gladi will be presented in Schomburg Auditorium and break-out sessions continue.
Break-out sessions include speakers from McMaster Learning Communities of Belize, Cambodia, and Panama. Additional topics will be presented such as "Business Strategy: The Global Perspective," "Historical Debates, Contemporary Significance," "Collecting Digital Information: A Guide for Victim Advocates," "Social Media's Influence in the Racial and Cultural Divide," "Design Makes a Difference," and "Life after McMaster: Turning Your Career Into a Life-long Passion for Service to Humanity."
Break for dinner will be at 4:30 p.m., resuming with Honors Convocation at 6 p.m. and Divisional Awards at 7:15 p.m.
Also on Thursday, April 6, the Academic Colloquium will present its annual spring symposium. Through poster and oral presentations, DC students will present research and scholarly works related to their course work.
For more information and a schedule, view the symposium webpage.
Defiance College, chartered in 1850, is an independent, liberal arts institution in Northwest Ohio offering more than 40 undergraduate programs of study as well as graduate programs in education and business. Defiance College has received national recognition for its educational experience of service and engagement. The college website is www.defiance.edu.