Making the world a better place with DC's McMaster School
June 1, 2017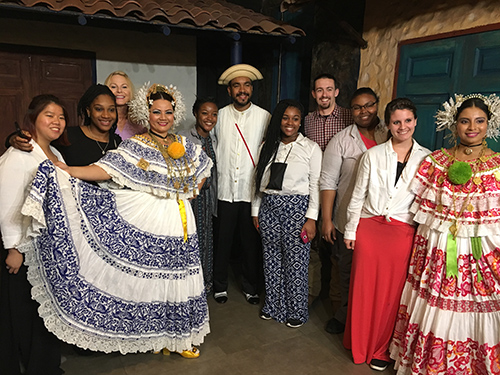 DEFIANCE, Ohio - In its second year as an international partner of the McMaster School for Advancing Humanity, Panama provided a beautiful and energizing backdrop for the 2016-17 McMaster Panama Learning Community. Seven Defiance College students accompanied by Professor Alesia Yakos-Brown and Associate Athletic Trainer Kathleen Westfall spent several days in March working with partners in Panama villages to address community concerns.
The group split its time between El Congo, a rural village, and Mananitas Biblioteca, an after-school program and community center in a suburb of Panama City.
During their time in Panama. The DC team taught CPR and other safety measures to school children and community members. Before departing, they left behind first aid supplies and health and safety manuals to be used throughout the year. The DC students also taught proper use of social media, how to set goals to encourage better retention in schools, nutrition, container gardening, eye testing, and relaxation techniques.
All of the McMaster projects are developed in consultation with school and community leaders at each location. During this year's trip, Professor Yakos-Brown conducted community surveys of needs for future projects.
When their work was completed, the DC team visited the Panama Canal; Panama Viejo, the original Panama City; and Embera Indigenous Village.
Participating students were: Da'Ja'Nay Askew, psychology and social work major from Crown Point, Ind.; Denique Dennis, social work major from Jamaica; Taylor Gillig, early childhood education major from Tiffin, Ohio; Toni-Ann Ledgister, forensic science and criminal justice from Jamaica; Adam McGinnis, business administration major from Bloomville, Ohio; Alexis Walker, athletic training major from Fort Myers, Fla.; and Kaytlyn Williamson, social work major from Prospect, Ohio.
Defiance College's McMaster School for Advancing Humanity is one of the most extraordinary college programs in the country. Its signature McMaster Scholars Initiative offers students the chance to combine their personal and classroom knowledge with research to improve the human condition around the world. Current McMaster Learning Communities are located in Panama, Cambodia and Belize.
Defiance College, chartered in 1850, is an independent, liberal arts institution in Northwest Ohio offering more than 40 undergraduate programs of study as well as graduate programs in education and business. Defiance College has received national recognition for its educational experience of service and engagement.