Community photography exhibit to be featured in Defiance College gallery
June 6, 2019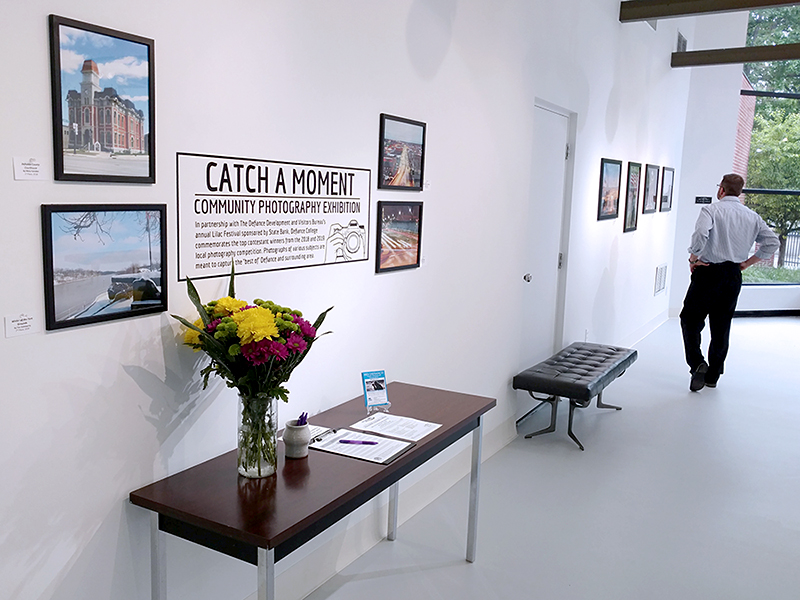 DEFIANCE, Ohio - In partnership with the Defiance Development and Visitors Bureau (DDVB), Defiance College hosts "Catch a Moment," a photography exhibit on display in the Women's Commission Gallery until July 29. The exhibit features the top ten contestant winners from Defiance County's 2018 and 2019 Catch a Moment and Photograph It contests.
The annual contest is open to all amateur photographers and is meant to capture the best of Defiance and surrounding area with themes including #DineDefiance, #ShopDefiance, #PlayDefiance, and #ViewDefiance. The public votes on the top four photographs each year during the Defiance Lilac Festival sponsored by State Bank. Currently, the DDVB is accepting 2020 entries. For more information on the contest, contact the DDVB office at 419-782-0739 or visit their website at www.visitdefianceohio.com.
The exhibit is free and open to the public. Gallery summer hours are from 9 a.m. to 5 p.m., Monday through Friday, and Saturday from 9 a.m. to 2 p.m. The Women's Commission Gallery is located on the DC campus off Sessions Street. Please enter using the interior door, accessible through Dana Hall or the Art Center. Gallery inquiries may be sent to Gallery Director and Assistant Professor of Design Beverly Fanning at wcg@defiance.edu.
The mission of the Women's Commission Gallery is to serve the College by enriching student life and cultivating knowledge and understanding of the arts. Founded in 1971 by the Defiance Women's Commission, the dedicated venue hosts a wide array of academic and community programs, events, and exhibitions throughout the year. Exhibitions include works by local, regional, and national artists, as well as Defiance College students and faculty.
Defiance College, chartered in 1850, is an independent, liberal arts-based institution in Northwest Ohio offering more than 40 undergraduate programs of study as well as graduate programs in education and business. Defiance College has received national recognition for its educational experience of service and engagement. The College website is www.defiance.edu.