The Defiance College Yellow Jacket Band Experience Day: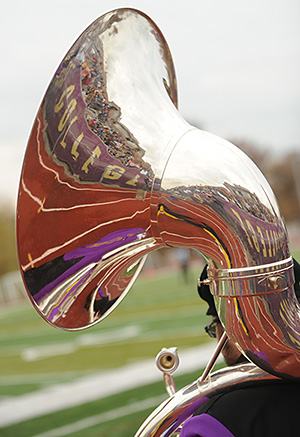 Experience a day as a member of the DCYJB! We cordially invite recent and upcoming high school graduates who have an interest in Defiance College and the DCYJB to come spend a day as part of the band!
Visit our beautiful campus

Learn more about life at Defiance College

Rehearse and eat lunch with the band

Come experience the excitement of college football!

Parents and siblings are also welcome
Example of Schedule
8:30 am Check-in and refreshments (Serrick Campus Center)
9:00 am Welcome session and introductions
9:20 am Information sessions for students and parents: "A Closer Look at DC," "Student Life at DC," "Dollars & Sense"
11:00 am Academic Fair
11:15 am Lunch
11:45 am DCYJB and visiting students report to Justin F. Coressel Stadium for rehearsal
1:30 pm Football game begins
2:45 pm DCYJB and visiting students perform at half-time!
4:30 pm Approximate dismissal
The visiting students will be provided music for the halftime show in advance to play with the DCYJB during halftime! Food for lunch and during the game will be provided to all guests as well as a DCYJB t-shirt to the prospective student. Direct any questions to music@defiance.edu.
"The Defiance College YJ Band Experience Day is an event that our students look forward to participating in each year.
They enjoy getting a taste of the college game day atmosphere as well as playing with other musicians."
--Beth Voll, Director of Bands, Archbold Area Schools
Sign Up For This Event!

Please note when filling out this form: Use the Tab button to switch from question to question, or use your mouse. Hitting the return key will submit the form.