Business Card Order Form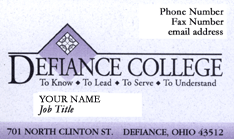 Pictured above is an example of a Defiance College business card. In order to process your request you will need to fill in your name, job title, phone and fax number, and your email address. Also, please choose your quantity. In order to save on printing costs, generally orders are sent to the printers in groups of four.
All orders are processed through the Communications Office. If you have any questions please contact Kathy Punches at extension 2590.
BE SURE TO FILL IN ALL THE FIELDS (no information - type blank in the box)