Carolyn M. Small Honors Program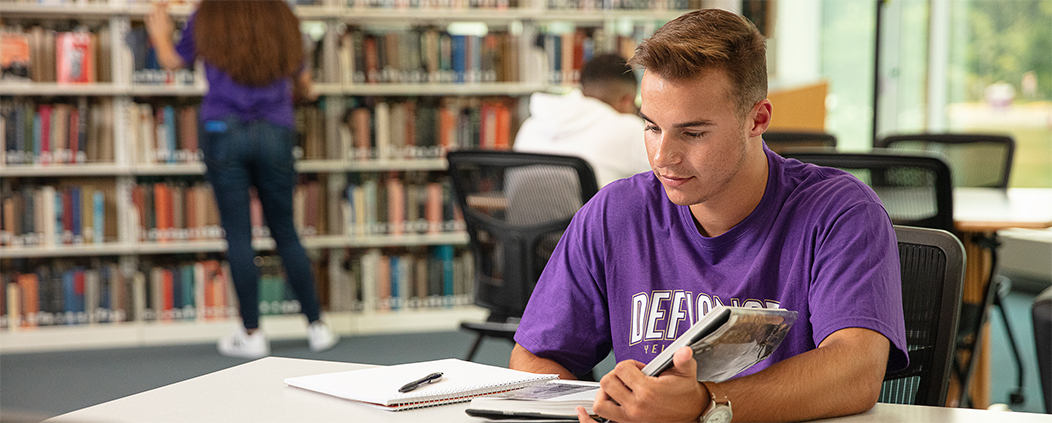 DC's Honors program allows you to enrich your education through academic challenges that are supported by an active cohort of peers and faculty mentors. The Honors program is committed to providing you with a support system that will promote strong academics and offer a variety of experiential learning opportunities.
Every April, we celebrate the academic achievement of Defiance College honor students at the Honors Night Awards. This year's program is on April 26.
HONORS ADVANTAGE
As an Honors student, you are eligible to compete for a full-tuition scholarship. All who compete and do not receive full-tuition will receive a $1,000 Honors scholarship.
Thematic seminars introduce the exploration of concepts across disciplines and give students the ability to engage in inquiry, both in and out of the classroom. Specific courses will go to Chicago using The Chicago Center for weekend immersions.
You can work with your professors to develop Honors courses that build academic knowledge, skills, and experience in courses you choose. These courses allow for greater opportunities for one-on-one student and faculty interaction. Honors option courses are designated on a student's transcript.
As an Honors student, you have the option of participating in priority registration to secure the classes that you want for each semester. You will also have priority selection for internship opportunities.
You will attend monthly meetings hosting various speakers, films, and/or debates focused on current issues. These are open to all Honors students for an exchange of ideas.
You will have the opportunity to experience various cultures and the arts by attending theater/musical performances and participating in our annual international tea.
The Honors student executive committee empowers students to take leadership roles as they collaborate with the Honors director to design programming and events.
The Honors program further enhances professional skill development by supporting students to present at national conferences and campus symposia. Additionally, Honors students may choose to partner with faculty members on research and other experiential learning opportunities.
Short biographies of all graduating members of the Carolyn M. Small Honors program will be featured in the commencement program to recognize their achievements during their time at DC with an Honors distinction on diplomas.
---
CONTACT
Agnes I. Caldwell, Ph.D.
Director of the Carolyn M. Small Honors Program
419-783-2586
acaldwell@defiance.edu