Campus Map & Video Tours
DIRECTIONS TO DC | WHERE TO STAY | VISIT CAMPUS
Campus Map Printable PDF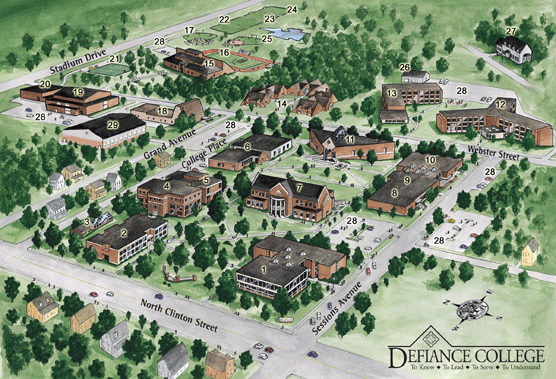 ---
1. Defiance Hall
return to top
---
2. Schauffler Hall
return to top
---
3. Mikula-Frey Science Center / 4. Tenzer Hall / 5. Carma J. Rowe Science Center
return to top
---
6. Hubbard Hall
return to top
---
7. Serrick Campus Center
return to top
---
8. Dana Hall / 9. Schomburg Auditorium / 10. Art Center (Women's Commission Art Gallery)
return to top
---
11. Pilgrim Library
return to top
---
12. McReynolds Hall
Please enjoy this student video tour of McReynolds Hall!
return to top
---
13. Whitney Hall
Please enjoy this student video tour of Whitney Hall!
return to top
---
14. Jacket Suites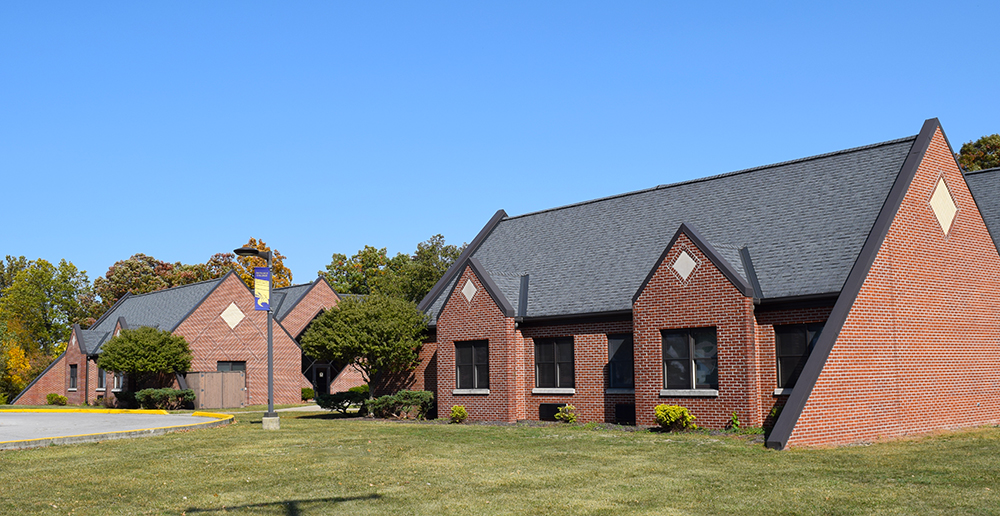 Quad-style apartments for upperclassmen divided into three pods, each containing 4-5 individual apartment units. Each pod has a central lounge and study area, as well as free-for-use washers and dryers for laundry. Jacket Suites have central air/heating and high-speed internet.
return to top
---
15. Justin F. Coressel Stadium / 16. Alumni Football Field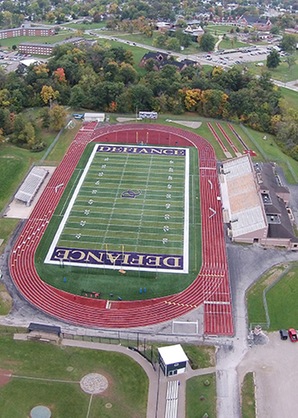 Justin F. Coressel Stadium is home to the Defiance College football team as well as the men's and women's outdoor track & field programs. The stadium can sit up to 4,000 fans and is named in honor of long-time DC friend, supporter, and trustee Justin F. Coressel. Coressel Stadium was completed in 1994 and contains locker rooms, a concession stand, and a press box. An athletic training room is also located within the complex, along with a team meeting facility, perfect for reviewing game film with full-color projectors for diagramming offensive and defensive strategy. The facility received an update in the summer of 2018, providing a newly-renovated locker room facility. In addition, an eight-lane, all-weather track surrounds the playing field. Recently, Coressel Stadium underwent an overhaul to install field turf to replace its original natural grass surface.
return to top
---
17. Craig A. Rutter Field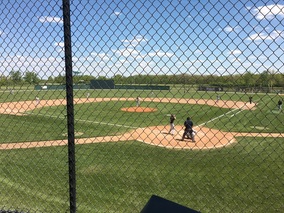 Craig A. Rutter field is home of the DC baseball program. Rutter Field sits in the center of the athletics complex. The field features a unique crushed brick infield with all grass baselines and a compacted limestone warning track that accents a Kentucky Bluegrass and Perennial Rye outfield. All this is complemented by visiting and home dugouts, bullpens, and the "Green Monster" in center field. In 2004, a press box was added which provide the Yellow Jackets and their fans with an energetic, pre-game atmosphere.
return to top
---
18. St. John's UCC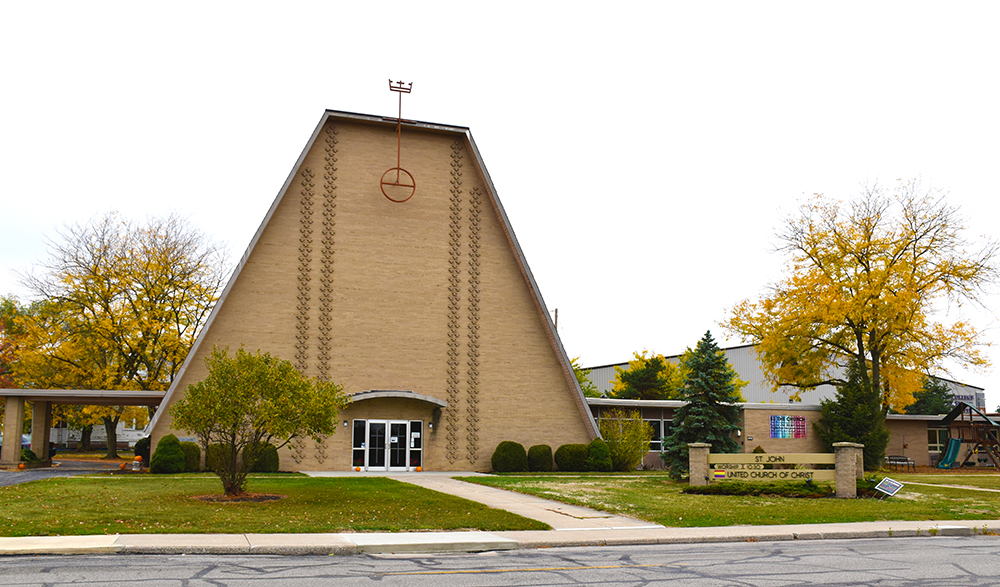 Located next to campus to the north on Webster street, the St. John UCC church is part of campus' spiritual life. It is often the location for special events such as musical performances.
return to top
---
19. Karl H. Weaner Center / 20. McMaster Center
return to top
---
21. E. Stevens Dix Tennis Facility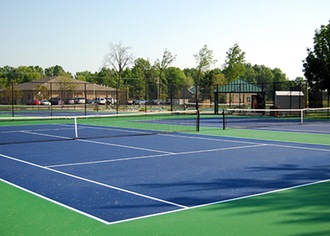 The Dix tennis courts are home facility for the men's and women's tennis teams. In the summer of 2012, the facility was renovated with a durable, crack-resistant surface. The tennis courts are located east of the Weaner Center. In addition to the outdoor tennis courts, the tennis programs have access to four indoor tennis courts located in the Smart Center.
return to top
---
22. Football Practice Fields
Spacious football practice fields are located to the east of the stadium to provide additional space for training.
return to top
---
23. Matthew Winsper-Knobel Memorial Soccer Field / 24. Soccer Practice Field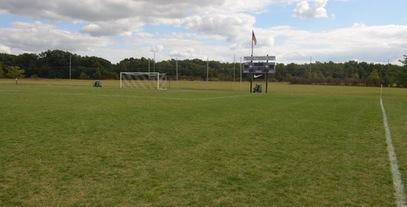 Winsper-Knobel field is the main competition facility for the men's and women's soccer teams. The natural grass field is located just east of the Dix tennis facility and Coressel Stadium. The field boasts a press tower with wireless internet access. In addition to the main playing surface, athletes have access to a warm-up and practice field located next to Winsper-Knobel Field.
return to top
---
25. Sal Hench Softball Field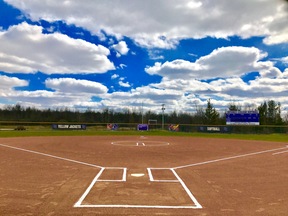 The Yellow Jacket softball team calls Sal Hench field home. The field was built in 1999-2000 in honor of long-time DC supporter Sal Hench. The field features on-field bullpens as well as a two-story press box with concession stand, All-Conference "Wall of Fame," and a full sound system. The outfield dimensions are 210 feet all around with a 28-foot by 12 foot inning-by-inning scoreboard in right field which was added in the spring of 2014. In the fall of 2016, the softball field received a a brand new infield surface which was laser leveled and an improved Dura Edge classic infield mix with red Pro Slide top dressing.
return to top
---
26. Maintenance Department
The maintenance department is located behind the residence hall parking lot.
return to top
---
27. President's Home
The DC president's home is located a few blocks south of campus. Occasionally, prestigious events by-invitation-only are held here.
return to top
---
28. Parking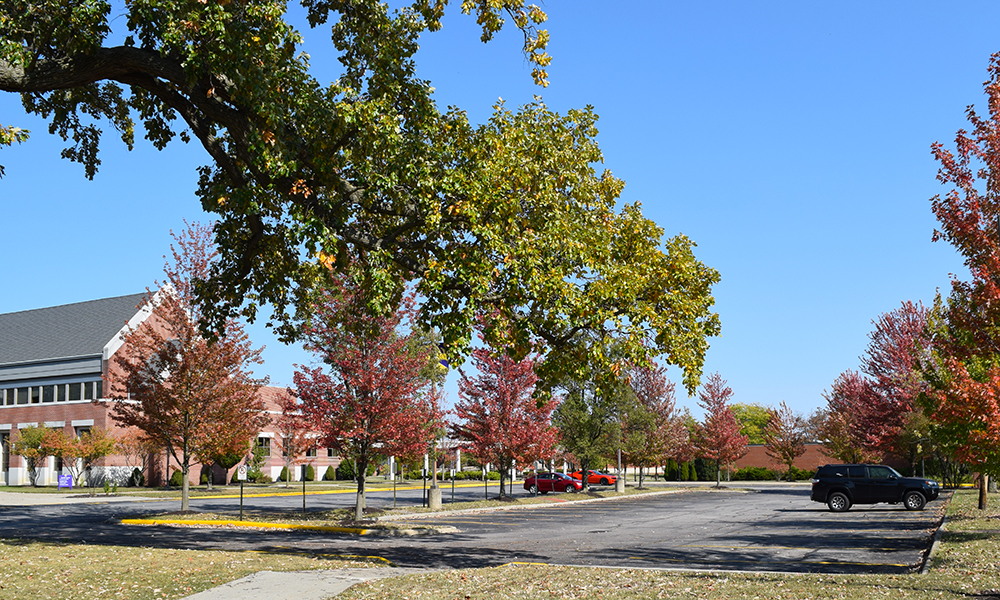 Most visitors will park next to Serrick in the small lot off of Sessions Street.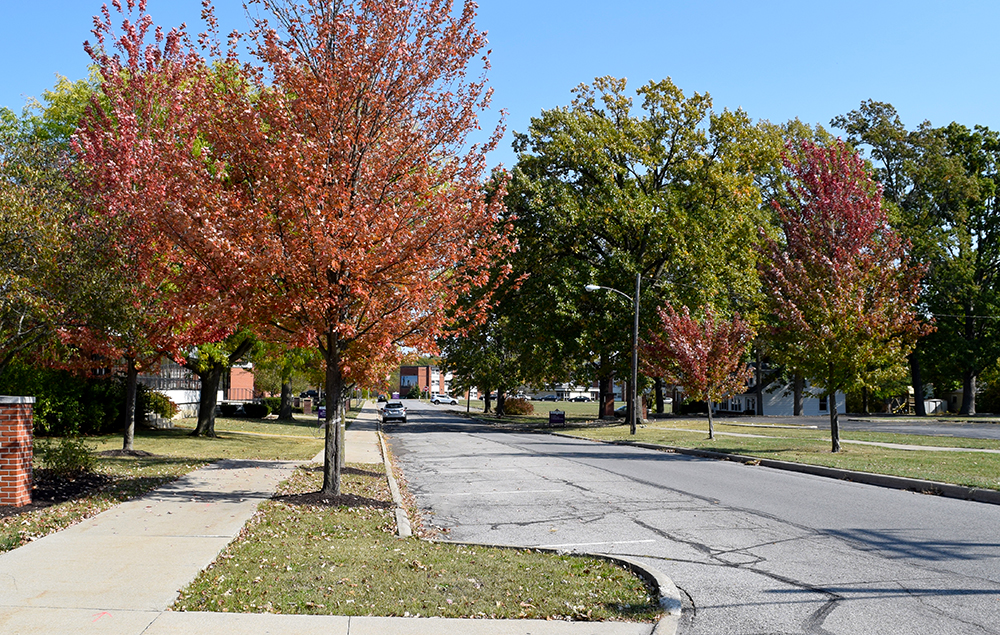 Street parking is also available on Sessions Street.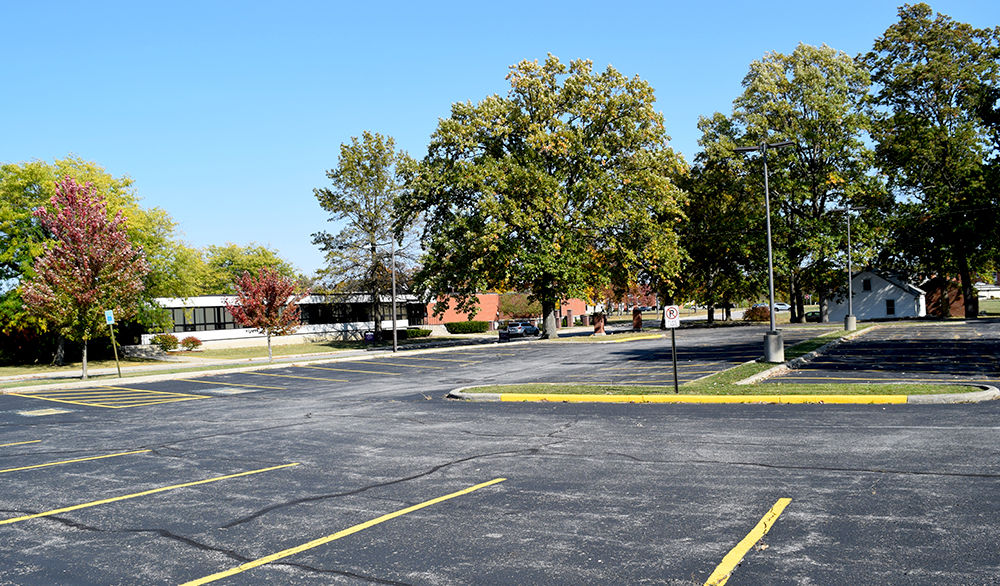 A parking lot to the south of Dana Hall provides additional space.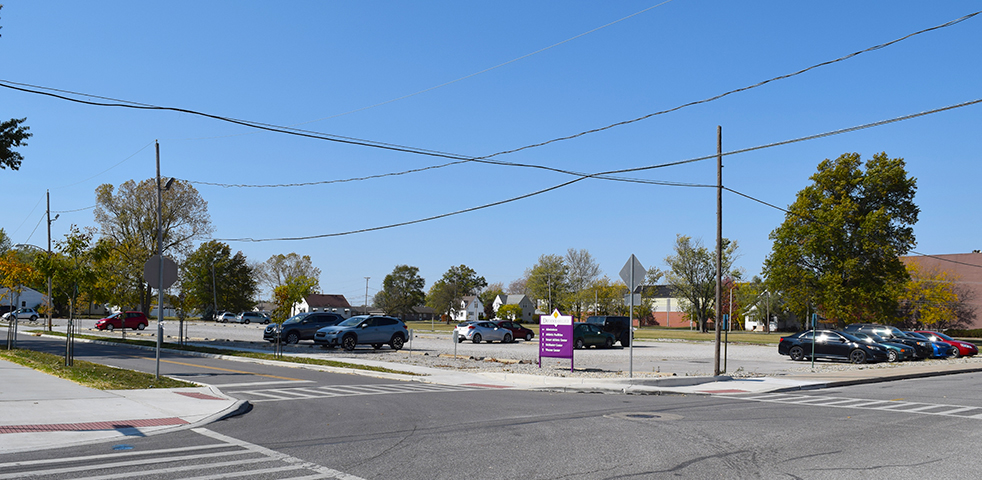 A stone parking lot just to the north of campus is another easy way to access campus.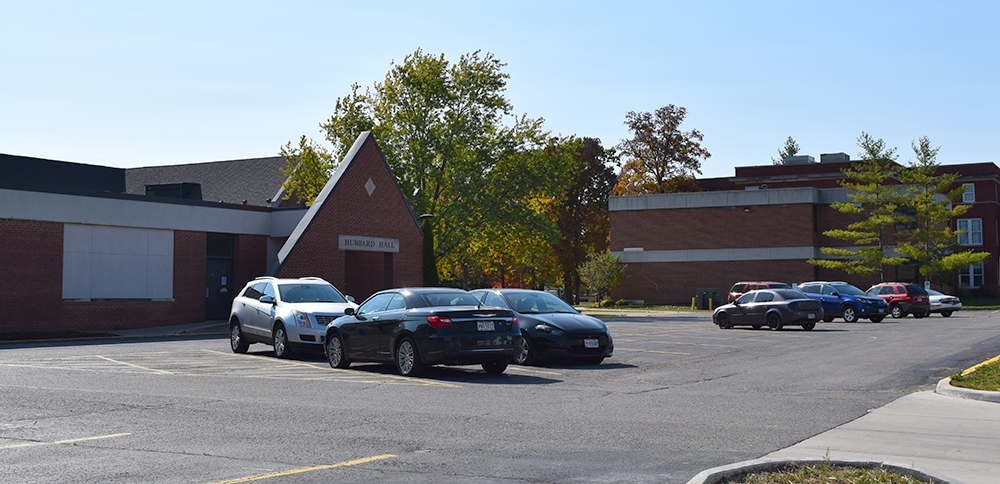 Parking is also available on the north side of Hubbard Hall.
return to top
---
29. George M. Smart Athletic Center
return to top