Non-traditional students find programs, resources at Defiance College
December 16, 2016
DEFIANCE, Ohio - Defiance College serves the higher education needs of a variety of non-traditional students – from transfer students to veterans to the general adult population.
Non-traditional students add value to the college classrooms and the campus community with the depth and breadth of their life experiences.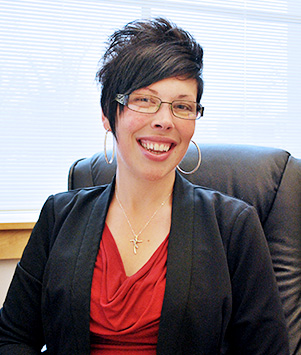 Brenda Averesch is the veteran, transfer, and adult recruitment coordinator for Defiance College. She works directly with interested persons from these populations. A Defiance native, Averesch has worked in the Defiance College admissions office for six years and has worked with prospective transfer students for the past three years. She guides prospective adult students through the admissions, financial aid and registration processes.
Averesch, who holds bachelor's and master's degrees from DC, also works with area community colleges and other four-year institutions to serve the needs of transfer students, whether they have already completed an associate degree or are looking to transfer.
"We value non-traditional students and want Defiance College to be a viable option for them to continue their education. They are typically highly-motivated students that bring great energy and experience to the classroom and the campus." Averesch said.
"We recognize that adult students have busy lives outside of college with work and family obligations, and so we offer flexibility of course offerings and ease of transfer credits."
Defiance College has served the needs of the adult population throughout its history. World War II veterans arrived on campus to pursue their college educations with benefits provided under the GI Bill. In 1982, the College organized its first non-traditional student initiative with its re-entry program.
Defiance College is recognized by Victory Media as a Military Friendly School based on its effort to recruit and retain military and veteran students, support on campus, and academic accreditations. DC's school certifying official works closely with current and prospective student veterans on understanding their education benefits and submitting all necessary paperwork to the VA for approval. In addition to staff support throughout campus departments, the college provides a Veterans Resource Center on campus where student veterans can study.
Defiance is also a Yellow Ribbon institution. Eligible military veterans of the post-9/11 era may be able to attend Defiance College tuition-free. The Yellow Ribbon program is part of the post 9/11 Veterans Educational Assistance Act of 2008.
Averesch can be reached at 419-783-2352 or baveresch@defiance.edu. In addition to normal business hours, she is also available every Tuesday until 6:30 p.m.
Defiance College, chartered in 1850, is an independent, liberal arts institution in Northwest Ohio offering more than 40 undergraduate programs of study as well as graduate programs in education and business. Defiance College has received national recognition for its educational experience of service and engagement. The college website is www.defiance.edu.