Defiance College receives one million dollar endowed gift
October 6, 2017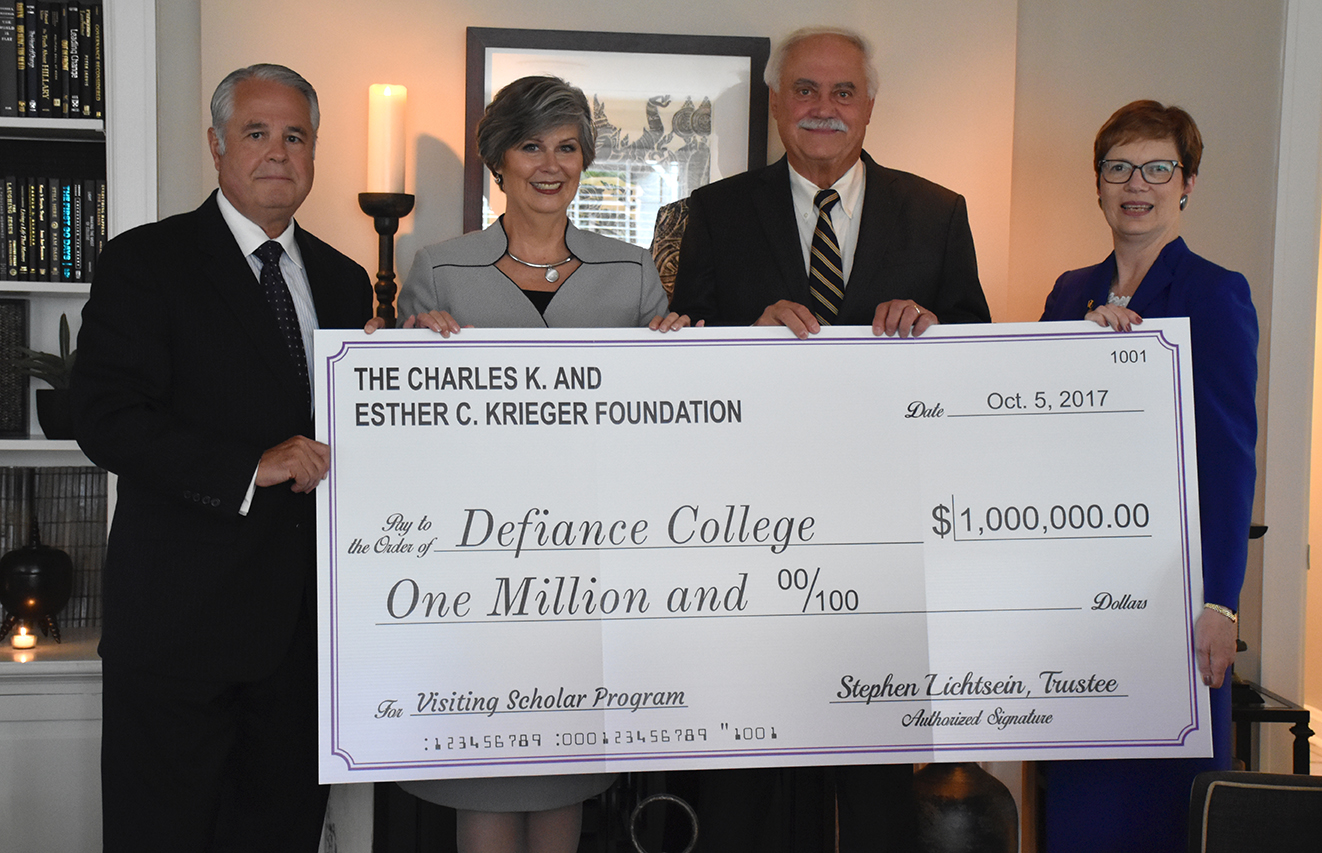 DEFIANCE, Ohio - The Charles K. and Esther C. Krieger Foundation has awarded Defiance College with a $1 million endowed gift. The gift's main purpose is to create a visiting scholar program to bring religious specialists to the Defiance College campus each academic year.
"This is a transformational gift for Defiance College. We are so very grateful for the generosity of the Charles K. and Esther C. Krieger Foundation," says President Richanne C. Mankey. She continues that, "through this partnership the College will be able to engage scholarship for important student learning that opens the door to increased understanding of our highly complex world."
The Charles K. and Esther Krieger Visiting Scholar will bring in a different religious academician each year. While at the College, the visiting scholar will be an active part of the DC community. Religious specialists will teach courses based on their respective area of expertise, lead seminars, speak at community events, and collaborate with students on research topics.
"The impact of this gift on Defiance College's academics will be profound. A gift of this magnitude will attract world-class academicians and provide our community access to leaders in the fields of Judaism, Christianity or Islam. I look forward to welcoming this scholar into the midst of our great faculty," says Dr. Agnes Caldwell, Vice President and Dean for Academic Affairs.
The gift will fund the annual expenses of the visiting scholar who will be provided campus housing and other amenities. The endowed gift will be self-sustaining and continue to bring in visiting religious specialists for years to come.
Defiance College alumnus and former board chair, Stuart Sakosits, was central in facilitating the $1 million gift. It is designed to aid students to study and better understand the connections between the three Abrahamic religious traditions: Christianity, Judaism, and Islam. Through such understanding, students will be encouraged to expand spiritual exploration, be prepared to confront ethical and religious conflicts, and to find their own call to servant leadership through service.
Dr. Marian Plant, Faculty Chair and Chair of the Religion Department at the college notes, "In part, the mission of the Charles K. and Esther C. Krieger Foundation is to promote education, religious, and cultural needs through qualified charities. Thus, we believe that the informed conversations ensuing from this generous and transformational gift allow us to place students within the broader context of a religiously pluralistic society, where diversity of faith is not indicative of division, but a unifying source through common experiences. In addition we prepare graduates to continue on a life-long journey of learning, leadership, and productivity. These values derive from our mission and are important to promoting peace and understanding."
As a United Church of Christ related college, DC appreciates inclusion and emphasizes learning based on its four pillars of education: to know, to understand, to lead, and to serve.
"We are most grateful to the Krieger Foundation and for the efforts of Stuart Sakosits in securing this gift that will help students better understand both the differences and similarities between Christianity, Judaism, and Islam. Such experiences should better prepare them for life after Defiance College," said Board Chair Steve VanDemark.
Defiance College, chartered in 1850, is an independent, liberal arts institution in Northwest Ohio offering more than 40 undergraduate programs of study as well as graduate programs in education and business. Defiance College has received national recognition for its educational experience of service and engagement. The college website is www.defiance.edu.
---
PICTURE CAPTION:
On Thursday evening Defiance College officials announced a $1 million gift from the Charles K. and Esther C. Krieger foundation. The gift will be used to fund a visiting religious scholar each year who will lecture, lead seminars, participate in community events and collaborate with students. Discussing the gift from left are Defiance College Board Chair Steve VanDemark, Defiance College President Dr. Richanne C. Mankey, Krieger Foundation representative and Defiance College alumnus Stuart Sakosits, and Faculty Chair and Chair of the Religion Department Dr. Marian Plant.