Internships created through Defiance College and Defiance Area YMCA partnership
October 30, 2017


DEFIANCE, Ohio - This summer, the Defiance Area YMCA put together a program for personal training and group exercise classes that were conducted by Defiance College interns. Those who participated were Reed Guerin, Boynton Beach, Fla.; Jacob Bickel, Fort Wayne, Ind.; Kenny Jones, Toledo, Ohio; Jennifer Repka, Toledo, Ohio; and TJ Scott, Cincinnati, Ohio. Brooke Waidelich, Wauseon, Ohio, helped with a separate Y internship for youth day camp.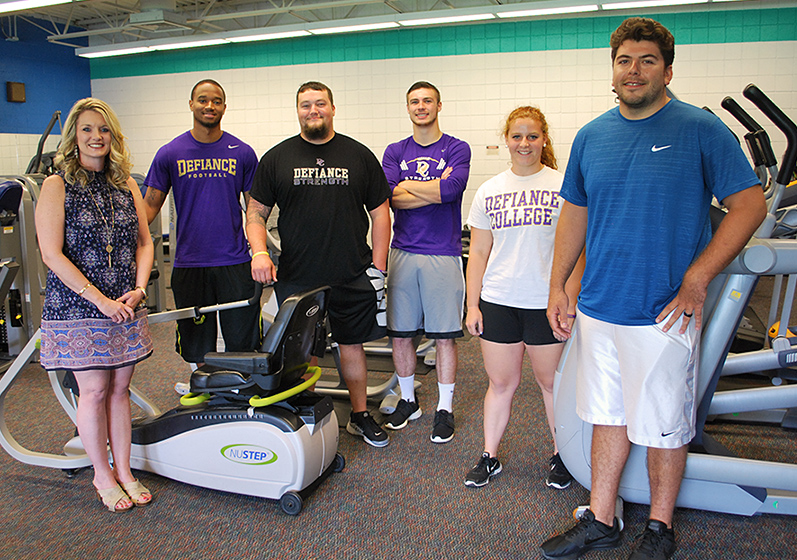 The Summer Fitness Challenge was a six week program of two sessions per week. It was created during the typically-slow summer months to bring more people to the YMCA. Around fifteen signed up for the program, which also involved group exercise.
DC's partnership with the Y started when Sally Bissell, Director of Career Development, communicated with the Defiance Area YMCA that several DC students were seeking internships. The process included an orientation day for the interns, preparing packets of beginner workouts for participants, and designing workouts for the participants.
In addition, some of the interns worked with youth ages 8-16 on a conditioning program for youth athletics, helping them to increase speed and agility.
Each intern was required to perform 120 hours for their internship.
Senior Reed Guerlin's internship focused on personal training. His major is exercise science. "It taught me to work with a diverse population, figuring out what they can or can't do," he commented. "Some people we work with may have a physical handicap."
Jacob Bickel, also an exercise science major, wants to be a physical therapist after graduation. "The internship taught me organization and time management," he said.
Kenny Jones, a sport management major, said it taught him to work with a variety of people. He enjoyed encouraging others to work out.
Other students involved in the Summer Fitness Challenge internship were Jennifer Ripka, exercise science major, and TJ Scott, sport management major.
The participants came from a wide age range from 20's to 60's.
Jake Rubio, Wellness Director of the Y, said the interns "went above and beyond." He noted that the students were eager to learn. "They seem to really invest in the people they train," Rubio added.
Those that the interns trained gave only positive feedback for their trainers' efforts.
For her internship, Brooke Waidelich, education major, conducted a day camp for kids ages 7-13, planning crafts, games, and snacks in the Y youth center. Each week of the camp had a different theme.
The Y staff indicated it can be difficult to find personal trainers with professional education/training, and having the student interns with college training had been helpful. All workouts were created by interns then submitted for approval before being administered to the clients.
Tina Draine, Marketing and Communications Director of the Y, said that, as a nonprofit community organization, the Y tries to keep costs down, and with the additional student intern help, they were able to offer this programming.
According to Rubio, the Y was not expecting to have so many persons sign up for the initial program. He said winter fitness programs generally have a bigger response than summer. He said most of those who signed up for the first summer program indicated they planned to do a second program. "With the help of these students, we've gained a lot," he said.
"We have a wonderful partnership with Defiance College," said Draine. "The students are very engaged with members and non-members. They all are very respectful and pleasant. Sally did a great job helping create the Summer Fitness Challenge."
Appreciation of the partnership goes both ways, as the students gained valuable hands-on experience in their fields.
For information on the Defiance Area YMCA and its programs, visit www.defianceymca.org.
Defiance College, chartered in 1850, is an independent, liberal arts institution in Northwest Ohio offering more than 40 undergraduate programs of study as well as graduate programs in education and business. Defiance College has received national recognition for its educational experience of service and engagement. The college website is www.defiance.edu.
---
Pictured from left to right are: Tina Draine, Marketing and Communications Director of the Defiance Area YMCA; DC students Kenny Jones, Toledo, Ohio; Reed Guerin, Boynton Beach, Fla.; Jacob Bickel, Fort Wayne, Ind.; Brooke Waidelich, Wauseon, Ohio; and Jake Rubio, Wellness Director of the Defiance Area YMCA.