Defiance College social work students Pay It Forward
December 11, 2017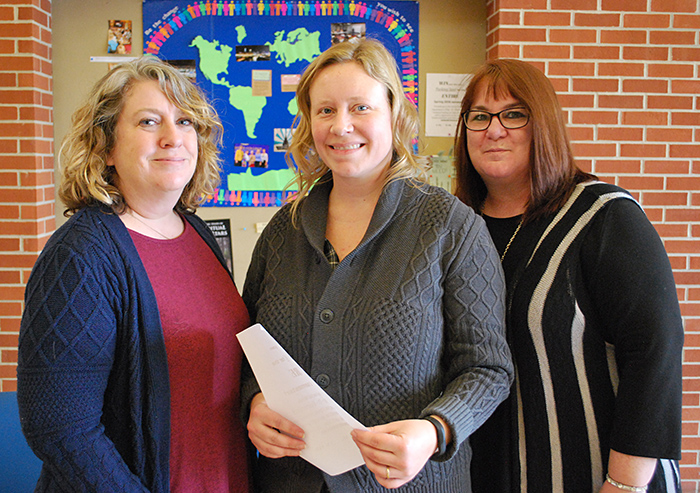 DEFIANCE, Ohio - Students from Defiance College's social work Macro Practice with Communities and Organizations class conducted their annual Pay It Forward initiative during the fall semester. The course directly impacts community needs by awarding financial assistance. This year, the class awarded a $2,000 grant to Comprehensive Crisis Care, a crisis intervention agency serving Defiance, Henry, Fulton, and Williams counties.
Since 2008, the DC class has awarded more than $19,000 to address needs of transportation, hunger, unemployment, poverty, youth mentorship, and cultural understanding in northwest Ohio. With steps embedded in the curriculum, students conduct a five-county community assessment, prepare a request for grant proposals, send RFPs to approximately 50 non-profit social service agencies, and award grants to applicants that best address the identified community need.
The project began in 2008 with funding through the Pay It Forward student-led philanthropy program led by Ohio and Kentucky Campus Compacts, and later with the support of the Women's Giving Circle of Defiance. In recent years, the class has raised its own funds through a number of events such as raffles, bake sales, and donation solicitation. This year, a portion of the funds was raised with support from Buffalo Wild Wings, which donated a percentage of one-day dining sales. The class also held bake sales during local Knights of Columbus fish fry events.
This year's recipient, Comprehensive Crisis Care, offers services ranging from providing hotline services, 211 information referral line, crisis intervention assessments for all ages, and two crisis stabilization units. CCC works with clients to determine which level of care is appropriate at their time of need. The Napoleon facility has an adult voluntary unit to address mental health issues, prescribe medications, and provide individual therapy sessions. It also has a child/adolescent unit for mental health assessments, medications, and individual or family sessions.
Defiance College, chartered in 1850, is an independent, liberal arts institution in Northwest Ohio offering more than 40 undergraduate programs of study as well as graduate programs in education and business. Defiance College has received national recognition for its educational experience of service and engagement. The college website is www.defiance.edu.
---
PHOTO IDENTITIES

Left to right: Christine McVay, clinical manager of Comprehensive Crisis Care; social work senior Amanda Waldfogel; and Bev Palmer, crisis stabilization unit coordinator for CCC.