3rd annual archives exhibit to be featured in DC gallery
October 2, 2019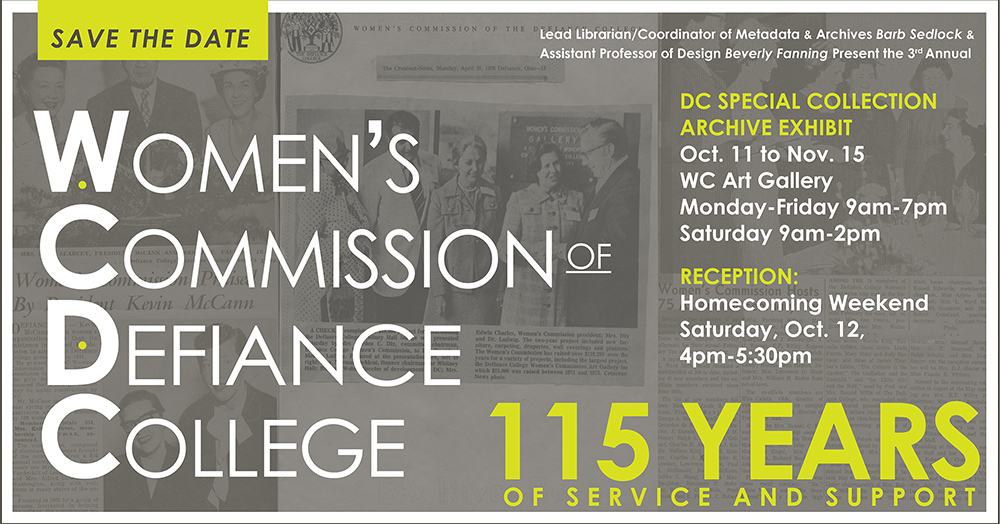 DEFIANCE, Ohio - "115 Years of Service and Support - A Special Tribute to The Women's Commission of Defiance College" will be on display in the Women's Commission Gallery from Friday, Oct. 11, to Friday, Nov. 15. This will be the 3rd annual DC archives special collection exhibit.
The exhibit, presented by Lead Librarian and Coordinator of Metadata and Archives Barb Sedlock and Assistant Professor of Design Beverly Fanning, will highlight the organization's longstanding commitment and dedication to the College. It will feature a sampling of newspaper clippings, photographs, and documents used by the organization.
The public is invited to attend an opening reception in the gallery on Saturday, Oct. 12, at 4 p.m., proceeding the homecoming football game. The exhibit is free and open to the public.
Gallery hours during the school year are from 9 a.m. to 7 p.m., Monday through Friday, and Saturday from 9 a.m. to 2 p.m. The Women's Commission Gallery is located on the DC campus off Sessions Street. Please enter using the interior door, accessible through Dana Hall or the Art Center. Gallery inquiries may be sent to Gallery Director and Assistant Professor of Design Beverly Fanning at wcg@defiance.edu.
Established in 1904, the mission of the Women's Commission is to "advise and assist in matters pertaining to the welfare of the young women of Defiance College." It is one of DC's earliest and still active organizations and has donated hundreds of thousands of dollars to the College over the years. Projects have included new benches, bike racks, dormitory furnishings, facility upgrades, and grounds improvement.
In 1971, the organization donated $75,000 to establish the Women's Commission Gallery for the purpose of enriching student life and cultivating knowledge and understanding of the arts. The dedicated venue hosts a wide array of academic and community programs, events, and exhibitions throughout the year. Exhibitions include works by local, regional, and national artists, as well as Defiance College students and faculty. In 2021, the art gallery will celebrate its 50th anniversary.
Chartered in 1850, Defiance College is an independent, liberal arts-based institution in Northwest Ohio offering more than 40 undergraduate programs of study as well as graduate programs in education and business. Defiance College has received national recognition for its educational experience of service and engagement. The College is guided by the four pillars of its mission: To Know, To Understand, To Lead, and To Serve. The College website is www.defiance.edu.