Defiance College eSports exceeding expectations
October 4, 2019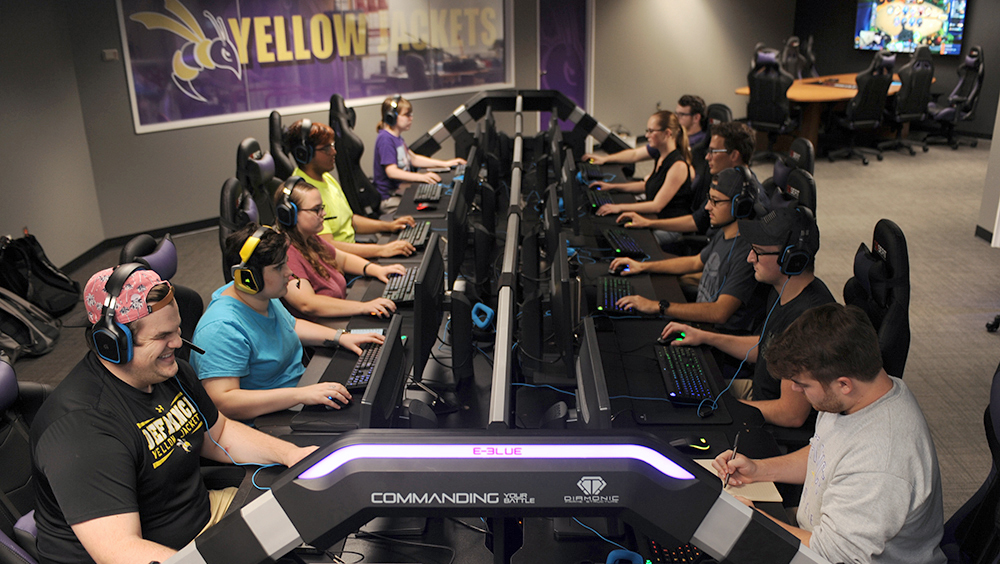 DEFIANCE, Ohio - This fall marks year two for Defiance College eSports and aspirations continue to increase with the program's prior success. Under the guidance of first-time coach Corey Parks, the Defiance College eSports Hearthstone team finished its inaugural year in the final eight in the nation, beating an Ohio State University team along the way.
"We had a great group of students behind the Hearthstone team last year. We had goals, we grinded out practice, and saw some great results!" said Coach Parks. "You can do a lot in eSports when you have a group of players/students who all share the same goal."
The Defiance College eSports team competes in computer games such as Hearthstone, League of Legends, Overwatch, Counter-Strike, and Rocket League. With competing rosters in titles such as Super Smash Bros. and Call of Duty, Coach Parks and the program continue to build teams in additional games.
Last year, Defiance College was not in a regional eSports conference and competed independently. This year, DC eSports will compete in the Great Lakes eSports Conference. The Yellow Jackets join eight other programs in the formation of the conference. Members include: Defiance College, Muskingum University, Lourdes University, Marietta College, University of Mount Union, Mount Vernon Nazarene University, Ohio Northern University, Tiffin University, and Trine University.
Coach Parks commented, "We look forward to competing in more local conferences, while still striving to play in online competitions across the nation. It's exciting times!" Excitement and expectations are also rising for the program because the number of members has doubled from last year.
ESports is not all that different from traditional collegiate sports. Players exercise to gain endurance and become more physically fit. They focus on the strategy of their chosen game in order to find any chance to gain a mental edge in competition and commit hours to practice. What many people outside the world of competitive computer gaming view as simply playing videogames is valuable practice to eSports players. Again, as with traditional collegiate sports, each game has specific nuances; the better you understand them, the better player you become.
"Something I want to help people understand is the level of dedication, practice, and pure hours of attention these games require to play at a competitive level. Also, just how many real-life skills students and individuals can pull from the time they are clocking in-game. A lot of value may be applied to a student's education, career, and overall character," Coach Parks explained. "A combination of critical thinking, problem-solving, and teamwork is a constant in these games."
Coach Parks came to Defiance College from California where he competed professionally in the franchise game Counter-Strike. He took a special interest in coaching once he heard about how colleges were creating programs around what he found to be his passion.
He enjoys coaching teams and players to better themselves in and out of the game(s) and continues to actively create an organic program and community for competitive and casual student-gamers alike. Some of his highest priorities include giving students the opportunity to create a roster, practice in a team setting, and compete at whatever level they are aspiring to compete in - all while creating a great educational experience for students in the program.
The Yellow Jacket eSports teams will continue to compete throughout the school year. For more information on Defiance College eSports, visit www.defianceathletics.com.
Chartered in 1850, Defiance College is an independent, liberal arts-based institution in Northwest Ohio offering more than 40 undergraduate programs of study as well as graduate programs in education and business. Defiance College has received national recognition for its educational experience of service and engagement. The College is guided by the four pillars of its mission: To Know, To Understand, To Lead, and To Serve. The College website is www.defiance.edu.