Gentle Worship returns to campus
December 2, 2021
Article appears courtesy of The Crescent-News. Written by Tim McDonough
DEFIANCE, Ohio - Now in its ninth year, Gentle Worship is a service geared toward families with individuals who are challenged with special needs, including Down syndrome, the hearing and/or visually impaired, autism, etc. It is also for individuals who suffer chronic pain or other ailments, and can't attend a regular-length service.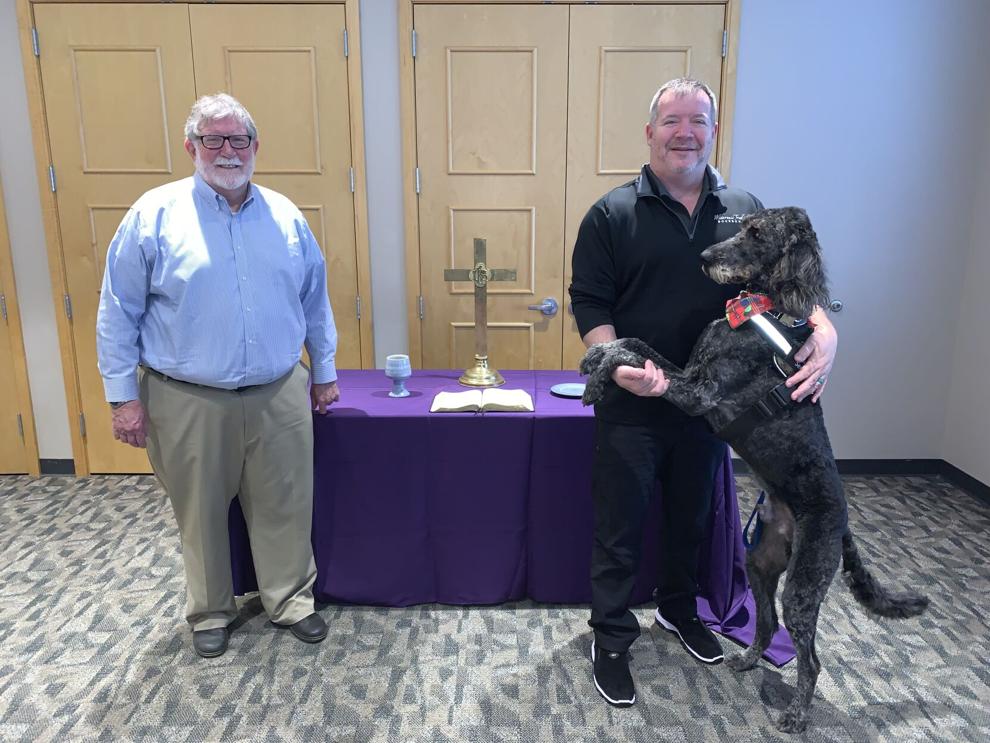 Gentle Worship is held the fourth Sunday of each month at 1:30 p.m., at the Serrick Center on the campus of Defiance College, with each service lasting 30 minutes or less.
Gentle Worship services are also held on Easter Sunday and Christmas Eve, also at 1:30 p.m.
Services are led by Pastor Dave Brobston of St. Paul Lutheran Church, and Dr. Fred Coulter, professor of education at Defiance College (DC), Schauffler chair of Christian education at DC, and an ordained United Church of Christ minister.
"After I was approached about the idea of a Gentle Worship service (in 2012), I talked to (former pastor) Mike Donnelly of St. Paul's UMC," said Brobston. "Our initial thought was, 'Why not?' So we put a team together (which included former pastor Eric Peltz of First Presbyterian), did some planning, and got a hold of Fred here at Defiance College, it was a natural fit."
Said Coulter: "I was asked to be a part of the planning committee, and at that time I was working with families. Eventually, we got the idea that it seemed a better fit to have the service here on campus, because it's a central location, it's handicapped accessible, and there's plenty of parking. For Defiance College, it's a natural extension of who we are, because we value inclusivity."
Up until February of 2020, Gentle Worship services went on like clockwork. However, in March of that year, Gentle Worship services were cancelled due to the COVID-19 pandemic. After a 22-month hiatus, Gentle Worship made its return on Nov. 28, with Coulter leading the service.
"It was interesting that you could say the people who attended in the past arrived, we all got settled in, and I looked at everybody and said, 'It feels like we haven't seen each other in forever, and yet, it feels like nothing has changed,'" said Coulter. "We just picked up where we left off, it was great to be back."
Brobston and Coulter explained the atmosphere of Gentle Worship is what makes it unique.
"What I find so incredible about it, is that it's a small congregation of its own, with its own vitality," said Brobston. "While it's an out-croping of three congregations and Defiance College coming together, it is its own community. That's a neat thing to see."
Said Coulter: "I think we've let the spirit move who wants to be here, we have an article in the newspaper every once in a while, but we haven't really pushed hard to grow this service. The people who need to be here are here, there's a depth to the spirit of the service, and no matter who's here, it's full."
Brobston explained that the service doesn't change very much, and it's important that it doesn't.
"We sing the same songs every month, and the only thing that changes are the readings and the homily," said Brobston. "It's been that way since 2012. We sing, 'Jesus Loves Me,' 'Kumbaya My Lord,' and one verse of 'Amazing Grace.' Folks know the songs, and they sing along every month."
Coulter reiterated Defiance College is pleased to host the Gentle Worship services.
"We love having this service at the college, again, it is about inclusivity and it goes along with the mission of Defiance College," said Coulter. "We are grateful to the college for hosting this service all these years, and we look forward to it being here for years to come."
Due to Defiance College being on Christmas break, this year's Christmas Eve Gentle Worship service will be held at Hubbard Hall, with attendees asked to park in the parking lot off College Place. Volunteers will be on hand to help direct attendees to the service.