Jacket Journey recognized with Outstanding New Program award
August 1, 2022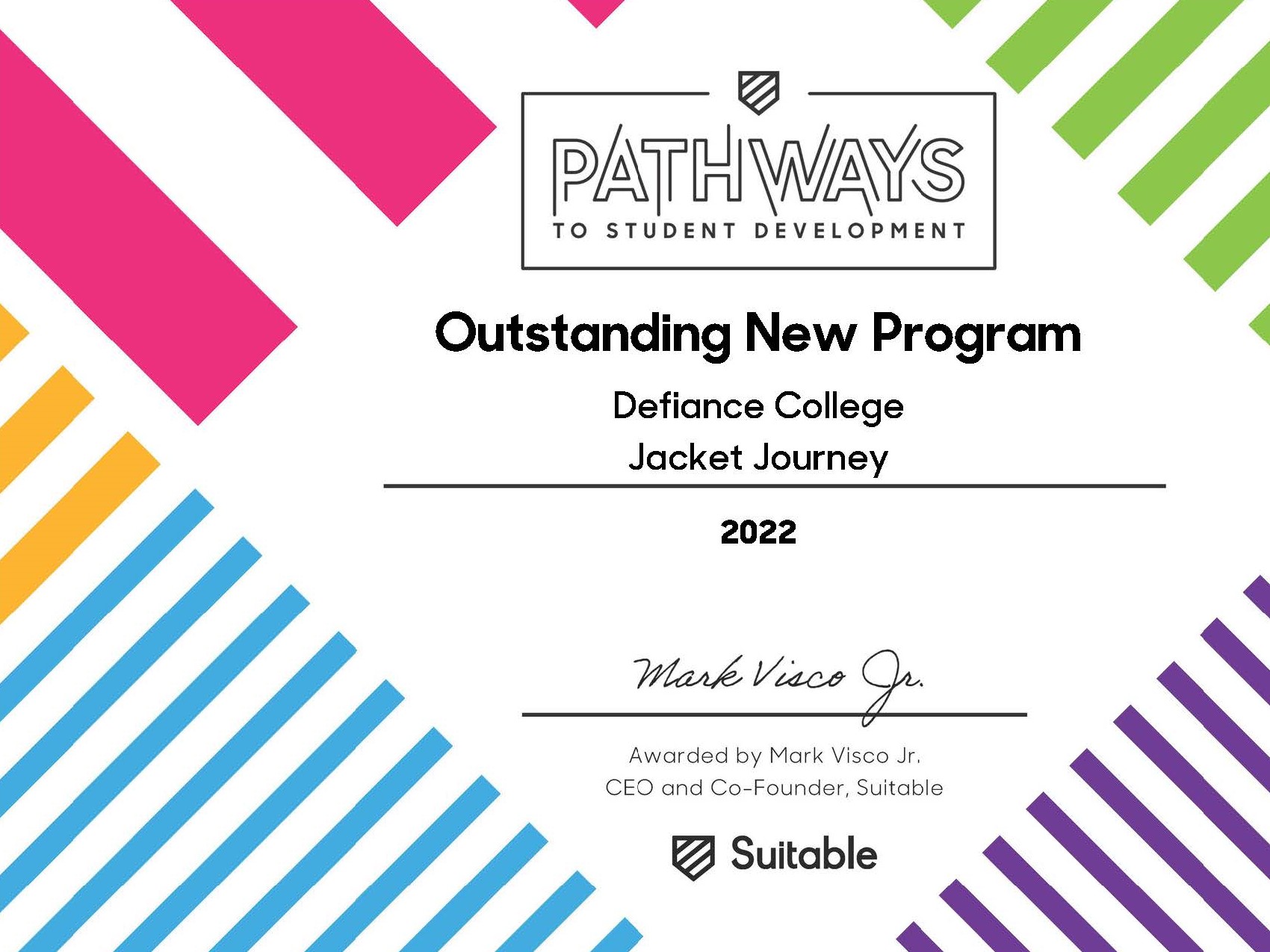 The Jacket Journey Program at Defiance College was recently recognized by Suitable, a student engagement platform, during the 2022 Pathways to Student Development Conference. ;DC's Jacket Journey was presented with the Outstanding New Program award, which recognizes programs that have "hit the ground running and built a strong foundation in a short period of time."

DC is the first four-year college to require every student to participate in career-readiness programming during enrollment. The DC Institute for Career Readiness and Lifelong Learning helps students strengthen their resumes, improve their job interviewing skills, find internships, and more. Jacket Journey, part of that Institute, focuses on developing and instilling soft skills in every DC student by the time they graduate. This program encourages students to think about career readiness during their college years, giving them confidence to head into the workforce with career knowledge and the ability to articulate their skills.

Dr. Jeremy Taylor, Dean of the McMaster School for Advancing Humanity and Institute for Career Readiness, said, "Jacket Journey is unlike career readiness programming at any other institution in America. Using a variety of academic courses, workshops, events, and conferences, combined with competitions between athletic teams, classes, and individual students, Jacket Journey is helping Defiance College put the HIRE in higher education."

Jacket Journey has implemented the use of Jacket Points as an incentive and competition tool. Students earn Jacket Points for attending and participating in events, workshops, guest speakers, athletic events, and more. In the 2021-2022 academic year, students earned a total of 179,895 Jacket Points, up from 49,470 in the previous year. Through the use of Suitable, DC is able to accurately report that students spent 3,090 hours on career readiness programming, with 87% of first and second-year students attending one or more optional career-focused workshops.

Dr. Taylor added, "This recognition is important, because it showcases the hard work our team is doing to bring career readiness to all students at DC. The growth our program has experienced in such a short time is extraordinary, and I am excited to continue to grow for years to come."
Chartered in 1850, Defiance College is an independent, liberal arts-based institution in Northwest Ohio, offering more than 40 undergraduate programs of study as well as graduate programs in education and business. Defiance College has received national recognition for its educational experience of service and engagement. DC has created a unique career readiness program called Jacket Journey to help students learn career skills in and out of the classroom. The four pillars of its mission guide the College: To Know, To Understand, To Lead, and To Serve.