Defiance College social work students Pay It Forward to Northwestern Ohio Community Action Commission (NOCAC)
December 12, 2022
DEFIANCE, Ohio - Students from Defiance College's social work Macro Practice with Communities and Organizations class led by Professor Alesia Yakos-Brown conducted their annual Pay It Forward initiative during the fall semester. The course directly impacts community needs by awarding financial assistance. This year, nine students in the class awarded $2175.19 to the Northwestern Ohio Community Action Commission's (NOCAC) Getting Ahead program. NOCAC is dedicated to minimizing the effects of poverty by connecting individuals to opportunities and resources that support a secure future. The Getting Ahead program is an intricate mix of sociology, psychology, and economics classes designed to equip individuals with the tools they need to accomplish their goals.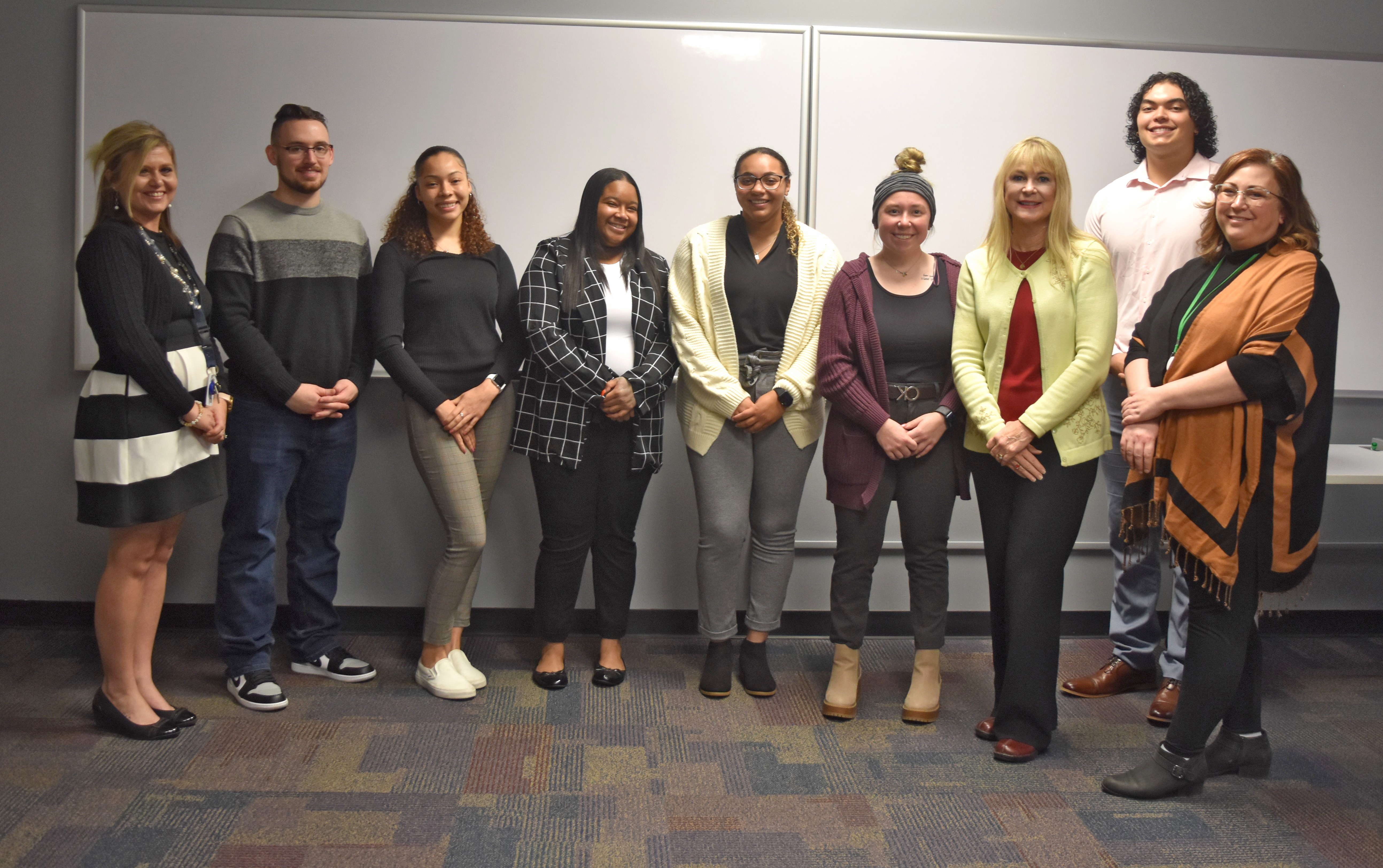 Pictured (L-R): Kalea Scott, NOCAC Financial Empowerment Facilitator, Joseph Spradlin, Mikeaya McLaurin, Kimmel Brown, Marissa Roberts, Abbe Rank, Professor Yakos-Brown, Tyrel Goings, and Jamie Huber, NOCAC Community Services Director. Not pictured: Max Julien, Sydney Hoiberg, and Te'Von Carson-Payton.
Yakos-Brown said, "I am so proud of how our students continually work together to accomplish so much in just one semester. The NOCAC is such a deserving group, and they make a huge impact in NW Ohio."
NOCAC plans to use the funding to increase capacity. They will use this donation to purchase professional attire for individuals to gain employment. When a person wears clothes that fit and are stylish, it builds their self-esteem and allows them to focus on conducting themselves in a professional manner. Research shows that individuals living in poverty may struggle with their self-worth because of their clothing. NOCAC plans to alleviate some of this through this additional funding.

For 13 years, the DC class has awarded nearly $27,000 to address needs of transportation, hunger, unemployment, poverty, education, youth mentorship, and cultural understanding in northwest Ohio. With steps embedded in the curriculum, students conduct a five-county community assessment, prepare requests for grant proposals, send RFPs to various non-profit social service agencies, and award grants to applicants that best address the identified community need.
Initially, this project began in 2008 with funding through the Pay It Forward student-led philanthropy program led by Ohio and Kentucky Campus Compacts and later with the support of the Women's Giving Circle of Defiance. In recent years, the class has raised its own funds through several events such as raffles, bake sales, campus activities, and donation solicitation.
This semester, Drop Zone Pizzeria sold pizzas to help fundraise, and Chipotle hosted a fundraiser with 33% of event sales donated to the fundraiser. The students also held a bake sale in the Serrick Lobby and a faculty flash fundraiser where they went through the various buildings on campus.
Chartered in 1850, Defiance College is an independent, liberal arts-based institution in Northwest Ohio, offering more than 40 undergraduate programs of study as well as graduate programs in education and business. Defiance College has received national recognition for its educational experience of service and engagement. DC has created a unique career readiness program called Jacket Journey to help students learn career skills in and out of the classroom. The four pillars of its mission guide the College: To Know, To Understand, To Lead, and To Serve.