Office of Intercultural Relations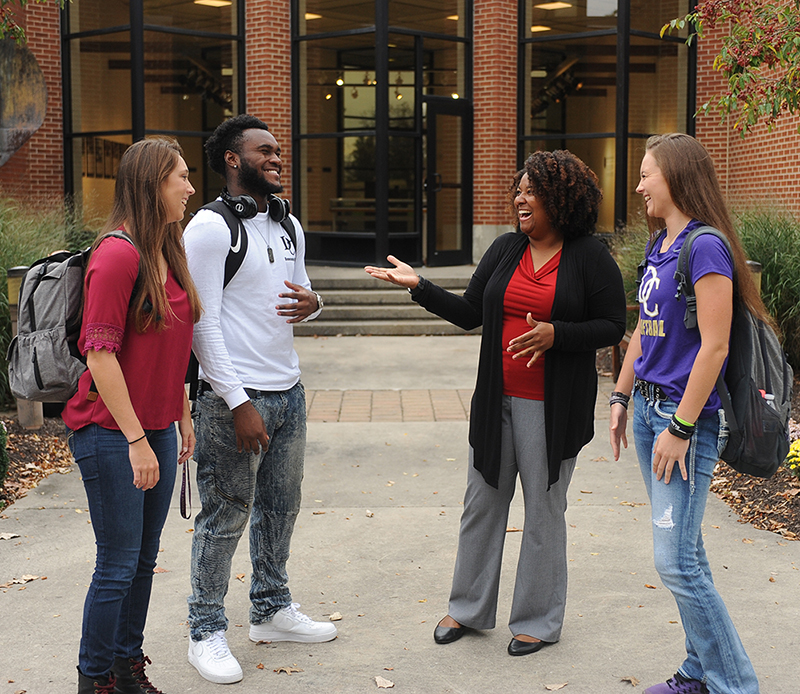 The Office of Intercultural Relations (OIR) was established to foster a community at Defiance College that embraces diversity and celebrates multiculturalism among students, faculty and staff. The Office of Intercultural Relations promotes a wholistic approach to academic and personal growth through educational and co-curricular programming that support and encourages an inclusive and welcoming campus community. Programs are offered addressing diversity, multiculturalism, and cross-cultural issues for all members of the college community. The office also provides individual counseling regarding personal/academic concerns, information referrals, and other services that enhance the social, academic and personal development of students of diverse ethnicities and international students on campus.
---
PROGRAMS & SERVICES
The OIR provides programming addressing diversity, sensitivity and cross-cultural issues for all members of the College Community including:
DR. MARTIN LUTHER KING JR. WEEK (JAN.)
The week-long celebration focuses on Dr. King's legacy. The programs have included lectures, leadership summits, movie events, and a dinner.
BLACK HISTORY MONTH (FEB.)
The programming focuses on celebrating the achievement and legacy of African Americans in the United States. Programs have included movie nights, history of jazz and gospel, lectures on the Hip Hop Culture and community dinners.
WOMEN'S HISTORY MONTH (MAR.)
During March, we celebrate the achievements of women throughout history and into the present. Programming includes lectures, documentaries and panel discussions on current events affecting women.
RITES OF PASSAGE CELEBRATION (APR.)
The Rites of Passage Celebration is a program dedicated to our freshman and senior students of color. The freshmen celebrated for completing their first year of college as well as encouraged to continue their education. The seniors are celebrated for finishing their college education and encouraged as they enter into their new stages of life. The celebration begins with a Soul Food dinner, entertainment and lecture. Parents and other community guests are invited to attend this event.
OPEN HOUSE (AUG.)
The Open House provides an opportunity for new students of color and international students to meet current students as well as faculty and staff. This is also an opportunity to learn more about the programs and services provided by the Office of Intercultural Relations.
HISPANIC HERITAGE MONTH (SEPT. 19 - OCT. 19)
The programming focuses on the beauty and appreciation of the Hispanic/ Latino culture through presentations, movies and lectures. Programs have included dessert series, lecture series with speakers such as Alina Fernandez, the daughter of Fidel Castro, and Salsa lessons.
NATIVE AMERICAN HERITAGE MONTH (NOV.)
The programming focuses on honoring and celebrating the history of Native Americans in the US and in particular, Northwest Ohio. Programs have included documentary viewings, lectures and community dinners.
ANNUAL DIVERSITY TRAINING
OIR conducts diversity training for students, faculty and staff. Through lectures and simulation games, OIR provides a safe and encouraging environment to discuss the issues of diversity regarding racism, classism, sexism and sexual orientation.
---
CONTACT US
Hours: M-F, 8:30 a.m. - 4:30 p.m. or by appointment
Location: Hubbard Hall 132
Office of Intercultural Relations
419-783-2362