Communication Studies
Apply Online | Request More Information | Major Brochure


As the movie ends and the credits roll, the audience files out, talks about the next thing—pizza, bowling, sleep, homework. But somebody remains. Always, somebody remains to sit through the credits before catching up to friends and redirecting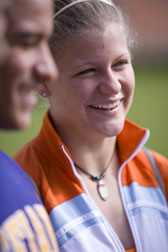 conversation away from the next thing and back to the last. This somebody analyzes, constructs arguments, weighs claims and counter-claims, moves friends beyond thinking of the movie as just brainless entertainment and helps them see what makes it curious, challenging, worth discussion and debate.
This somebody has the makings of a communication studies major.
In communication studies at Defiance College, classic rhetorical approaches to speaking and writing are melded with developments in media such as newspapers, magazines, television, film, radio, comics/sequential art, video games, and the internet. The broad exposure to many forms of communication prepares students to engage with many forms of public discourse including letters to the editor, speeches, advertising, public relations, videos, and blogs.
Communication studies students work closely with professors to gain the theoretical knowledge and practical skills needed in the communication field. Students are challenged to argue effectively, to understand society's changing communication needs, and to use current media in ways that are innovative yet accessible to large groups of people.
As for movies? That somebody will still watch movies, maybe even turn them into a career.
---
Majoring in Communication Studies
The Communication Studies major aims to provide a quality and diversified education in communication studies that will produce graduates who meet superior standards of performance in oral and written communication, information processing techniques, business communication, interpersonal skills, and understanding basic communication theories.
Because a broad knowledgeable background is required for students in this major, the program requires students who major in Communication Studies with an emphasis in Public Relations to take a minimum of 36 hours of communication-oriented courses. Integrated Language Arts is a 60-hour major for those students who wish to become certified teachers.
Program Goals
1. To provide a flexible learning environment that will heighten the mastery of subject matter and specific skills within the related areas of communication studies.
2. To foster scholarship and provide learning experience that will prepare students for certain careers and/or provide them with the basic skills and knowledge needed to pursue higher or professional degrees.
3. To provide opportunities and skills for non-majors who wish to supplement and broaden their educational experience in communication studies.

Communication Studies is a major for those who:
Like to analyze and judge what other people say

Spend a lot of time talking back to television programs and professors

Feel they could do a better job creating a commercial, designing a newspaper, or writing a news article or a presidential speech

Enjoy arguing with friends

Thrive on government debate, television commentary, or the dissection of a sporting event

Find themselves leading a group project in class even when they swear they won't
---
After College — What's Next?
Communication studies can prepare students for careers in such fields as education, journalism, public relations, sales, and speech communication. It can provide the basis for future graduate study in these fields and others—such as advertising or law. It can provide the student interested in a teaching career with competence in a number of areas. Others work in a wide variety of professional positions in business and industry, or some may enter graduate school programs.
---
The Faculty
Christopher A. Medjesky, Ph.D., Assistant Professor of Communication Studies
419-783-2568 | cmedjesky@defiance.edu

Jeffrey St. Onge, Ph. D., Assistant Professor of Communication Studies
419-783-2456 | jstonge@defiance.edu