Residence Life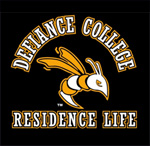 The Office of Residence Life has a strong commitment to create an environment in the residence halls that will assist students in their lifelong growth and development. Effort is made to create an environment that encourages academic excellence, social competence, independence and a sense of community living.
A well-trained staff including two Hall Directors and fourteen Resident Assistants will provide programming, guidance, and support to the residence hall community. When these activities are combined with the active participation of the residents, the halls become more than just places to sleep; they become living and learning environments.
Residence life at DC is more than simply where you live and eat; it is a very real extension of your learning environment and college life. We encourage you to join us as we strive to "defy the ordinary" college living experience.
Mission Statement
The mission of the Defiance College residence life staff is to promote a positive living and learning environment for residential students. The inspiration of this promotion is an active developmental approach taken by staff members toward the residents. Residence life members work with students to develop a sense of community in the halls that allow students to engage with each other, respect each other, and learn from each other to further develop as contributing members of the Defiance College community.
The Office of Residence Life works to foster an exchange of ideas while implementing student developmental and social programs to help students adjust to living on campus. Additionally, both the undergraduate and graduate staff living in the halls works directly with the Office of Residence Life to addresses student conduct concerns and issues negatively affecting the overall residential community. Proper administrative follow-up on behavioral conflicts are the responsibility of residence life staff. Staff members are trained to educate students on policies and encourage each student to take responsibility for their own actions and address issues when appropriate.
The on-campus living options vary from traditional living units to apartment-style suites. In the past, these residential facilities may have been referred to as dormitories. By definition a dormitory is a place for eating and sleeping only. A residence hall offers more extensive living facilities (e.g. lounges, game rooms, study areas, meeting areas, TV rooms and laundry facilities). Also, a residence hall operates with an educational and holistic philosophy that works to positively impacts students during their formative college experience. The on-campus residential communities of McReynolds, Whitney, Jacket Suites and Grand Avenue should be referred to as residence halls (halls for short), not dorms or dormitories.
Diversity and Inclusion Statement
The Residence Life Department at Defiance College is committed to creating a safe and inclusive environment for all students of diverse backgrounds, including but not limited to race, culture, nationality, ethnicity, religion, ideas, beliefs, geographic origin, socio-economic status, sexual orientation, gender, gender identity and expression, ability, age, and veteran status. We recognize that this commitment to diversity and inclusion is a responsibility for everyone. By embracing people with different perspectives, values and backgrounds we enhance how we view the world. The Residence Life Department strongly believes learning not only happens in the classroom, but outside the classroom and we resolve to foster a healthy environment for that learning.
Office Contact Information
Office of Residence Life
Hubbard Hall 126
Office: 419-783-2563
Fax: 419-783-2597
residencelife@defiance.edu