Design
Apply Online | Request More Information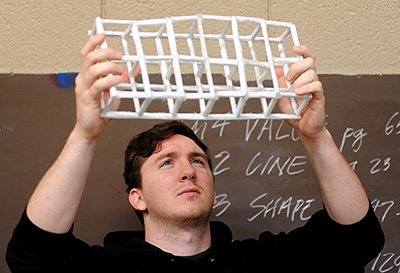 Do you look at the world around you and wonder why it looks and works the way it does? Are you a creative person? Do you enjoy making things? If so, Defiance College's design program is where you belong.
The design program at Defiance College focuses on giving students a progressive, holistic understanding of design with an emphasis on innovative problem-solving. First, all students learn about the intersection of materials, colors, function, and concept before choosing a track in either two-dimensional (2D) or three-dimensional (3D) design. Two-dimensional design, also known as graphic design, focuses on the design of print and web materials, such as advertisements, websites, posters, books, or packaging. Three-dimensional design, also called product design, focuses on the creation and production of tangible objects that people use, like watches, tea-kettles, or home goods.
If you are a curious hands-on thinker or doer, studying design at Defiance College will give you the skills and confidence you need to creatively and critically design the products and images of tomorrow.


Student work featured on this page by Casey Doudna, Lornette Lynch, and Michelle Puehler.

THE TRACKS

2-DIMENSIONAL: GRAPHIC DESIGN

The 2D track in the design program at Defiance College prepares students to use graphics and text to communicate ideas and emotions. Designers determine the needs of their client and the emotions they want to convey to the audience, communicating using type, space, and images. Working closely with professors, students learn to manipulate spatial objects to express powerful messages. They gain a sensitivity to visual orientation and develop a full sense of how to create and question while becoming proficient in using a wide range of digital tools.
3-DIMENSIONAL: PRODUCT DESIGN
Students will learn how to design from initial idea to final product: finding problems to solve, conceptualizing their ideas, sketching and prototyping, experimenting with materials, testing mock-ups, and creating a finished product by hand or using rapid-prototyping techniques. Students will take classes that range from Design Drawing (how drawing from observation leads to product rendering) to Professional Practices in Design (how to tailor your creative work into a polished portfolio and apply for design jobs).


---
Benefits of the Program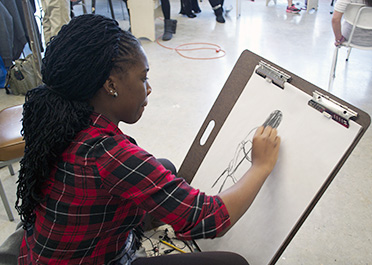 Project 701: Creating Defiance is a studio where graphic design students offer services to small businesses and non-profit organizations. Students involved with this project have the opportunity to create logos and marketing materials for local and national organizations and companies.
Internships
All design students will have at least one internship during their time at Defiance College. These internships give the students real world opportunities that include creating graphics and advertisements for print and web publications, as well as working with product designers. Students have had internships through: Harley Davidson, Sauder, The Tuttle Museum, The Crescent News, Cleveland Indians, City of Van Wert, and Defiance College.


---
After College — What's Next?
Graduates go on to many different positions in 2D and 3D design. Current 2D graduates are working for major corporations such as Sherwin Williams, running their own design firms, designing signs for a national franchise, and creating graphics and advertisements for print and web publications. Graduates of the 3D track may work as freelance product designers, in-house designers, or industrial designers within a larger design firm. Students interested in continued research or studio practice may go on to earn a Master of Fine Arts (MFA) in art or design or a Master of Design (MDes).


---
Student Quotes

"At first, art was nothing more than a hobby for me. It was a go to for me to release my emotions or to cope with boredom. Switching my major to 2D design was one of the best decisions I've ever made. I've learned new techniques, forms of art, and, most of all, it allowed me to open my mind and imagination. DC allowed me to fall in love with design and turned my hobby into a career opportunity. I look forward to enhancing my skills and creativity in continuing my journey in 2D art design."
--Javone Hilliard, Sophomore
---
Faculty
"Being a designer is challenging and thrilling. It's always difficult, and always fun."
--Professor Cinelli
Mia Cinelli, MFA
Assistant Professor of Art and Design
Director of Women's Commission Art Gallery
Phone: 419-783-2521
Email: mcinelli@defiance.edu
Beverly Fanning-Simmons, MFA
Assistant Professor of Design
Phone: 419-783-2522
Email: bfanningsimmons@defiance.edu