Design
Apply Online | Request More Information | Major Brochure

DESIGN AT DEFIANCE COLLEGE, ENGINEER THE FUTURE
Are you a creative person? Do you enjoy making things? Do you look at the world around you and wonder why it looks and works the way it does? Are you interested in objects and images? Defiance will help you develop your skills to design the world around you.

Defiance College's new Design program is where you belong. This innovative program focuses on designing while allowing students to explore graphic design (advertisements, websites, posters, books, packaging) as well as product design (watches, tea-kettles, lamps, phones, cups).

This new program will give you the skills and confidence you need to creatively, critically, and actively design the products and images of tomorrow.


---
The new Design Program at Defiance College gives students a holistic understanding of design before they choose either two-dimensional (2D) or three-dimensional (3D) design. Before choosing a track, all students will learn critical thinking and creating while developing an understanding of the interaction of materials, colors, function, and concept.
---

THE TRACKS

2-DIMENSIONAL TRACK IN DESIGN: GRAPHIC DESIGN

The 2-Dimensional Track in the Design program at Defiance College prepares students to use graphics and text to communicate ideas and emotions. Designers determine what their client is trying to say and the emotions they want to convey to the audience, solving problems using type, space, and images. Working closely with professors, students learn to manipulate spatial objects to express powerful messages. They gain a sensitivity to visual orientation, develop a full sense of how to create and communicate, and become proficient in using a wide range of digital tools.
After College — What's Next?
Graduates go on to many different positions in the graphic design industry. Current graduates are working for major corporations such as Sherwin Williams, running their own design firms, designing signs for a national franchise, and creating graphics and advertisements for print and web publications. Our students have successfully pursued a Master of Fine Arts (MFA) at institutions that provided them opportunity to further their education and explorations.


3-DIMENSIONAL TRACK IN DESIGN: PRODUCT DESIGN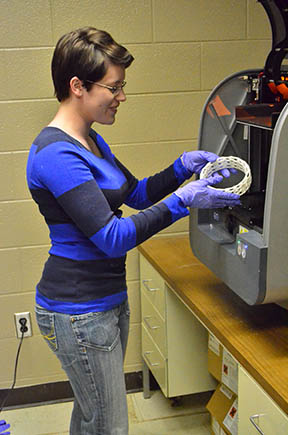 Students will learn how to design products on every level: finding problems to solve, conceptualizing their ideas, sketching and prototyping, experimenting with materials, testing mock-ups, and creating a finished product. Students will take classes that range from Design Drawing—how drawing from observation and learning to sketch helps designers think and make —to History of Industrial Design—how design evolved from Qin dynasty crossbows to the iPhone —to creating a designed product by hand or on a computer with rapid prototyping techniques such as 3D printing or CNC machining.
After College — What's Next?
Graduates can go on to a variety of positions which include, but are not limited to, product design as a freelance or industrial designer with larger design firms. Students can also continue their education with a MFA in art or design.
---
Internships
All design students will serve at least one internship and many have more than one. These internships give the students real world opportunities that include, creating graphics and advertisements for print and web publications as well as working along side product designers and engineers.

Exchange Program
Defiance College has a junior year exchange program with The Art Institute of Pittsburgh. Students can spend their junior year at the The Art Institute developing a concentration in Interior Design, Photography, Media Arts and Animation, Game Art and Design, Interactive Media Design, Video Production, or Visual Effects and Motion Graphics. The 30 hours the student earns at The Art Institute are accepted by Defiance College as major courses. Students also have the option of additional courses at The Art Institute.


---

The Faculty
Jason Stockman, MFA, Associate Professor of Art
419-783-2451 | jstockman@defiance.edu | www.stockmanceramics.com
Mia Cinelli, MFA, Assistant Professor of Design
| mcinelli@defiance.edu | www.miacinelli.com
Amy K. Drees, M.A., Assistant Professor of Arts and Humanities
419-783-2334 | adrees@defiance.edu