Apply Online | Request More Information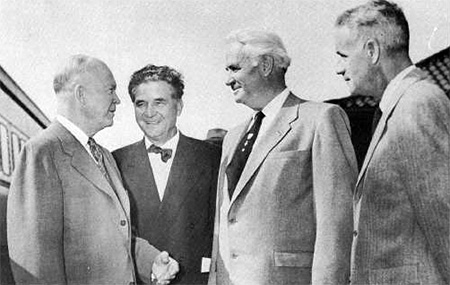 US President Dwight D. Eisenhower; Ohio Governor Frank Lausche;
US Senator John Bricker; Defiance College President Kevin McCann, 1953
Understanding history helps one understand the world today. The study of history is not just a chronicling of the human past, but an analysis of past events in an effort to explain the social, cultural, and political effects that shape the present.
The history program at Defiance College introduces students to a minds-on approach where studying history is no longer simply learning and memorizing the facts, but rather analyzing, synthesizing, and evaluating the facts to expand knowledge of both the past and present. Students are taught to think and act within their discipline, utilizing classroom knowledge and practical skills to make an impact within their communities and beyond.
During their studies, students are encouraged to ask questions. Why do events happen? What implications do historical events have for understanding the human condition? Students address bigger questions by learning to use a wide variety of historical documents such as newspapers, journals, primary sources, and electronic databases. By writing their own interpretations of these documents, students are doing more than learning about history – they are partaking in it.
Benefits of the Program
International History Honors Society
Defiance College's Iota Pi Chapter of Phi Alpha Theta is the international history honors society "whose mission is to promote the study of history." We participate in yearly conferences which allow students to present their original research to a panel of their peers and distinguished historians.
McMaster School
Students have the opportunity to both make history and make a difference for humanity through Defiance College's innovative McMaster School. As a McMaster scholar, students are enabled to become active world citizens by researching and planning projects that address a global issue, then working with faculty to carry out the project in an effort to alleviate human suffering in the world. Previous history majors have completed projects in places such as Belize, Cambodia, New Orleans, and Tanzania.
---
Related Programs
Minor or dual major options are limitless for students interested in history, as it is so broad that any other program of study may complement it.
---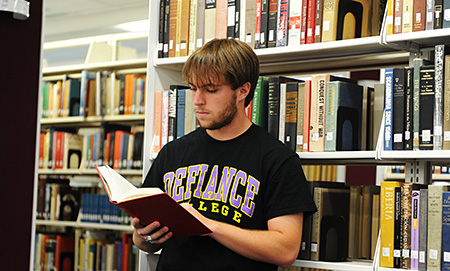 After College — What's Next?
Many people who study history are employed in the field of education, public relations, editing, or research. Moreover, they work for a broad spectrum of organizations, from museums to corporations, which call upon the skills of a historian to help document and organize information about the past or to educate the public.
A history degree offers excellent preparation for careers in:
- Law
- Library science
- Journalism
- Business
- Social service
- Government service
The major may be directed toward a career in any of these fields, or it can concentrate on a culture, an area, or an era which especially appeals to the student.
Graduate School
Graduates of this program have gone on to graduate schools across the country for further study in history, archaeology, law, library science, and business. This is one of the many majors at Defiance College which enjoys stellar placement of its graduates in graduate and professional schools.
---
In Their Own Words
"You'll find few programs with a more accommodating and easy-to-work-with staff, who make your education experience legitimately enjoyable, than the history program at Defiance College."
--Dalton Bettis, Senior
"The professors at Defiance College always have their doors open to help students with any question or problem they might have, and the classroom instruction they provide gives students a great deal of experience discussing a wide range of topics. The history major course of study teaches students to examine every side of an issue from an unbiased point of view, and how to use prior knowledge to make judgements and draw conclusions on a given topic. This ability that is instilled in DC's history students can be utilized not only in the classroom, but after graduation in an employment setting, and can help graduates find and work well in any number of jobs."
--Remick Pearson, Senior
"The Defiance College history department helped me succeed by not only helping with my in-class questions and issues, but with any issues that arose outside of the classroom that I talked to them about. I would say that some of my strongest relationships in college were with Dr. Taylor and Dr. Buerk. The work in the major also helped me by teaching me how to write a good paper and cite it correctly."
--Zane Hayes, 2016 Graduate
---
Faculty
Areas of particular strength include 20th century European and American history as well as traditional, more general areas of United States and European history. This major has been newly redesigned to reflect these teaching strengths in addition to incorporating the skills necessary for careers outside the field of history.
Don Buerk, Ph.D.
Associate Professor of History
Phone: 419-783-2454
Email: dbuerk@defiance.edu
Jeremy Taylor, Ph.D.
Associate Professor of History
Phone: 419-783-2305
Email: jtaylor@defiance.edu