Religious Studies

Apply Online | Request More Information | Major Brochure

Religious studies students play in the abstract realm and work in their world.
They imagine.
They make things happen.
Religious studies students question what things mean, explore differing views, study archaeology and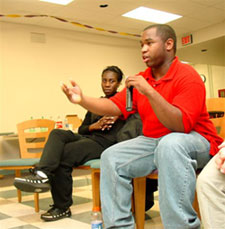 anthropology, and talk for hours about how to solve the world's problems. They even consider career possibilities in church ministry or mission.
At Defiance College, religious studies seeks to understand not only historic and contemporary religious ideas, values, and practices within Christianity and other religious traditions, but also religion's role in shaping society's moral, political, and cultural practices.
Professors encourage student growth within a biblically and historically grounded ecumenical Christian tradition. They invite open inquiry, dialogue, and sharing in an environment that values people from different religious and cultural traditions. Never content to just play in their heads, religious studies students explore vocation through opportunities that enrich their leadership skills, further their understanding of peace and justice issues, and develop their personal and spiritual lives.
Ready to play? Ready to work?
The imagining begins here.
---
Majoring in Religious Studies
The Religious Studies major requires 36 credit hours and includes required courses in Bible, theology, church history, world religions, the church and service learning, Black Church in America, ethics and morals, Religion Seminar, and a Senior Capstone. Optional coursework is available in Spirituality and Wholeness, Special Topics, and any of the courses listed in the Ministry Studies major.
Students are able to creatively match a major in religious studies with a second major – art, psychology, social work, criminal justice - in order to reach their individual personal and career goals.
Minor in Religious Studies
The Religious Studies minor works well in tandem with a variety of majors. Recent graduates and current students have added religious studies minors to majors in international studies, English, wellness and corporate fitness, social work and
psychology.
---
Internships
Students in the Religious Studies program engage in open inquiry and research that is rooted in the study of religion in an ecumenical Christian environment that values people from differing religious and cultural traditions.
Student internships take place in a wide-range of religious institutions and agencies where students work with leaders to develop and nurture their vocational calling.
---
Unique Opportunities
Participation at Professional Conferences such as the Urban Ministries Congress and the National Multidimensional Learning Conference.
Trips to special exhibits such as the Maltz Museum of Jewish History's "Cradle of Christianity: Treasures From the Holy Land."
Participation in special on-campus events such as Community Interfaith Service for Peace and dialogue with international interfaith leaders.
Participation in off-campus church and community organizations and initiatives.
---
Graduate School
Students majoring in religious studies are well prepared for graduate work at theological seminary in preparation for Christian ministry as well as graduate school in preparation for college teaching or research. Students who are thinking of attending seminary should consult with the faculty in religious studies for planning to achieve their personal goals.
Seminaries and graduate schools attended by our graduates include Eden, Lancaster, Andover-Newton, United of the Twin Cities, Chicago Theological Seminary, The University of Chicago, Yale Divinity School, The University of Dayton, United Theological Seminary of Dayton, The University of Denver, Loyola University, and MTSO, Methodist Theological School in Ohio.
Placements in Graduate School over the past five years:
-100% acceptance rate
-Theological School/Seminary
-Social Work (dual major Religious Studies and Social Work)
---
Related Programs
Both the Religion and Ministry Studies programs offer students the opportunity to explore their vocation and calling as faith community leaders, religious educators, and practitioners through two programs of study with a variety of concentrations: Religious Studies, Religion and Peace Studies, Religion and Service, Church Leadership, Faith Formation and Christian Educational Ministries, Youth and Family Ministries, and Youth and Recreation Ministries.
Ministry Studies is about faith formation across the life span. It informs and impacts every aspect of church life. The Ministry Studies major seeks to train students as religiously committed leaders for church and society. The Ministry Studies major focuses on balancing theory and practice, scholarship and application.
---
The Faculty
Marian R. Plant, Ed.D., Professor of Religious and Ministry Studies, Schauffler Chair of Christian Education
419-783-2338 | mplant@defiance.edu
Elcin Haskollar, Assistant Professor, Global Studies
419-783-2440 | ehaskollar@defiance.edu
Janice L. Bechtel, M.Div., Campus Chaplain
419-783-2444 | jbechtel@defiance.edu