Criminal Justice
Apply Online | Request More Information | Major Brochure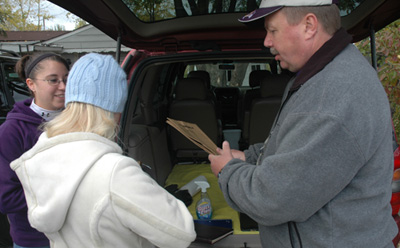 Steve Sondergaard, professor of criminal justice, stages a different mock crime scene
each year for students to gain experience in a variety of aspects in criminal investigation.

Mock crime scene investigations.
Courtroom observations.
Field trips to criminal justice agencies in major metropolitan areas.
Hands-on internships.
Through a variety of means, the Defiance College criminal justice program equips problem-solving justice-seekers to change their world.
The criminal justice program is designed to provide a strong background in all areas of criminal justice (law enforcement, courts, and corrections), to allow concentration in one of several areas, and to prepare students for entry-level positions in a variety of criminal justice agencies.
The criminal justice major is both theoretical and practical, providing a good understanding of critical issues in the field and requiring an internship of 150 hours working in a criminal justice agency in probation, corrections, or law enforcement.
At Defiance College, civic engagement pushes students to understand the value of contributing to programs in which graduates will be a part. It takes citizens and professional staff to make most programs excel, and criminal justice has both.
Step onto the scene.
Investigate!
Associate Degree and Minor
In addition to the Bachelor's degree curriculum, the Criminal Justice Program offers an Associate Degree in Criminal Justice as well as a minor. The Associate degree prepares students for some entry level positions in the criminal justice field. The program also offers five courses in the Forensic Science Program.
---
Internships & Capstone Projects
Internships
Internships are available in all three components, specifically in law enforcement agencies at the local, state, and federal levels. In correction agencies, there are internships in probation and parole offices. Placements are also available in adult prisons, juvenile detention centers, community-based correctional facilities, and at private treatment facilities. Courtroom observations are often part of this experience as well.
Capstone Projects
Once a senior, the criminal justice student will have the opportunity to draw upon the knowledge learned in the classroom and in their internships to develop and complete their Capstone Project. Many agencies have assisted and benefited from the results of these Capstone Projects, some of which were developed from ideas of area professional agencies. Examples of these agencies are:
Northwest Juvenile Detention and Rehabilitation Center
Corrections Center of Northwest Ohio
Defiance Police Department
Columbus Police Department
Toledo Police Department
Defiance County Sheriff's Office
Napoleon Police Department
Ohio State Highway Patrol
Defiance College
---
Opportunities
Mock Crime-Scene Investigation
An exciting aspect of the criminal justice program is an opportunity for students to participate in a mock crime-scene investigation and trial with local law enforcement, fire officials, attorneys, and judges.
Other Opportunities
The program provides other practical opportunities such as tours of facilities and agencies, guest speakers, films, and the option of Cooperative Education. The Criminal Justice Society sponsors annual trips to metropolitan areas such as Chicago, Washington D.C., and Detroit to visit a variety of criminal justice agencies.
---
After College — What's Next?
Defiance College's criminal justice graduates are very successful. A degree in criminal justice allows a student to work in a variety of different settings. Some of our recent graduates are working for correctional facilities and many different law enforcement, probation, and parole agencies in the Midwest as well as Special Agent positions in the U.S. Department of Justice and Treasury. Many of our graduates have gone on to Graduate School or Law School.
---
The Faculty
Sheldon Goodrum, Assistant Professor of Criminal Justice
419-783-2522 | sgoodrum@defiance.edu

Steven Sondergaard, J.D., Professor of Criminal Justice
419-783-2443 | ssondergaard@defiance.edu