Nursing 1+2+1
Apply Online | Request More Information | Major Brochure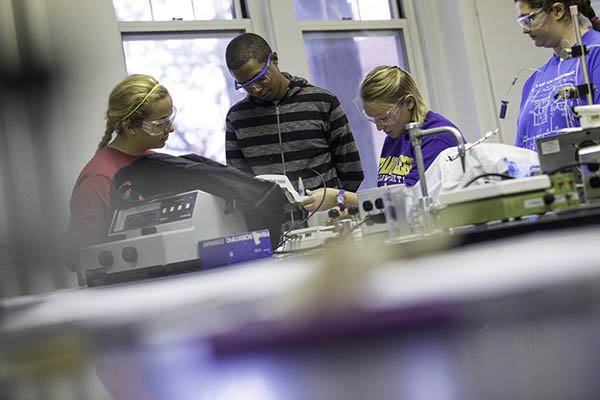 Welcome to the Nursing Program!
Want to know what makes a good nurse? Jean Watson, Distinguished Professor of Nursing at University of Colorado Denver, claims, "Caring is the essence of nursing." And Watson is right.
Just think about it. At the beginning and end of life, nurses care. During routine vaccinations and blood pressure checks, nurses care. Throughout wellness checks and chemotherapy treatments, in emergency rooms and doctors offices, nurses care. Whenever they listen to patients, talk with families, and strategize with doctors, nurses care.
The Defiance College nursing 1+2+1 program, in partnership with Northwest State Community College, offers a Bachelor of Science in Nursing (BSN) degree in a four-year format designed primarily for high school seniors beginning their education in the fall semester.
The BSN was developed by public and private colleges in response to a community identified need for baccalaureate-prepared nurses, and offers expanded career options for persons in the nursing field by combining technical aspects of nursing with the leadership skills necessary in today's dynamic healthcare environment. Working closely with faculty, students develop critical thinking and decision making skills to function effectively in interpersonal and group settings. Graduates will be prepared to understand and to respond to the changing healthcare needs of individuals, families, and communities.
Defiance College understands the essential skills of compassion and intelligence which are necessary to be a successful nurse.
Accreditation
The Nursing Program at Defiance College is accredited by the Commission on Collegiate Nursing Education, One Dupont Circle, NW, Suite 530, Washington DC 20036, (202) 887-6791. Defiance College is accredited by the Higher Learning Commission of the North Central Association of Colleges and Schools. Accreditation for the Bachelor of Science in nursing program is approved by the Ohio Board of Regents with extended accreditation by the Higher Learning Commission of the North Central Association of Colleges and Schools.
---

What is the Nursing 1+2+1 Program?
In partnership with Northwest State Community College, Defiance College offers a BSN degree in a four-year format. During the first year at Defiance College, students take General Education/liberal arts courses that apply towards the nursing major. In the second and third years, students transfer to Northwest State Community College and complete the Associate Degree Nursing Program. In the fourth year, students return to Defiance College and complete requirements for the baccalaureate degree in the RN to BSN completion program.
View Frequently Asked Questions
Benefits of the Program
Four-year baccalaureate degree at an affordable cost
Deferred Northwest State Community College (NSCC) Presidential and Dean's Scholarships
NSCC students' exceptional first-time pass rates on the National Council Licensure Examination (NCLEX-RN) exceed state and national averages
Residential experience at Defiance College for students attending NSCC
Student activities/sports at Defiance College

Admission Requirements for the Nursing Program
A completed Defiance College application for admission
A $25.00 non-refundable application fee (waived if the student applies online or visits campus)
A Northwest State Community College application for admission must be completed simultaneously with the Defiance College process to be eligible for the 1+2+1 program
Submit official examination scores: ACT composite score of 21 or the SAT combined score of 980 are required of all applicants to the freshman class
An official high school transcript sent directly from the high school with a 2.25 cumulative grade point average (4.0 scale) or test scores from the General Educational Development Test (GED)
An official transcript from each college and university sent directly from the institution to the Defiance College Admissions Office
Complete Admission Requirements
Admission into the Nursing Program
Admission into the nursing program is a competitive process and requires an individual to successfully complete the following:
The standard application process at both Defiance College and Northwest State Community College
The applicant review process at the end of the first semester which includes an evaluation of overall academic performance
First year coursework in nursing at Defiance College including general education requirements and nurse aide certification (STNA)
PAX-RN exam with ≥ the 50th percentile on all three areas tested (Verbal skills, Mathematics, and Science). Students may retake the NLN preadmission exam ONE time only. Also, student must wait six months after the original exam before retesting.
Students will be notified by June 1st of their acceptance into the Nursing Program at NSCC based on their first year performance at DC. Nurse Aide Certification is required prior to attending NSCC. Admission to Defiance College and meeting the minimum application requirements does not guarantee a student entrance into the nursing program.
To be admitted into the BSN completion program upon their return to Defiance College, students must successfully complete the NCLEX-RN exam during the summer after their third year, and be in good academic standing.
---

After College — What's Next?
Nursing management and leadership positions
Graduate School to pursue advanced college degrees
Work in staff nursing, community health nursing or physicians offices
Many other opportunities are available to those holding a BSN
---

Related Programs
The Defiance College RN to BSN Completion Program is designed for Associate Degree-prepared nurses or Diploma nurses who have graduated from an accredited nursing program, have a current active RN licensure, and wish to pursue the Bachelor of Science in Nursing degree.
The program combines the clinical abilities and experiences that Registered Nurses already possess with additional technical aspects, broad-based knowledge in the liberal arts, and core nursing courses to prepare them for leadership positions, advancement into other healthcare opportunities, and meeting the challenges of today's ever-changing healthcare needs of individuals and communities.
---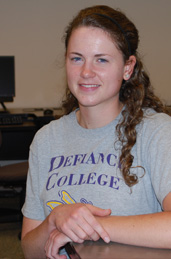 "The 1+2+1 nursing program at Defiance College is a great opportunity for me to obtain my BSN. The small class sizes, encouraging staff, and challenging curriculum have helped me gain the necessary knowledge to expand my career in nursing."
Beth Giesige
RN, 1+2+1 Nursing Program



---
Hinojosa, Cheryl, MSN, RN, Director of Nursing, Assistant Professor of Practice Nursing
419-783-2448 | chinojosa@defiance.edu