Defiance College student-athlete serves three national committees
February 22, 2017
DEFIANCE, Ohio - The benefits of college athletics extend far beyond the field of competition.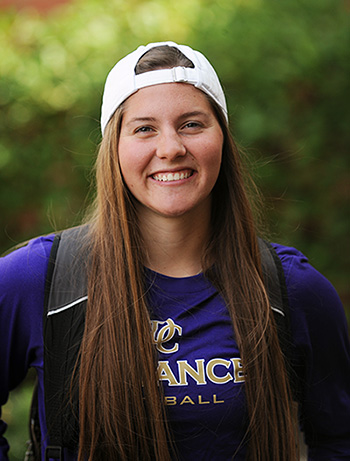 Just ask Megan Warren, Defiance College senior from Mason, Ohio.
Since her sophomore year at DC, Megan has represented NCAA Division III student-athletes at the national level with her participation on multiple committees.
Associate Athletic Trainer Kathleen Westfall nominated Megan, a member of the DC softball team, to serve on the national Student Athlete Advisory Committee (SAAC). She was chosen, and her duties include traveling to Indianapolis for meetings three times a year and to the annual NCAA national convention. This year's convention was held in Nashville in January.
Each student on the committee represents two conferences. Megan represents the Heartland Collegiate Athletic Conference as well as the North Coast Athletic Conference. More than 20 student-athletes sit on the committee to share the voices of their fellow student-athletes.
"Our main purpose is to benefit the experience of the student-athlete which most of the time is through NCAA legislation," says Megan. The committee also works to benefit the health and well-being of student-athletes by discussing and tackling nationwide issues that student-athletes face. The committee joined the It's On Us campaign to fight sexual violence and assault on college campuses across the country. Other topics of discussion have included sportsmanship, game environment, and mental health.
Megan also serves on two additional national committees. The committee on competitive safeguards includes student-athletes from Divisions I, II, and III. Megan represents all D-III athletes. "This committee is directly related to my athletic training major. I sit in the room with professionals from the field so I learn a lot and get to network with people from different institutions. It's a good experience for me to be part of discussions regarding the health and safety of student-athletes."
Her third committee, the Division III management council, is the second highest-ranking council in D-III, second only to the president's council. Megan was nominated to serve on the management council by other members of SAAC. Her nomination was approved in January. She and an Adrian College student represent all student-athletes, voicing their opinions and giving updates from student-athletes to inform the governing structure of Division III.
"The management council is a great leadership opportunity," says Megan. "I get to share the Division III student-athlete voice to people who make a lot of the decisions, so there are opportunities for me to develop my leadership and communication skills, along with connecting with professionals."
The breadth of benefits and skills gained from participation in college athletics is not lost on Megan. "The only reason I get to do this is because I'm a student-athlete. I couldn't have done this without playing softball," she says.
Her term on the national SAAC board extends until January 2018.
Megan will graduate from DC this May. She will be attending Purdue University and working as a graduate assistant athletic trainer through Purdue's Co-Rec facility to earn a Master of Science degree.
Defiance College, chartered in 1850, is an independent, liberal arts institution in Northwest Ohio offering more than 40 undergraduate programs of study as well as graduate programs in education and business. Defiance College has received national recognition for its educational experience of service and engagement. The college website is www.defiance.edu.