Defiance College students visit Statehouse, speak with legislators
February 10, 2017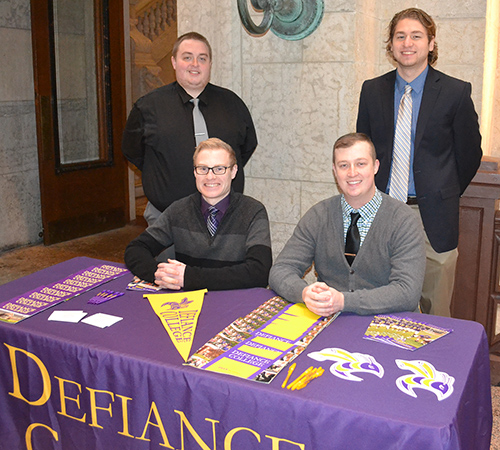 DEFIANCE, Ohio - Three Defiance College students and a staff member recently visited the Ohio Statehouse for Independent College Day sponsored by the Association of Independent Colleges and Universities of Ohio. Taking part from Defiance College were Tory Savage, Bryan; Jakob Adkins, Defiance; Sean Daley, Lima; and Jake Arnold, director of student activities and leadership.
Students from Ohio's private nonprofit colleges attended to focus on the importance of putting student aid needs in the forefront in Ohio's upcoming budget. They converged at the Statehouse atrium with display tables featuring community projects, internship offerings, and degree programs that set them apart from other campuses.
Students who participated in Independent College Day were able to tour the Statehouse, hear an update on the current political atmosphere in Ohio, and speak with legislators.
The Association of Independent Colleges and Universities of Ohio was organized in 1969 to represent the interests of its 53 members to Ohio's lawmakers, regulators, and citizens. AICUO seeks to strengthen student financial aid programs, bring about a greater understanding of the benefits and contributions of Ohio's independent colleges and universities, and promote the wellbeing of Ohio higher education as a whole. For more information regarding AICUO, visit their website at www.aicuo.edu.
Defiance College, chartered in 1850, is an independent, liberal arts institution in Northwest Ohio offering more than 40 undergraduate programs of study as well as graduate programs in education and business. Defiance College has received national recognition for its educational experience of service and engagement. The college website is www.defiance.edu.