Purple and Gold Banquet speaker defied the odds
March 23, 2017
DEFIANCE, Ohio - Brock Mealer will be the featured speaker at this year's Defiance College Purple and Gold Banquet on Sunday, April 30, at 6 p.m. in the Weaner Center.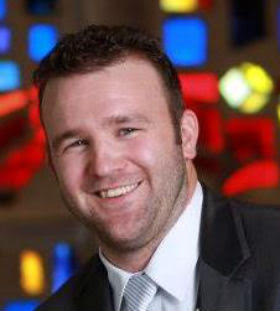 Brock, a native of Wauseon, Ohio, suffered a devastating spinal cord injury in a traffic accident in 2007. He was told that his chances of walking again were one percent, but Brock defied the odds. He will share his compelling story with DC's student-athletes who will be recognized during the banquet for their academic and athletic accomplishments over the past year.
The accident that critically injured Brock claimed the lives of his father, David Mealer, and his brother's girlfriend, Hollis Richer. In the days and months after the accident, Brock faced not only a difficult grieving process, but also a rehabilitation process that was mentally and physically grueling.
With life as he had known it forever changed, he says, "I had to learn everything all over. I couldn't sit up, and I was in pain all the time." He added, "One of the hardest things to get used to was needing to rely on someone else for life's most basic tasks. I had always been so independent."
Brock not only became independent again, but was blessed with an incredible comeback story that has led him to walk again with the help of two canes. After two years of intense physical therapy, he started working out with the University of Michigan football team strength staff. Once able to stand, his newly found team set the goal of leading the team onto the field for their 2010 opener, which he accomplished. He also went on to walk with his bride, Haley, without canes, on his wedding day in December 2012.
Anyone interested in attending the Purple and Gold banquet can visit the P&G website for more information at www.dcpurpleandgoldclub.com.
Defiance College, chartered in 1850, is an independent, liberal arts institution in Northwest Ohio offering more than 40 undergraduate programs of study as well as graduate programs in education and business. Defiance College has received national recognition for its educational experience of service and engagement. The college website is www.defiance.edu.