Defiance College displays true commitment to community service
September 7, 2017

DEFIANCE, Ohio - Defiance College students showed passion for service by donating their time and money to help those affected by Hurricane Harvey. Essential items were also collected on campus through September 5.
The College rallied around President Richanne C. Mankey's favorite African proverb: "If you want to go fast, go alone; if you want to go far, go together."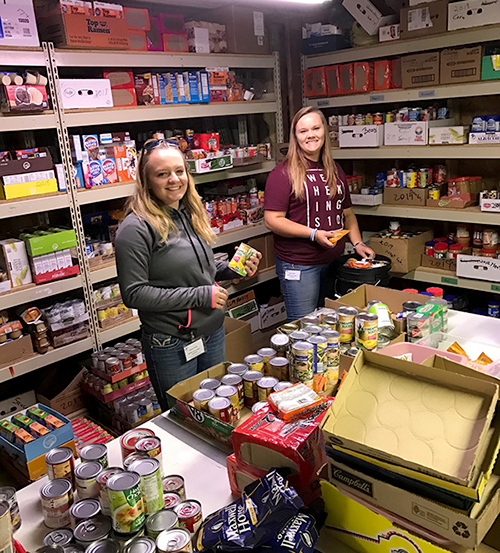 Defiance College Service Leaders, along with Alpha Phi Omega (APO), partnered with the Defiance Dream Center and Habitat for Humanity in Defiance, Ohio; Impact with Hope in Waterville, OH; and the Association of Independent Colleges and Universities of Ohio (AICUO) to collect items and monetary donations.
The Opp Shop, a student-run professional clothing store for Defiance College students and community members who need clothing appropriate for job interviews and presentations, donated a large number of clothing items to the Texas area.
The organization is indicative of the College's focus on service. It is housed under Project 701, the student-run non-profit on campus. Project 701 provides a structure for students to design, implement, and manage projects that impact expressed community needs.
"The managers and members of the Opp Shop decided that some of the clothes could be given to the people affected by Hurricane Harvey," said Opp Shop Manager Jacqueline Hartman. She explained that the clothing items were donated by many members of both the DC and local community.
The desire to help extended to the athletic teams on campus as well. Almost immediately after Hurricane Harvey landed in Texas, the College's coaches were rallying their respective teams to start collecting aid.
Jodie Holava, Interim Athletic Director, noted: "It's easy to get caught up in the day-to-day operation of games and practices along with what we think we need and deserve. When you realize that something as simple as donating some boxes of shirts from our athletics programs can make an impact, it is humbling."
Every corner of campus played a significant role in collecting aid. Donations given at Defiance College locations were shipped via truck to Impact with Hope in Waterville, where DC students assisted with packing materials before the items were sent to Texas.
"The chance to assist and serve others in their time of need is an amazing thing to be able to do, and to have faculty, staff, students, and student organizations want to help is inspiring," commented Brad Harsha, Assistant Dean of the McMaster School for Advancing Humanity. "Partnering with our local community organizations has been a true blessing and we are glad to be part of the effort to help those affected by Hurricane Harvey."
Defiance College, chartered in 1850, is an independent, liberal arts institution in Northwest Ohio offering more than 40 undergraduate programs of study as well as graduate programs in education and business. Defiance College has received national recognition for its educational experience of service and engagement. The college website is www.defiance.edu.