Defiance College students help victims of Superstorm Sandy in New Jersey
May 10, 2018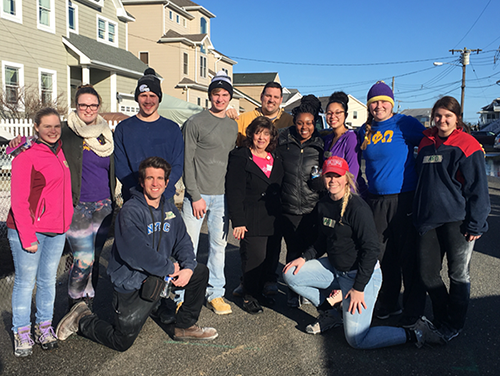 Kneeling - Brandon Ripke, Rylea Amspaugh
Standing - Jessica Crigger, Erin Conner, Jason Santora, Jordan Maschino, Mary Jane Martorelli, Brad Harsha, Da'Ja'Nay Askew, Gabrielle Justice, Cassidy Santen, Megan Overmann.
DEFIANCE, Ohio - Much of the country has long forgotten Superstorm Sandy. On October 29, 2012, after tearing through the Caribbean, the hurricane made landfall in the U.S. and devastated the Atlantic coast. Its most destructive blow hit New Jersey and New York, causing billions of dollars of damage.
Like many natural disasters, the hard work of rebuilding and healing continues long after our attention has turned to other events and other stories. But for residents of coastal New Jersey and New York, many are still struggling as they try to put the broken pieces of their lives and homes back together.
A group of Defiance College students from the college's Service Leadership Program spent their spring break this year helping one of those New Jersey families get back on its feet.
The DC Service Leaders collaborated with SBP, a disaster recovery agency, and the United Church of Christ Volunteer in Disaster Recovery Program to work with a homeowner in Bayville, New Jersey. The students spent several days hanging drywall in the badly-damaged house.
Participants included: Megan Overmann, Amherst, Ohio; Erin Conner, Sycamore, Ohio; Jordan Maschino, Piqua, Ohio; Jason Santora, Avon, Ohio; Da'Ja'Nay Askew, Crown Point, Ind.; Rylea Amspaugh, Newark, Ohio; Jessica Crigger, Kansas City, Kan.; Gabrielle Justice, Columbus, Ohio; and Cassidy Santen, Woodridge, Ill. They were accompanied by Brad Harsha, Assistant Dean of the McMaster School for Advancing Humanity, and Brandon Ripke, Academic Support Coordinator.
"What seemed like a small project had such a profound personal impact," said Harsha, who coordinates the Service Leadership Program.
"Before the trip, we discussed how we hear about the influx of help right after a crisis, but people often need help for a long time," he said.
Da'Ja'Nay Askew of Crown Point, Ind., said she was pleased to learn some new skills, but also "happy that I spent my spring break changing the lives of others."
Megan Overmann of Amherst, Ohio, agreed, adding, "I really didn't understand what it is like to get something taken away because of a natural disaster."
Piqua native Jordan Maschino was touched by the plight of the homeowners. "Before we left, we met Mary Jane, who explained to us her obstacles. After meeting her, it made this trip one of the best experiences in my life. I learned that even the slightest amount of time spent helping someone can bring about the biggest impact on their life."
Rylea Amspaugh noted that there was a definite community feel in the neighborhood where they volunteered. "I felt like I made a difference in a big way, even though we only worked on one house," she said. "We were able to talk to local people and listen to their stories."
She added, "This is what brought us to this college to begin with."
Learning how to work with others was a lesson for Jason Santora. "I understood the importance of helping those in need, and that it's not what you say but how you act and your attitude."
The most powerful part of the trip was getting to meet the woman who owned the house. She told the group that she and her husband were forced to evacuate their home and have been living with their son. Her husband is now fighting brain cancer. She talked about fraudulent contractors that she dealt with in the five and a half years since the storm.
In a video she later sent to the group as a thank you, sthe homeowner said, "You're amazing. I am so grateful for your help. After five and a half years and not being able to trust people, you have changed my way of thinking. … Thank you for your amazing program. … You saved my life because I don't know where I'd ever get the money to do this."
Harsha noted, "It's wonderful that our students get to have these experiences. I've shared with them that you never know the impact you might have on someone. The students helped change someone's life."
During their project, the Service Leaders stayed at nearby historic Camp Evans. Their trip included stops at the Flight 93 Memorial site, Gettysburg, and Hershey, Pa. They also spent a day volunteering at Seeds of Service, a local agency serving residents who lost furniture and home items in the storm.
Defiance College, chartered in 1850, is an independent, liberal arts-based institution in Northwest Ohio offering more than 40 undergraduate programs of study as well as graduate programs in education and business. Defiance College has received national recognition for its educational experience of service and engagement. The college website is www.defiance.edu.