Fellow students' letter campaign supports DC freshman in National Guard training
April 2, 2018


DEFIANCE, Ohio - Defiance College freshman Cameron Brady made a tough decision to step away from his studies for a while, but his college hasn't forgotten him.
Cam, a graphic design major from Carey, Ohio, spent fall semester on the DC campus, but then joined the Army National Guard, serving his country while financing his college education with tuition benefits. With two younger siblings, he knew the cost of college was a burden for his family, and he wanted to do what he could to ensure that he would continue his education. He decided during his senior year at Upper Sandusky High School that this would be his plan.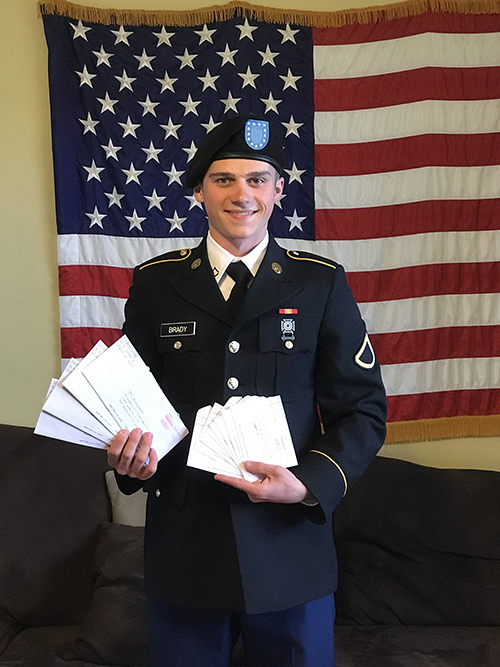 While in basic training at Fort Leonard Wood, Mo., Cam was recently surprised with dozens of letters from fellow DC students, members of the Service Leader program.
The letter-writing campaign was initiated by Assistant Professor of Design Beverly Fanning-Simmons. Her husband is a sergeant major currently serving his 17th year in the Army. "I understand the importance of a strong support system from family, friends, and in this case, the college," she said.
"We can't wait to see Cam back on campus next fall. If there is one student from the department who has begun to 'defy the ordinary' as a freshman, it is Cam."
The son of C. Shawn and Karen Brady, Cam finished his basic training and is now in advanced training. Karen Brady said her son was thrilled with the letters since communication was limited during basic training. "I have a great respect for his decision, and I couldn't be more proud of him," she said.
Cam looks forward to returning next fall to DC, where he is a member of the soccer team.
Defiance College, chartered in 1850, is an independent, liberal arts-based institution in Northwest Ohio offering more than 40 undergraduate programs of study as well as graduate programs in education and business. Defiance College has received national recognition for its educational experience of service and engagement. The college website is www.defiance.edu.