Memorial service planned for President Emeritus Ludwig
May 23, 2018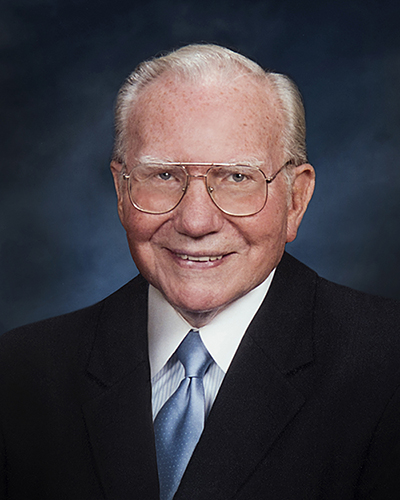 DEFIANCE, Ohio - Defiance College President Emeritus Marvin J. Ludwig, 91, died Wednesday, May 16, 2018, in Portage, Mich. He began his tenure at Defiance College in 1975 and served for 19 years, retiring in 1994. He was the College's longest-serving president.
President Emeritus Ludwig and his wife, Ruth, developed a great love for Defiance College and the Defiance community. His 19-year tenure saw major expansion of the campus with the additions of Schauffler Hall, Carma J. Rowe Science Hall, McMaster Physical Education Center, and the Pilgrim Library.
The College experienced significant growth in enrollment during his leadership as well as growth in the institution's endowment. This period also saw completion of certification for social work and criminal justice programs, the launching of the Weekend College Program for non-traditional students, and accreditation of a graduate program in Education.
Upon his retirement in 1994, President Emeritus Ludwig was awarded the College's highest honor: the Silver Pilgrim Medal.
Throughout all of his endeavors before, during, and after his Defiance College presidency, he was joined and supported by his wife, Ruth.
Before coming to Defiance, President Emeritus Ludwig spent more than 25 years with the YMCA. The Ludwigs spent 1955 to 1969 in Ethiopia where he was the Fraternal Secretary of YMCAs of Ethiopia, and later Secretary General of YMCAs of Ethiopia. During this time, he helped to expand the country's YMCA from one association in Addis Ababa to 23 centers in 18 cities. Under his leadership, the organization became the first non-governmental organization to receive the Haile Selassie First Prize Trust Award for Outstanding Achievements in Humanitarian Activities.
The Ludwigs' dedication to humanitarian efforts in East Africa would continue for the rest of their lives. In 1998, with support from Rotary International, he was involved in the creation of a plan to conduct a feasibility study which would lead to developing a dehydration food program for famine relief in Ethiopia to be funded through Rotary Clubs in the U.S.
From this effort grew Mena Mahiber, a separate hunger project to dehydrate potatoes that empowers Ethiopians to feed themselves through innovative food production creating employment, self-reliance, and a sense of pride and dignity.
President Emeritus Ludwig held numerous leadership roles and provided consultant services to the YMCA, both in the U.S. and in East Africa.
He was involved with Rotary – at local, district, state, national, and international levels – since 1951. He was a Paul Harris Scholar, Paul Harris Fellow, charter member of Rotary Club of Addis Ababa, Ethiopia, and led a fact-finding trip for Polio Plus to Sudan.
He was also active as a church layman with the United Church of Christ, chairing the Church World Service Committee of the United Church Board for World Ministries and the Council of Higher Education of the UCC Board for Homeland Ministries.
President Emeritus Ludwig received numerous honors and awards throughout his professional career including recognition for service in Ethiopia and Kenya, and awards from the Boy Scouts of America, Rotary, YMCA, American Biographic Society, United Church of Christ Board for World Ministries, and the Defiance Area Chamber of Commerce.
He served on many boards and committees. During his years in Defiance, he was a member of the board of directors of the Defiance Area YMCA, Defiance Hospital, Zeller Corporation, and First Federal.
President Emeritus Ludwig was awarded honorary degrees from George Williams College and Northwest Technical College. He conducted undergraduate work at North Park University in Chicago and earned bachelor's degrees from Ohio Wesleyan University and the Chicago Art Institute.
He served in the U.S. Marine Corps during World War II.
Born Aug. 29, 1926, in Sioux City, Iowa, he was the son of Rev. L. Harrison Ludwig and Naomi B. (Strayer) Ludwig. He was preceded in death by his parents; his wife, Ruth Ludwig, on Nov. 21, 2010; son, Marshall Ludwig, on May 19, 2002; sister, Ruth Laird; and brother, Dean Ludwig. He is survived by his daughters, Robin Lovely and Rhonda Ludwig, living in Kalamazoo, Mich.; son-in-law, John Lovely; grandsons John J. Lovely, Brendon J. Lovely, James R. Ludwig and Shawn M. Ludwig; and, daughter-in law, Kathy McGill Ludwig.
Private services will be held in Kalamazoo, Mich. There will be no visitation. A memorial service will be held at St. John's United Church of Christ, 950 Webster St., Defiance, on June 29 at 11 a.m.
Memorial gifts may be directed to Defiance College and/or Project Mercy.
Organization contact information:
The Marvin J. and Ruth M. Ludwig Scholarship fund to Defiance College by mail: 701 N. Clinton St., Defiance, Ohio 43512, or online at www.defiance.edu/giving.
And/or
Project Mercy, donations by mail: 7011 Ardmore Ave., Fort Wayne, Indiana 46809; donations by phone, (260)747-2559; or online at www.projectmercy.org/donate.
Please visit Dr. Ludwig's personalized webpage for online guestbook or to leave a condolence. Arrangements were made by the Langeland Family Funeral Homes, Memorial Chapel, 622 S. Burdick St., Kalamazoo, Mich., www.langelands.com.
Defiance College, chartered in 1850, is an independent, liberal arts-based institution in Northwest Ohio offering more than 40 undergraduate programs of study as well as graduate programs in education and business. Defiance College has received national recognition for its educational experience of service and engagement. The college website is www.defiance.edu.