Ohio Supreme Court Justice French to speak to Defiance College campus
April 8, 2019
DEFIANCE, Ohio - Ohio Supreme Court Justice Judith L. French will be speaking to Defiance College students, faculty, and staff in an open forum on the DC campus on Monday, April 15, from 3 to 4 p.m. in Serrick Campus Center's Hubbard Banquet Room. She will discuss her journey to the Ohio Supreme Court and address topics such as free speech on college campuses, Second Amendment rights in higher education, legal trends associated with the opioid crisis, and the controversy surrounding voter registration.
Her forum will be followed by a meet-and-greet from 4 to 4:30 p.m. for Defiance College students interested in pursuing law degrees.
As the 155th member of the Ohio Supreme Court, Justice French was elected to her first full six-year term in 2014 after being appointed by Gov. John Kasich to fill a vacancy.
Justice French has spent the last two decades in public service. She has served as an appellate judge, chief legal counsel to the governor, an assistant attorney general, and a state government lawyer. Her legal experience also includes working as a corporate attorney and in private practice.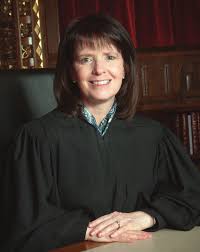 The daughter of a schoolteacher, Justice French appreciates her Ohio roots and education, and she is committed to being a part of civic education in Ohio. She speaks frequently to students, particularly those studying the Ohio judicial system. She serves as a mentor in a local program supporting students in foster care who want to go to college.
Justice French served on the court's Access to Justice Task Force and continues to be an advocate for granting all Ohioans access to the civil justice system. Working with legal aid organizations around the state, she encourages lawyers to engage in pro bono activity.
She received three degrees from the Ohio State University: a bachelor's in political science, a master's in history and, with honors, her law degree. In 2018, the OSU Moritz College of Law awarded her the Distinguished Jurist Award for her work on the bench.
Defiance College, chartered in 1850, is an independent, liberal arts-based institution in Northwest Ohio offering more than 40 undergraduate programs of study as well as graduate programs in education and business. Defiance College has received national recognition for its educational experience of service and engagement. The College website is www.defiance.edu.