Defiance's Elyzabeth King receives state and campus service awards and DC Pilgrim Medal
May 7, 2019
DEFIANCE, Ohio - Defiance College graduating senior Elyzabeth King, Mechanicsburg, Ohio, recently received multiple awards for her accomplishments.
She is a recipient of the 2019 Charles J. Ping Student Service Award from Ohio Campus Compact. The annual award recognizes and honors undergraduate students for their outstanding leadership and contributions to community service or service learning on their campus and within their community.
Ohio Campus Compact is a nonprofit membership organization of 41 Ohio colleges and universities working to promote and develop the civic purposes of higher education.
Richard Kinsley, executive director of Ohio Campus Compact, noted, "Over the course of an academic year, Ohio colleges and universities offer many opportunities for students to participate in civic life. While many students participate in civic activities and experiences, a few rise above others in their commitment and leadership to community service."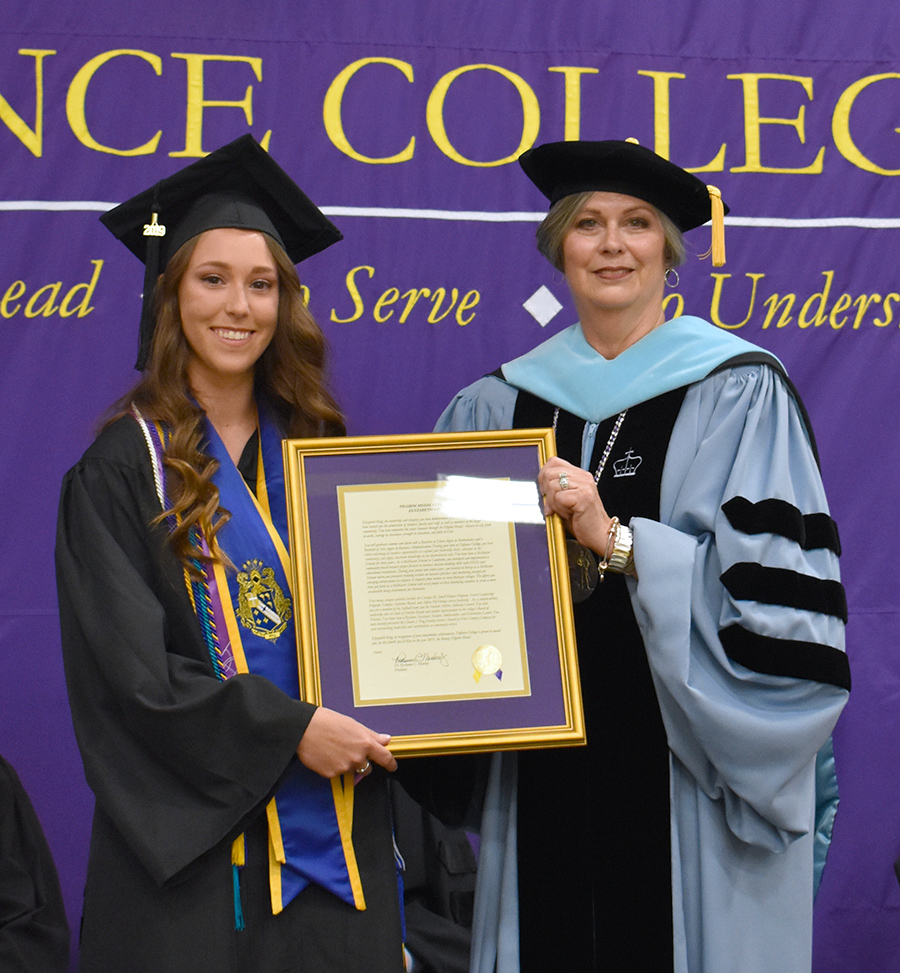 Elyzabeth graduated summa cum laude with a Bachelor of Science degree in Mathematics and a Bachelor of Arts degree in Business Administration. She was awarded the bronze Pilgrim Medal, the highest honor Defiance College bestows upon a student.
During the College's annual Honors Convocation, Elyzabeth received the Gerald Mallott Outstanding Senior Service Award.
Elyzabeth began serving in her community well before high school. Upon coming to Defiance College, she became involved in numerous service-related activities, including the Service Leadership Program where she completed more than 1,200 hours of leadership and service hours.
During her time at Defiance College, Elyzabeth has taken advantage of countless opportunities to expand her leadership skills, volunteer in the community, and apply classroom knowledge on an international scale. She was a McMaster Scholar for three years. As a McMaster Scholar to Cambodia, she developed and implemented a community-based research project focused on business decision-making skills with NGOs and educational institutions.
During her junior and senior years, she traveled to Belize as a McMaster Scholar where she presented training sessions on business practices and marketing concepts for emerging entrepreneurs in response to requests from women in rural Belizean villages. The efforts she put forth as a McMaster Scholar will assist people in these developing countries to create a more sustainable living environment for themselves.
Elyzabeth's many campus activities include the Carolyn M. Small Honors Program, Campus Activities Board, and Alpha Phi Omega service fraternity. As a student-athlete, she was a member of the Softball team and the Student Athlete Advisory Council. She held leadership roles as chair of Student Senate and student representative to the college's Board of Trustees. She was a Resident Assistant, Student Ambassador, and Orientation Leader.
Talking about the impact of her college experiences, Elyzabeth said, "I have grown into a hands-on leader with a passion for helping others, and I believe these experiences, among many others at Defiance College, have positively affected me, my college, my community, and even those individuals I have met on an international scale."
Defiance College, chartered in 1850, is an independent, liberal arts-based institution in Northwest Ohio offering more than 40 undergraduate programs of study as well as graduate programs in education and business. Defiance College has received national recognition for its educational experience of service and engagement. The College website is www.defiance.edu.