The legacy of Helen McMaster
June 17, 2020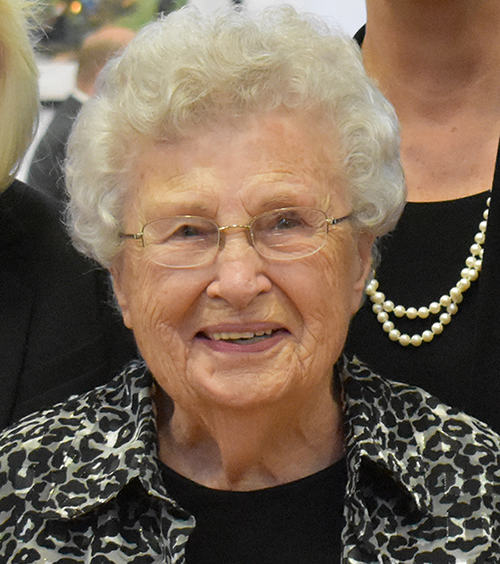 DEFIANCE, Ohio - Helen Elizabeth McMaster passed away from natural causes on Sunday, June 14, 2020, at the age of 103. She was born in Holgate, Ohio, on December 13, 1916, to Alva and Neva (Long) Clark.
In 2003, she was preceded in death by her husband, Harold Ashley McMaster, after 66 years of marriage; her parents; and brothers, Robert Clark and James Clark. Helen is survived by her four children, Ronald (Carolyn) McMaster, Jeanine Sandwisch Dunn, Nancy (Bob) Cobie, and Alan (Sue) McMaster; 7 grandchildren; 16 great grandchildren; 4 great-great grandchildren; and sister, Ramona Greenler.
Helen was an inspiration to many. She was known for her vibrant energy, positive outlook, and for her kind and loving disposition. Her many interests included philanthropy, reading, cooking, playing games, and traveling. She travelled the world with Harold and visited every continent except Antarctica. Japan and Hawaii were among her favorite places. Helen described herself as a foodie and loved to sample the local cuisine across the United States and around the world. More than anything, she loved to spend time with family and friends.
"She challenged and, at the same time, encouraged us at Defiance College to stretch ourselves to collaborate with those far different from ourselves in order to improve the human condition," commented Defiance College President Richanne C. Mankey. Adding to this, Mary Ann Studer, Dean of the McMaster School, said: "As we attempted to live out that challenge, our lives were enhanced by those collaborations. All of us who have had the honor of participating in the McMaster School know that, because of Harold and Helen, we are changing ourselves and others for the better."
It was well known that your life was about to be enhanced "once you were in Harold and Helen's orbit," as former DC President Jim Harris noted at the 15th Anniversary of the McMaster School. Defiance College felt the impact of Harold and Helen McMaster's influence in many positive ways. Their incredible vision, driven by their empathy for humanity and the belief that the quality of all human life should be valued and improved, is what led to the establishment of the McMaster School for Advancing Humanity at Defiance College in 2002 through a transformational $6 million gift. The McMaster School extended Harold and Helen's "orbit" to include tens of thousands of people whose lives were positively impacted through work of McMaster Fellows and Scholars.
At the gala in October 2018, which celebrated 15 years of the McMaster School for Advancing Humanity, the following statistics were shared to show how vast its impact has been: projects have taken place in 11 different countries, led by 216 student McMaster Scholars and 47 faculty/staff McMaster Fellows and Associate Fellows. As of 2018, a total of 429 community-based research projects were completed which directly impacted more than 27,000 people. These numbers are even higher today, all thanks to the generosity of Harold and Helen and their appreciation for human life. Learn more about the McMaster School and projects at www.defiance.edu/mcmaster.
Funeral services were private and burial was in Fort Meigs Union Cemetery. Arrangements were entrusted to Witzler-Shank Funeral Home in Perrysburg, Ohio. To view the full obituary for Helen and memorial contribution information, visit the Witzler-Shank website.
Chartered in 1850, Defiance College is an independent, liberal arts-based institution in Northwest Ohio offering more than 40 undergraduate programs of study as well as graduate programs in education and business. Defiance College has received national recognition for its educational experience of service and engagement. The College is guided by the four pillars of its mission: To Know, To Understand, To Lead, and To Serve. The College website is www.defiance.edu.