Defiance College
The Magazine

Summer 2010
DC On The Move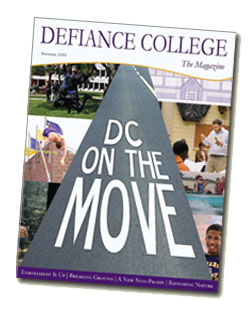 On The Move: Enrollment at Defiance College
Defiance College is experiencing a record number of applications from outside the state.
Success: It's Personal at Defiance College
Personal Success plans help students map out the best strategy to achieve their college goals.
Cold Case: Unique Opportunity for Students
DC Students utilizing their training and education to investigate cold cases in Detroit
Momentum Through the Efforts of Many
Groundbreaking for the Field house nears, and the campaign moves closer to its goal
Restoration: A Major in Science and Art
Defiance College students and faculty look towards the future in damaged or destroyed ecosystems
Service That Goes Beyond Traditional
Defiance College introduces the pioneering Project 701, a completely student-run nonprofit
Opportunity For Students with Autism
A DC summer camp sponsored by the Hench Autism Studies Program is a great success
Wrestling for a Return to Glory
An ideal turned into a movement and is now close to completion: bringing back the Purple Gang
Open Doors and Let the Music Fill the Air
After being on the brink of extinction, DC's music program is experiencing a revival on campus
DC Homecoming Registration
This year our Homecoming will recognize that we are "Fired Up"
In Memory of a Lifetime of Music and Service
Dean Emeritus, Dr. Richard W. Stroede, leaves a 40-year legacy with College and Community
Just Loved It: Long-Time Registrar Retires
With nearly 40 years of committed service to the Defiance College community, Beverly Harrington retires
Graduation: Always a Special Time of Year
227 graduates were awarded diplomas during commencement on Sunday, May 9
Life Trustee for High Level of Commitment
Board of Trustee member E. Keith Hubbard is recognized by the Ohio Foundation of Independent Colleges
Recognition: Faculty and Staff Achievements
Promotions, awards, presentations, invitations, and seminars
Athletics: Update from the Field House
Academic honors, pre-season predictions, and more
Embedded to Keep Their Memories Alive
Helen Stiefmiller '85 is the 'Keeper of the Stories' at the Oklahoma City National Memorial and Museum
---
Editorial Board & Staff
Kathy Punches '96
Editor, Director of Public Relations & Marketing
Rev. David Plant '73
Director of Alumni and Parent Relations
Michele Tinker
Director of Annual Giving
Debbie Richard '02 '04
Assistant Director of Marketing
Ryan Imbrock
Creative Design Manager