Digital Forensic Science
Apply Online | Request More Information | Major Brochure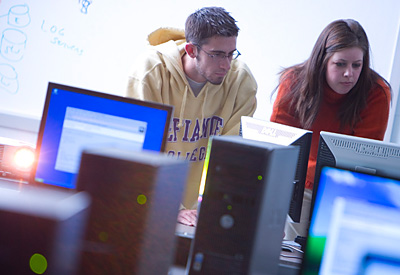 Wanted! Technology geeks with a heart for criminal justice.
At Defiance College, free-thinking problem solvers with patience, passion, and personal discipline have a home in digital forensic science.
Digital forensic science (formerly called "computer forensics") is the science and practice of preserving, extracting and analyzing digital evidence to support formal legal actions. What does that mean? It means helping to put away criminals who use computers and other digital high tech to commit their crimes. This cutting-edge bachelor's degree program is designed to prepare students for careers in the growing fields of high-technology crime investigation and computer network defense.
Majors in digital forensic science at Defiance walk away not only with a degree, but also two professional certifications, the practical experience of an internship, and the satisfaction of having directly benefited the surrounding community during the process.
Have what it takes? Good. Now dig deeper into the details.


---

Majoring in Digital Forensic Science
Digital forensics is a new and growing field in the area of hi-tech crime investigation. Students in this program develop a background consisting of general education, criminal justice, and computer technology fundamentals, while being entrenched in the culture of civic engagement. The students graduate with a major in digital forensic science, two professional certifications in hand, the practical experience of an internship, and the satisfaction of directly benefiting their surrounding community during the process.
Digital evidence collection is a highly disciplined process where repeatability and accuracy are crucial for evidence to be admissible in court. You will learn how to preserve the integrity of digital evidence; extract live, static, and deleted data from various media; and thoroughly document and present your findings.
The tools and techniques of digital forensics are also applied in situations where data is constantly in motion, such as while recognizing and responding to intrusions into a company's computer network, or when recovering data from small-scale digital devices such as cell phones and PDAs.

Courses and Plan of Study
First, you will prepare to earn the CompTIA A+ certification as an IT Technician, a widely respected designation for entry-level information technology personnel. Once this foundational knowledge is achieved, you will learn about computer operating systems, security principles, and networking. You will learn the science of forensics as applied to computers that are turned off, computers that are still running, computers communicating with one another, and small-scale digital devices such as cellphones, PDAs, smartphones, and other hybrid systems. You will learn the importance of high ethics and develop your personal integrity. There will be ample opportunities to refine your skills through community service projects and an internship with an agency performing forensics work. Finally, you will earn a nationally recognized certification in digital forensics to demonstrate your competence in this field and improve your marketability.
Students interested in the Digital Forensic Science major should discuss the requirements of the major and the opportunities upon graduation with Dr. Gregg Gunsch, Professor of Digital Forensic Science.
The Digital Forensic Science major requires completion of 67 credit hours:

Courses in Digital Forensic Science are intended to:
Prepare students for careers in the growing fields of high-technology crime investigation and computer network security


Prepare students to reliably collect, preserve, correlate and analyze digital data; to hypothesize and test explanations of the evidence; to recognize and resolve gaps and conflicts in the data; and to properly document and report their findings


Acquaint students with the basic principles of criminal and business law to ensure the admissibility of evidence in a criminal or civil proceeding


Acquaint students with a variety of cutting-edge tools and techniques for analyzing digital data, and enable them to determine and communicate their strengths and limitations


Empower students to stay abreast of technology migrations, including advances in small-scale digital devices and the tools and techniques developed to collect and analyze their data

Do you have what it takes?
Do you enjoy solving problems and deciphering puzzles?
Is it enough for you to know how to work something, or do you also want to know how and why it works?
Are you comfortable around computers? Are you the kind of person who's always changing them, making them better?
Do people sometimes call you a "geek," and when they do, it's a compliment?
Do you do well with details, science and math? Do you have patience and personal discipline?
Do crimes against innocent and defenseless people make you angry and wish you could do something about them?
Digital Forensics may be the career for you!
---
A Unique Opportunity
An exciting aspect of the Digital Forensic Science program is the ample opportunity for hands-on experience, both in the laboratory and in the community.

Internship Experiences
During senior-year internships, our students have worked on actual cases ranging from drug dealing to child pornography.

Hands-on Experiences
In the lab, they have recovered data from crashed hard drives and sanitized a computer that was suspected of being used to electronically stalk a young woman.

Criminal Justice Experience
The Digital Forensic Science program at Defiance College is also distinctive nationally in that it builds upon the strength of our long-standing Criminal Justice program, giving our students a solid background in the legal aspects of evidence collection and investigative procedures.
---
After College — What's Next?
The Digital Forensic Science program at Defiance College is intended to prepare the student for an entry-level position as an evidence-collection technician or similar function, beginning the career path towards digital forensic analyst and investigator.
Students interested in corporate network security instead of law enforcement will also find the deep knowledge of digital systems and communications to be highly useful for detecting and understanding hacker intrusions and malicious software.
Students completing the Digital Forensic Science major will be highly marketable in a quickly-growing job market with a solid background in criminal justice, two nationally-recognized technical certifications, an immersive internship experience with a law enforcement or corporate security agency, and plenty of practical, hands-on laboratory activities with frequent one-on-one faculty contact.

Sample of Career Opportunities
Forensics - Evidence Collection and Analysis to Support Criminal or Security-Related Investigations
Security - Fortification and Monitoring of an Organization's Computer Infrastructure
E-Discovery - Harvesting Intellectual Property from Acquired Computers
---

Related Information
Where to Search for Evidence
Most people believe that deleting a file means that it is gone forever; however, it is only marked for deletion, not removed from the hard drive. Until new data completely overwrites the storage areas, the original data can be recovered. In addition, all information used by the computer is stored in the computer's main memory at some point, and this information is generally mirrored in a hard drive file called the 'swap file' - a valuable source of evidence. Traces of email, instant messages, chat room conversations, web browsing activities, image files, temporary word processing documents, malicious software, and even password-protected encrypted data are just some of the types of evidence that can be recovered. Digital evidence is also not limited to computers and networks. Other devices store rich amounts of retrievable data as well, such as cell phones, PDAs, GPS systems, and embedded computers in automobiles. As technology continues to advance and make devices smarter and more ubiquitous, the opportunities and techniques for finding digital evidence also increase, making digital forensics a career with continual growth potential.



The HOLoDEC at Defiance College was designed for law enforcement agencies in the area and is the classroom setting for the Digital Forensic Science students at Defiance College.

HOLoDEC Desktop Images




640x480

|

832x624

|

1024x768
---
The Faculty


Sheldon Goodrum, Assistant Professor of Criminal Justice
419-783-2522 | sgoodrum@defiance.edu

Steven Sondergaard, J.D., Professor of Criminal Justice
419-783-2443 | ssondergaard@defiance.edu
Timothy Wedge, M.A., CFCE, MCSE, CEECS, A+
Assistant Professor of Practice of Digital Forensic Science
419-783-2415 | twedge@defiance.edu