Apply Online | Request More Information
"Every action a person takes with their computer or cellphone, every document opened or saved, every picture created or viewed, every website visited, causes a change to the drive. To a skilled examiner, these changes tell a story as clearly as if the user had written of their actions in a diary. Knowledgeable users might minimize or prevent some of the changes, but rarely all."
--Professor Wedge
Most people believe that deleting a file means that it is gone forever; however, it is only marked for deletion, not removed from the hard drive. Until new data completely overwrites the storage areas, the original data can be recovered. In addition, all information used by the computer is stored in the computer's main memory at some point, and this information is generally mirrored in a hard drive file called the 'swap file' - a valuable source of evidence. Traces of email, instant messages, chat room conversations, web browsing activities, image files, temporary word processing documents, malicious software, and even password-protected encrypted data are just some of the types of evidence that can be recovered. Digital evidence is also not limited to computers and networks. Other devices store rich amounts of retrievable data as well, such as cell phones, PDAs, GPS systems, and embedded computers in automobiles. As technology continues to advance and make devices smarter and more ubiquitous, the opportunities and techniques for finding digital evidence also increase, making digital forensics a career with continual growth potential.
Simply put, digital forensic science (DFS) is the controlled extraction and analysis of legally admissible evidence from digital storage devices.
The requirements are three-fold: the practitioner must have a thorough understanding of the underlying technology, a clear understanding of legal requirements and boundaries, and the ability to place a wide variety of data types in context and present them in human-readable form.
Throughout the program, students are immersed in both technology and the investigative procedures necessary for effective criminal prosecution or defense and for civil discovery. A heavy emphasis is placed on critical thinking, effective communication, scientific inquiry, and adherence to ethical standards. The program goal is not simply to produce well-trained digital forensic examiners, but to produce highly-competent civic stewards who have the technical skills necessary to reliably discover relevant evidence, the critical thinking necessary to adapt to rapidly changing technology, and the knowledge necessary to recognize and place contextual significance on recovered evidence.
Successful completion of the program includes an internship and completion of a nationally-recognized digital forensic certification.
120 internship hours are required in the digital forensic science degree. Students gain experience applying knowledge gained in the classroom to conducting real-world tasks performed by forensic examiners and information security personnel. Many of the companies who have taken our students as interns in the past now employ those same interns, which means new students may find themselves working for DC DFS alumni.
Benefits of the Program
With a strong emphasis on an interdisciplinary approach to real-world problem solving, the DFS program provides a multitude of opportunities to join organizations and engage in activities that are educationally-enriching while providing networking opportunities with professionals from digital forensic science and related disciplines. Students and faculty have dedicated their time and efforts to craft projects and initiatives, both small and large scale, which aim to have a positive impact on the Defiance community and beyond. Students are encouraged to work on an idea if they see a need or a new approach to an issue. A beneficial strength in many of these organizations and activities is that other related majors engage in them as well, providing valuable experience and integrating teammates' diverse skills.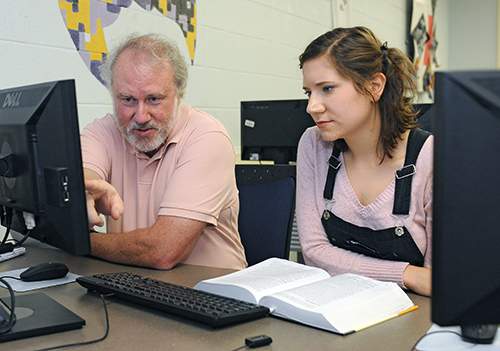 Opportunities include:
HTCIA
Defiance College started one of the very first student chapters of the High Technology Crime Investigation Association (HTCIA) and has sent student representatives to the international conference in 2012 and 2014. While membership in this organization is mostly DFS students, it is open to students in related disciplines, including criminal justice, forensic science, and forensic accounting.

DCPC
Defiance College PC Repair (DCPC) is composed mostly of DFS students but open to any student with basic computer knowledge. Working under the umbrella of Project 701, DCPC offers free PC repair services to members of the local community, repairing dozens of PCs over the few years it has been operating. Additionally, student volunteers have built and installed local area networks for local non-profit organizations such as the YMCA and COMPASS. DCPC provides students with opportunities to gain experience in conducting diagnostics and repair to a variety of personal and business technology, and even setting up small networks.

Detectives of Defiance: "Got Clue?"
The "Got Clue?" summer camp is run every year by volunteer students from digital forensic science, forensic science, and criminal justice. The students work together to create crime scene scenarios and simulate the evidence used to create the crime scene. This integration of disciplines provides an enriching experience for the campers who attend the camp; moreover, it provides DC students with genuine experience at tackling common, real-world situations. The ability to integrate and de-conflict multiple forensic disciplines at a single crime scene is a skillset that is badly needed by many agencies.

Cold Case
Defiance College students, under faculty supervision, have re-examined actual cold cases using techniques taught in their respective programs and uncovered vital information that provided law enforcement with additional leads and lines of investigation. This experience is extremely valuable due to the practical application of interdisciplinary cooperation, as well as the knowledge and skills gained.
Combating Human Trafficking
DFS faculty and students regularly participate in and often initiate human trafficking awareness events. Several current and past students have worked with the Human Trafficking Protection Project with tasks such as helping to design and build websites, distributing educational materials, and collecting and organizing data.
In 2011, two DFS students and one faculty member developed a digital forensic/human trafficking training scenario which was used to provide training for law enforcement and telecommunications personnel from at least 7 different countries in Doha, Qatar.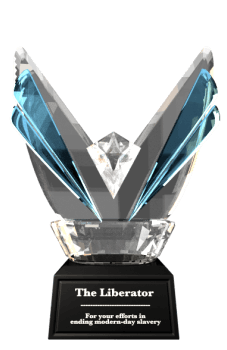 In another project, students have put time and effort into coding software to help track missing persons and bring human traffickers to justice. The project earned international recognition in 2016 with an award from the Reimagine Education Conference sponsored by the Wharton School at the University of Pennsylvania.
Defiance College has a student chapter of Free the Slaves, an organization dedicated to ending slavery world-wide. In January 2016, they were awarded the Ohio Liberator of the Year award for their efforts in anti-human trafficking.
---
Related Programs
One of the key elements of Defiance College's DFS program is the strong emphasis on an interdisciplinary approach. In the real world, problems are seldom solved by one individual - they are solved by teams of individuals with complementary skills and knowledge.
Some of the successful minors and dual majors include:
Dual Criminal Justice / Digital Forensic Science Major
DFS majors will find themselves taking several CRJU courses as program requirements. In many cases, they find themselves wanting to learn more about this strongly-related field. This allure to the complementary majors is also beneficial to the students who choose to dual major. Graduates will find that the dual major gives them extra flexibility in their career choices and that they stand out from other candidates when applying for employment.
Criminal Justice Minor
Because the DFS major contains criminal justice courses, only a few CRJU electives are necessary for DFS majors to earn this minor. It is ideal for DFS graduates who plan a career in law enforcement, but don't want to obtain a dual Criminal Justice / Digital Forensic Science major.
Psychology Minor
At the end of an investigation, it is a human being with human motives and not a computer who will be convicted or exonerated. Forensic examiners are often required to produce evidence to prove a suspect's intent. A working knowledge of psychology can allow a successful graduate to leverage advanced technical skills with a working understanding of human motivation.
Digital Forensic Science Minor
Defiance College also offers digital forensic science as a minor. This is an attractive choice for professionals in related fields who want to leverage knowledge in their chosen discipline with a basic understanding of digital forensics. The minor may be especially attractive to criminal justice, forensic science, and forensic accounting majors.
---
After College — What's Next?
Graduates of the DFS program may enter careers in law enforcement or a private sector. Private sector opportunities include companies that specialize in litigation support, penetration testing, and large organizations that take information security seriously.
The DFS program at Defiance College prepares students for positions as an evidence-collection technician or similar function, beginning the career path towards digital forensic analyst and investigator. Students interested in corporate network security instead of law enforcement will also find the deep knowledge of digital systems and communications to be highly useful for detecting and understanding hacker intrusions and malicious software. DFS graduates will be highly marketable in a quickly-growing job market with a solid background in criminal justice, two nationally-recognized technical certifications, an immersive internship experience, and plenty of practical, hands-on laboratory activities supported by frequent one-on-one faculty contact.
Sample of Career Opportunities
Forensics - evidence collection and analysis to support criminal or security-related investigations
Security - fortification and monitoring of an organization's computer infrastructure
E-Discovery - harvesting intellectual property from acquired computers
Recent Employments:
Companies that have hired our graduates recently include, but are not limited to:
- Vestige Digital Forensics Investigations
- Defiance County Sheriff's Office
- Illinois State Police
- Keller Logistics
- Ohio Bureau of Criminal Investigation
- State of Illinois Attorney General's Office
- SecureState
- US Drug Enforcement Administration
---
In Their Own Words
"It is extremely rare for an undergraduate program to not only have a digital forensics focus, but to integrate criminal justice theory so thoroughly. Defiance has provided me the opportunity to learn from people with real-world field experience. Their stories and backgrounds have given me unique insights into the field and the rigorous academic program is preparing me for the job market. Most of the graduates I know have already moved into exciting jobs in law enforcement or digital forensics. I can't wait to complete the program and start making a difference in the world!"
--Martin Bush, Senior
"Having a career, not a job, is very important to me. As technology continues to grow, so will the careers associated with it. Through the digital forensic science program at Defiance College, I have been provided a solid mix of IT, criminal justice, and digital forensic training. I have had hands-on experience with various digital forensic tools which were used to recover and analyze digital data. I have participated in mock crime scenes and mock trials. I have been able to learn when to start an investigation of a digital crime as well as how to satisfy the courts with the right kinds of documentation. Through this program, I have been able to branch out with technology-based campus organizations that have allowed me further education and training in my field of study, as well as networking with possible internship positions and/or employers."
--Jennifer Meade, Senior
"Defiance College's digital forensic science program is as cool as I thought it would be. Before I even transferred to this school, my professor presented me with the opportunity to work on a software project that utilizes facial recognition to potentially help law enforcement find missing children. I'm consistently offered opportunities to network and learn more about the career field with my involvement in the DC chapter of the High Technology Crime Investigation Association (HTCIA)."
--Ashley Wilson, Senior
"Defiance College was paramount to my success in my current position as a Data Forensics Examiner in San Francisco. As a student heavily invested the McMaster School, Project 701, and the Service Leadership program, I was exposed to growth that benefited me in and beyond my chosen profession. The experience I gained from the digital forensic science program prepared me to be very cross-functional in both the realms of security and forensics. I believe the unique split between network fundamentals and forensics built a framework that allowed me to function in not just one capacity, but three. In the field of digital forensics, everything is in constant change. Thanks to the incredible breadth of tools and concepts afforded to me by the program, I always come back to a sense of familiarity when faced with a new situation, even though I may not fully understand it just yet.The comprehensive experience offered to me through the numerous avenues of Defiance College truly prepared me to feel as though I can take on near any challenge presented to me."
--Brock Bell, 2014 Graduate
---
Faculty
"Give me a man's hard drive, and I'll tell you what's in the darkest abyss of his soul."
--Professor Wedge
Timothy Wedge, M.A., CFCE, MCSE, CISSP, A+
Associate Professor of Practice of Digital Forensic Science
Phone: 419-783-2415
Email: twedge@defiance.edu
Aaron Napierala, M.S., MCSE, MCSA, Network+, A+
Assistant Professor of Computer Science
Phone: 419-783-2356
Email: anapierala@defiance.edu
Steven Sondergaard, JD
Professor of Criminal Justice
Phone: 419-783-2443
Email: ssondergaard@defiance.edu
Sheldon Goodrum, Ph.D.
Assistant Professor of Criminal Justice
Phone: 419-783-2522
Email: sgoodrum@defiance.edu