Music Minors
Apply Online | Request More Information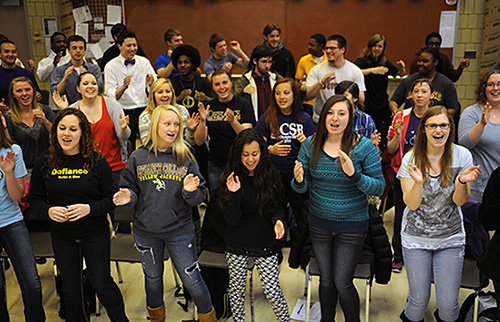 Music plays an important role in our society and in enriching each of our lives. Defiance College has more than a century of tradition in the music arts and continues to inspire, teach, and present programs to the DC campus and the surrounding community. DC offers three music minors along with multiple performing ensembles for students to express their artistic nature. Ensemble personnel consists of like-minded participants that are looking to have a career outside of music, but have a true love and understanding for the arts.
Students with an interest in music may participate in one or more of the College's performing groups or study performance privately. Music courses offer students the opportunity to obtain elective credits within an area of interest and the Introduction to Music course is an option to fulfill the Arts & Humanities general education requirement.
Three minors are available in music:
Music
Music Ministry
Music Theatre
All three minors focus on developing skills for a deeper understanding of music and the processes involved in creating, performing, and analyzing music successfully.
Each minor in music requires 24 hours, including the 11 core requirements and 13 hours specific to each minor.
Requirements for music minors total 11 hours, including:
- Musicianship I (4) Offered every other fall semester
- Musicianship II (4) Offered every other spring semester
- Leadership in Music (3) Offered every other spring semester
Music Minor (Core 11 + 13)
The music minor is designed to provide students with skills to increase success in music through further understanding and appreciation.
- Private Applied Music, Piano (1)
- Private Applied Music, Any Section (3)
- Music Ensembles (3)
- 2 Music History Selections (6)
Music Ministry Minor (Core 11 + 13)
The music ministry minor is designed to provide students with the skills to successfully lead music in a worship setting.
- Private Applied Music, Piano (1)
- Private Applied Music, Guitar (1)
- Private Applied Music, Any Instrument (2)
- History of Sacred Music (3)
- Music Ministry Field Work (3)
- Any additional religion course other than Ministry Studies Elective
Music Theatre Minor (Core 11 + 13)
The music theatre minor is designed to provide students with skills to participate and contribute successfully with community theatre programs.
Music theatre minors are required to audition and participate in one DC Players production per semester.
- Private Applied Music, Piano (1)
- Private Applied Music, Voice (1)
- Private Applied Music, Any Instrument (2)
- History of Music Theatre (3)
- Intro to Acting (3)
- Theatre Directing (3)
---
Student Quotes
"The Athletic Bands at DC have helped me to gain confidence and have given me experiences that I had never imagined. We are a family and I am thankful to be a part of such an amazing program."
--Keira Grandey, 2017 Graduate, Communication Arts major
"I came to DC with a single goal: becoming a social worker. However, somehow I became more involved in the Music Program each year, including taking on a music minor. Even though it was small, I could see the Music Program growing and was able to be directly involved in that process, allowing me to grow as a musician, a leader, and even a social worker. I would walk into Chamber Singers or a voice lesson and use that time to let go of everything else and just focus on making music and becoming the best I could be."
--Lindsay Kasmer, 2015 Graduate, Social Work & Psychology major
---
Faculty
Cassidy Nalepa
Director of Music Programs
Phone: 419-783-2331
Email: cnalepa@defiance.edu